Blue Spring State Park Manatees: What You Need To Know
This article may contain affiliate links. Whenever you buy something through one of these links, I may earn a small commission without any cost to you. I really appreciate it as it supports this site and my family. Thank you!
UPDATED: November 2023. I originally wrote this article during Covid when travel was being discouraged. Well, it did not discourage me from seeing the Blue Spring State Park manatees.
Blue Spring State Park as well as DeLeon Spring State Park are located east of Ocala. While you may be able to see manatees at DeLeon, Blue Spring State Park is the place I go.
Manatees! The more you stroll along the boardwalk, the more of these beautiful gentle giants we were able to see.
Before we dig into Blue Spring State Park, you first need to know when the best time to see the manatees. Manatees move into the springs to stay warm as the rivers cool.
Thank you for reading this post. Don't forget to subscribe! This way you never miss an update, travel deals, discounts and more!! Subscribe to the right------>
Florida's winter weather often feels like summer weather, with temps in the 70s and 80s during the day. Your best chances of seeing the manatees in these parks are when the temps dip into the 30s and 40s.
The springs are a constant 72 degrees year round. Manatees will move into the springs to stay warm until the rivers return to a more mild temp.
Blue Spring State Park is right up there as a must-visit places as Three Sisters Springs near Crystal River. If you missed my post about Three Sisters, you can read it here: Three Sisters Springs Manatees.
I'm definitely putting my annual Florida State Park Pass to use this year. But if you don't have one, don't worry. It's very affordable to visit any park:
Florida State Park Admission Info:
$6 per vehicle. Limit 2–8 people per vehicle.
$4 Single Occupant Vehicle.
$2 Pedestrians, bicyclists, extra passengers, passengers in vehicle with holder of Annual Individual Entrance Pass.
Blue Spring State Park (not to be confused with Madison Blue Spring State Park in Madison County or Lafayette Blue Spring State Park in Lafayette County) is located in Orange City, Florida. Absolutely gorgeous – but then again, most Florida State Parks are.
When To Visit To See The Manatees
Winter is the time when manatees head into the springs to escape the cold rivers. Florida's springs are usually 72 degrees year round, where the river temps could dip into the 50s. We were not disappointed the day we went, as it had been particularly cold for several days. It was manatee heaven!
Blue Spring State Park manatees for viewing has a boardwalk with several observation areas overlooking the spring and the spring run that flows into the St. John River (future kayaking trip for me).
The water is crystal clear. I looked at a fish looking right back at me for several minutes with his big buggy eyes.
Big ones. Small ones. Baby ones. There were so many manatees, I can't see how they keep count, as they mainly do a visual count. The board said there were over 400 manatees in the spring this day.
My favorite part of the day were the two manatees "kissing". They looked like they were kissing.
What the pic I was able to snap doesn't show is the baby right underneath them.
The Thursby House, is also located in this park. It was closed the first time I visited, but was open the last few times.
The Thursby House was built in 1872. From State Park website:
Gold Rush prospector turned orange-grower Louis Thursby purchased Blue Spring in 1856. Before the railroad rolled through in the 1880s, Thursby's Blue Spring Landing was a hotbed of steamboat activity, shipping tourists and goods to Jacksonville and beyond. Mrs. Thursby was Orange City's first postmistress.
'The Forgotten Mermaids,' an episode of the Underwater World of Jacques Cousteau, was filmed here in 1971. The documentary brought attention to the manatee and the importance of Blue Spring as a winter refuge, greatly influencing the state's decision to purchase the land.
I plan to make a camping/kayaking trip soon to this park, so I hope the home will be open to visit.
Camping is available for $24/night plus fees and taxes. There is also a gift shop and small store where you can purchase snacks such as chips, hot dogs or salads.
Park address:
2100 W French Avenue
Orange City, FL 32763
Phone: 386-775-3663 Open 8 a.m. until sundown, 365 days
Before you leave this part of the Sunshine State, take the time to also visit DeLeon Spring State Park, mentioned above. At this Florida State Park, you can swim in the spring, which looks like a big round swimming pool.
Be sure to get to the park in time to eat in the Old Sugar Mill Pancake House, located in a 100-year-old replica of the original 1830s sugar mill. Make your own pancakes!
Each table has a griddle built into the top. Order your pancake batter and have fun making then eating pancakes.
The following will help you plan your trip to Blue Spring State Park
Upcoming Trip?
I like to use Booking for booking not only my hotels, but my tickets and rental cars as well. Makes life so much easier with only having to log into one location for my information.
Be sure to grab my travel tips to save you time and money. You'll also be entered into the weekly drawings.
Register here: Get 100 Travel Tips EVERY traveler should know PLUS entered into the weekly drawing.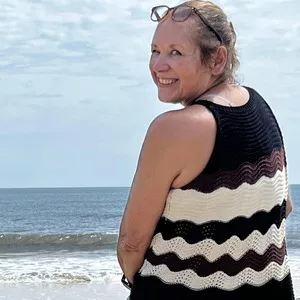 About Denise
Denise Sanger lives a life split between her love for fitness and her passion for travel particularly to the BEACH. Denise also has a love of marketing and lives in beautiful Suwannee County, Florida. You can find out more about Denise here: About Denise