Weeki Wachee Springs State Park – The Good, The Bad, The Ugly.
This article may contain affiliate links. Whenever you buy something through one of these links, I may earn a small commission without any cost to you. I really appreciate it as it supports this site and my family. Thank you!
Anticipation built as my trip to Weeki Wachee Springs State Park got closer and closer.  I love the springs of Florida.  The crystal clear water.  The swaying sea grass.  The beautiful sugar sand that's visible along the banks.
Bright and early after taking care of my many rescue critters, I headed up the road to meet my girlfriends.  There is nothing better than heading out for a day of adventure with good friends.  Easy. Breezy and no drama.  We loaded into one truck with the kayaks and headed due south toward Weeki Wachee Springs State Park.
Weeki Wachee Springs State Park is near Brooksville, Florida. Roughly an hour from Tampa.  Our ride from NC Florida was easy; no traffic and we pulled up in less time than we expected.
Pulling into the parking lot, the first thing we see are the many mermaid sculptures and status.  Surprised by an empty parking lot, we learn that part of the park is closed for renovations.
Thank you for reading this post. Don't forget to subscribe! This way you never miss an update, travel deals, discounts and more!! Subscribe to the right------>
Weeki Wachee is known for it's Mermaid shows that premiered in the late 1940's.  Fast forward 70 years and you can still experience these shows in the park's theatre. (Again at this writing, the park is closed for renovations so please check before you visit.)
Our plan was to kayak the beautiful Weeki Wachee River.  As there is no shuttle, we dropped our kayaks off at the spring head where the river begins.  Our driver head over to Rogers Park where a Lyft driver, met her and brought her back to the park for $11.  MUCH cheaper than the $25/boat rate of a local shuttle service.
Quick check-in at the office, a ranger scanned our bags to be sure we weren't carrying any disposable, plastic items and off we went.  It's a short walk to the river from the office. We were required to put our life jackets on before launching for safety purposes.
Climb into our kayaks and away we went.  Gliding onto the crystal clear water of the Weeki Wachee river.  Eel grass gently swaying below the surface.  Schools of mullet and other fish swimming beneath our kayaks.
Something about kayaking….
There is something about kayaking that relaxes me from my head to my toes. This river was no exception – in the beginning. Beautiful birds sang their songs. Water birds soaked up the sun as they watched for lunch below the surface. The Weeki Wachee River Environmental services keeps a watchful eye on the spring and river INSIDE the state park. More on this later.
Scanning the water, I was on a manatee hunt. About a mile or so into our trip, I decided to put my GoPro below the surface of the water.
I had just finished attaching it to my kayak to be sure I didn't lose it along the way when what do we see? A manatee! The current of the river is quite strong. I tried to turn my kayak around and finally did to paddle back to where we spotted the beautiful animal.
It was very difficult to snap a pic from my phone so all I could do was hope that my GoPro was successful in getting an under water shot. The thing about the GoPro is I never know what surprises I may find until I connect it to my computer when I get home.
Voila! There she was. Gently grazing along the bottom of the river. I've been searching every river we've kayaked including the beautiful Itchnetucknee Springs State Park River for a clear shot of these majestic animals so was over the moon happy when I saw the photo from the GoPro download.
We were lucky this trip. We saw two manatees along the way as we made our way to our take out point.
Unfortunately, as soon as we kayaked out of the State Park, everything changed. For the worse. There were motor boats. Groups of 10 – 20 people lining the river banks. Leaving their garbage when they would depart.
The beauty of the Weeki Wachee River beyond the State Park is gone. There is no vegetation on the bottom and the shoreline is nothing but mud expect for a few slivers of remaining sand banks. I'm going to write about this further in my next article this week.
What this did provide to me was an eye opener as to how humans destroy so many things including the beauty that nature provides us for free. Rainbow River put a stop to the human destruction. Hopefully, we can do the same for the Weeki Wachee River.
Paddler's Notes
Distance: 8 miles. Our paddle was 6.
Location: Hernando County
Difficulty: Easy to Difficult. Current is quite strong and there are many twists and turns along the river.
Launch points: Weeki Wachee State Park, Rogers Park, Bayport. We took out at Rogers Park as noted above.
Upcoming Trip?
I like to use Booking for booking not only my hotels, but my tickets and rental cars as well. Makes life so much easier with only having to log into one location for my information.
Be sure to grab my travel tips to save you time and money. You'll also be entered into the weekly drawings.
Register here: Get 100 Travel Tips EVERY traveler should know PLUS entered into the weekly drawing.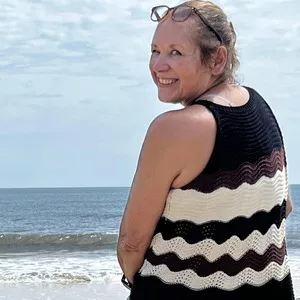 About Denise
Denise Sanger lives a life split between her love for fitness and her passion for travel particularly to the BEACH. Denise also has a love of marketing and lives in beautiful Suwannee County, Florida. You can find out more about Denise here: About Denise