Ichetucknee Springs State Park Things To Do
This article may contain affiliate links. Whenever you buy something through one of these links, I may earn a small commission without any cost to you. I really appreciate it as it supports this site and my family. Thank you!
One of the most undervalued gems in many states, are the natural State Parks and forests. Florida is no exception, but some have discovered the beauty in the state parks with springs. One of my absolute favorite state parks is Ichetucknee Springs State Park.
There are over 700 natural springs located throughout the state of Florida and my goal is to visit as many as I can. This past week found me at Ichetucknee Spring State Park.
This is probably my 10th visit to this gorgeous park and once you visit you'll see why.
The spring head is beyond anything you can imagine. A tropical paradise of blues, greens and turquoise dropped in the middle of a beautiful park. Colors you can't imagine without seeing for yourself. Pics only capture so much of the beauty.
Thank you for reading this post. Don't forget to subscribe! This way you never miss an update, travel deals, discounts and more!! Subscribe to the right------>
The morning, we started off with a kayak trip down the Ichetucknee River. No paddling required. Only steering. This is a fantastic kayak trip for a beginner.
From the moment I stepped into my kayak, wildlife was visible. I could see several turtles swimming right below the surface next to my kayak.
The kayak I use is an Old Town Kayak that is at least 25 years old. Old Town builds kayaks to last which is not easy to find these days.
It's a little bit wider which in my opinion makes it easier to get in and out of. That is my kayak on the left. Isn't it pretty? Doesn't matter that it's a little bumped up. It's perfect for me.
Hard paddle? Not at all. The only thing you really needed to do was to keep the kayak straight. The current was fairly strong and did all the "work" for you. Really nice since I was so busy looking around and in the water (even floated into an island at one point).
The view along the riverbanks with the clear, turquoise waters is truly something to see. Although I was on a manatee hunt, I didn't see one but did see many, many fish including mullet swimming through the pristine water.
We were only able to kayak to Dampier's Landing which was roughly a 1.5-hour trip. Again I'm not 100% sure of time to be honest as I was so busy looking around and taking pictures.
Before I knew it, we were at the take-out point. Too soon in my opinion because I would have continued floating on that river for hours if I could. Just take a look at how gorgeous the water is in the pic to the right.
When our trip ended at Dampier's Landing, we loaded up the kayaks and headed back to the North Entrance of the park to hike. The trail begins near the Spring Head and is roughly 2.5 miles.
The beginning of the trail is near the river where you'll be able to catch a glimpse now and then of the beautiful colors and river banks.
This trail is rough in a few spots. I see new hiking shoes in my near future as my hiking adventures take me on longer hikes.
When walking the trail, be aware of the many roots on the path. Enjoy the many twists and turns the trail takes as it loops around back to the beginning.
The main entrance to the Ichetucknee Springs State Park is 12087 SW U.S. Highway 27, Fort White FL 32038.
The launch and hiking trail are both located at the North entrance. BUT you will need to have a vehicle at the south entrance if you're self-launching as we did.
There is a very small fee of $6/vehicle to enter the park. Trailhead location: Trailhead: 29.986089,-82.760099 Very nice restrooms with flushing toilets.
Upcoming Trip?
I like to use Booking for booking not only my hotels, but my tickets and rental cars as well. Makes life so much easier with only having to log into one location for my information.
Be sure to grab my travel tips to save you time and money. You'll also be entered into the weekly drawings.
Register here: Get 100 Travel Tips EVERY traveler should know PLUS entered into the weekly drawing.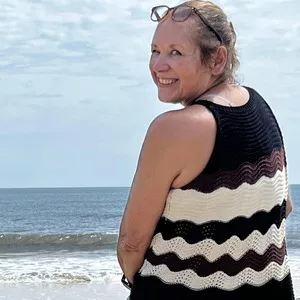 About Denise
Denise Sanger lives a life split between her love for fitness and her passion for travel particularly to the BEACH. Denise also has a love of marketing and lives in beautiful Suwannee County, Florida. You can find out more about Denise here: About Denise