Boat Trips From Miami to Bahamas
This article may contain affiliate links. Whenever you buy something through one of these links, I may earn a small commission without any cost to you. I really appreciate it as it supports this site and my family. Thank you!

I absolutely LOVE the Bahamas and have been on several vacations in this beautiful country many times. After all, boat trips From Miami to Bahamas are a popular way to spend a vacation!
Miami is such a great city with so much to do and the Bahamas is nearby, so you can visit for a quick day trip. And the beaches! If you prefer a more laid back Miami vacay, I recommend you read this: Beautiful And Quiet Beaches in Miami
The Bahamas is a short 110 miles give or take depending on which island you are visiting from the coast of Florida.
Both Miami and the Bahamas have beautiful beaches. The Bahamas including Grand Bahama Island and Bimini Islands are both easy to get to with a short boat ride. Booking a ferry is a great way to get to many of the islands.
Thank you for reading this post. Don't forget to subscribe! This way you never miss an update, travel deals, discounts and more!! Subscribe to the right------>
There are several great options for Bahamas day trips from Fort Lauderdale, West Palm Beach, and other South Florida locations.
Are you thinking about taking a boat trip to the Bahama Islands? This article is for you. Let's dig into basics first before we get to the specifics of booking your Miami to Bahamas Boat Trips.
How long are Boat Trips From Miami to Bahamas?
The average Miami to the Bahamas boat ride is roughly 3 hours. Many ferries reach top speeds of more than 30 knots. You can also drive your car onto several of the ferries.
What is the best time of year to go to the Bahamas?
The best time to go to Miami or the Bahamas is from December to April. This is when the weather is the nicest, and you can avoid hurricane season.
The weather is still warm and perfect for sightseeing, water sports or lying on the beach. Truly any Bahama Island is the perfect place for a sun-kissed vacation any time of the year.
What is the cost of a Miami to Bahamas boat trip?
A sun-drenched Bahamas day trip can range in price, but you can expect to spend around $300 per person.
Do you need a valid passport to go to the Bahamas?
U.S. citizens are generally required to present a valid U.S. passport when traveling to the Bahamas, as well as proof of anticipated departure from The Bahamas. A visa is not required for tourist travel up to 90 days.
If you are on a contained trip such as a cruise, you may not need a passport but will likely need birth certificates, but it is best to check with the individual cruise line. Also, it's also a good idea to check on vaccine requirements as some hotels may only allow fully vaccinated travelers, although this is changing by the day.
Can you jet ski from Florida to the Bahamas?
This question surprised me because I have actually never thought about it. Technically you can jet ski from Miami which is about 70 miles from the nearest Bahamian island. However, you should be experienced at jet skiing, need to be aware of weather conditions, the Gulf Stream, and know exactly where you are going.
Where else can you depart from South Florida to get to the Bahamas?
Port Everglades to the Bahamas is roughly 3 hours by ferry and is a great option to consider from South Florida.
West Palm Beach to the Bahamas will take about four hours by ferry, and you will only get as far as Bimini.
There are options from the Port of Miami and South Beach to the Bahamas by ferry to Grand Bahama, Port of Freeport, takes between 3 and 4 hours.
Fort Lauderdale to the Bahamas. From last report, there is currently 1 ferry route running between the United States and Grand Bahama operated by ferry company which is Balearia Caribbean. The trip is roughly 3 hours and is considered a great ferry ride. For information: Balearia Caribbean
For those that prefer to fly, you can find quick flights from Miami International Airport, Miami Florida, Fort Lauderdale Airport, or any international airport such as Atlanta or those in New York City. But your closest and largest airport for the international flight would be Miami.
What options are there for a short trip to the Bahamas?
Whether you are looking for a day cruise, one-day trip, a two-day trip, night cruise or round trip, you can find great options from many Miami hotels for package deals.
For longer than a few days, I recommend you check the itineraries for your favorite cruise ship to a Bahama tropical island. That allows you to hop on and off several beautiful islands.
What you need to know about the Bahamas Islands
The Bahamas is an archipelago of more than 700 islands, cays, and islets. The majority of the islands are uninhabited, so you'll definitely find a secluded spot to relax on your trip if that is your goal.
Some of the most popular things to do in the Bahamas include snorkeling, scuba diving, swimming with dolphins, and exploring the local culture. The tropical climate makes these islands a great place to spend a vacation.
Bahamas Air Tours
Prefer to fly? Good news! Bahamas Air Tours is the best way to fly from South Florida to the Bahamas. You can even enjoy a day trip to Exuma which is where the swimming pigs are as well as several other nearby islands. You can learn more about the swimming pigs here: Excursion to Exuma
You can also book a day tour to the popular James Bond Thunderball Grotto and Iguana Island through this company. Bahamas Air Tours may be reached at 786-289-8977.
Nassau
Nassau is the Capital of the Bahamas and next door neighbor to Paradise Island. This beautiful island with its warm waters can also easily be reached by ferry.
Paradise Island
Another popular destination in the Bahamas is Paradise Island. On Paradise Island you will find the hugely popular Atlantis Resort.
World-class casinos, theme park like atmosphere, crystal clear waters, white-sand beaches and more await you in this tropical paradise. Get more information here: Atlantis Resort Paradise Island.
Bimini
There is something about Bimini that makes it so special. Bimini is the closest point in the Bahamas to the mainland United States and approximately 210 km west-northwest of Nassau. You will find some of the world's most gorgeous beaches right here on this island.
Sand bars seem to go on forever on this beautiful little island in the Atlantic Ocean. Want to stay longer in Bimini? Check out the World Resorts Bimini
Great Stirrup Cay
Great Stirrup Cay I believe was purchased by Norwegian Cruise Line. You can enjoy a full day of fun not only on the white sand beaches, but also all the many other activities that NCL has built right on the island.
Caicos Islands
A wonderful place to take a long vacation is Turks And Caicos. The Caicos Islands are midway between the Bahamas and the island of Hispaniola home to Haiti and the Dominican Republic.
You can enjoy a boat trip to this island, but this mode of travel will take over 5 hours from Miami Beach.
Here is a brief overview of some of the most popular boat trip options for Boat Trips From Miami to Bahamas:
1. The Bahamas Fast Ferry is one of the most popular boat trip options from Miami to the Bahamas. The ferry takes about two and a half hours, and it runs seven days a week. The ferry also has a snack bar on board, so you can relax with a drink while you enjoy the ride.
2. Another popular option is the Bahamas Celebration Cruise. The cruise takes about four and a half hours, and it includes stops in both Nassau and Freeport. The cruise ship also has a casino, so you can try your luck while you're on board.
3. If you're looking for a longer trip, you can take the Miami to Bahamas Ferry. The ferry takes about eight hours, and it makes stops in both Nassau and Freeport. The ferry also has a full bar on board, so you can relax with a drink while you enjoy the ride.
4. Finally, if you're looking for the shortest trip possible, you can take the Bahamas Air Charter. The charter flight takes about an hour, and it's the only direct flight from Miami to the Bahamas.
No matter which option you choose, at the end of the day, you're sure to have a great time on your boat trip from Miami to the Bahamas.
Upcoming Trip?
I like to use Booking for booking not only my hotels, but my tickets and rental cars as well. Makes life so much easier with only having to log into one location for my information.
Be sure to grab my travel tips to save you time and money. You'll also be entered into the weekly drawings.
Register here: Get 100 Travel Tips EVERY traveler should know PLUS entered into the weekly drawing.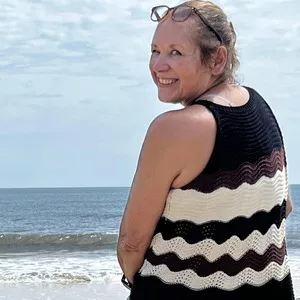 About Denise
Denise Sanger lives a life split between her love for fitness and her passion for travel particularly to the BEACH. Denise also has a love of marketing and lives in beautiful Suwannee County, Florida. You can find out more about Denise here: About Denise