How To Become A Successful Travel Blogger
This article may contain affiliate links. Whenever you buy something through one of these links, I may earn a small commission without any cost to you. I really appreciate it as it supports this site and my family. Thank you!
See the world as a travel blogger.
When I started my first blog many years ago, it was to support my ecommerce and wholesale businesses. Never in my wildest imagination did I expect to make money as a travel blogger. But that's exactly what's happened.
Let me take you back to the beginning of my journey when blogs were mainly online diaries and articles. Fast forward to now, you can see how dramatically the online world has changed. MySpace gone. Instagram and Pinterest both leaders in the online world but in very different ways.
You may feel the travel blogging world is saturated and think you have zero chance of being a successful travel blogger. But that would be untrue and let me tell you why. There are as many ways to be successful in blogging as there are people in the world. We all have a unique perspective. We each see the world in a different way.
My Facebook community of beach and travel lovers (I Love Beach Trips) is well over 250,000 people. My focus is on travel and adventures for people over the age of 50. As an empty nester with more time to travel, my perspective is different than it was when my husband and I were raising our daughters. Time and money were tight back in those days. Did it stop us from traveling? No. We bought a pop-up camper for about $3500 and camped our way up and down the state of Florida. That's how my love of small towns and hidden gems has lead me to today's travel blog that you're reading now.
Thank you for reading this post. Don't forget to subscribe! This way you never miss an update, travel deals, discounts and more!! Subscribe to the right------>
How Do You Make Money As A Travel Blogger?
One of the questions I always get is "Denise, how do you make money?" Open book. When I first started blogging, it wasn't with the intention of doing anything except to push traffic to my wholesale and retail websites. Two of those websites I sold: one for $100,000 and the other $60,000. Both in the wedding industry.
I was so focused on traffic, traffic, traffic, that I really wasn't enjoying what I was doing. Writing felt like a chore. Something I had to do. Not something I wanted to do. After I sold those two websites, I felt relieved. I didn't need to sit down and try to figure out what to write every week.
Don't get me wrong. Those two websites were very profitable for me. They put my oldest daughter through college, paid for both of my daughter's first cars, and allowed us to travel. And that's when I realized what my passion was. Thinking back over the amazing adventures and experiences my family was able to enjoy as my wholesale and retail businesses exploded.
You see even though I wasn't enjoying WHAT I was writing about, I was enjoying the benefits of what it brought to my family. That's when a light bulb went off in my head. I knew then what I wanted to do was to combine what I loved to do with a way to generate additional income. And as a result, my travel writing and this blog right here was launched.
The benefits are more than money.
I love the money. Don't mistake that part. Nothing thrills me more than seeing a nice deposit from Google or Amazon hit my account every month. But the benefits of being a travel blogger reach far beyond the money. Every day I receive an email from a company that would like me to review a travel product, a hotel, a new resort or park. All comped. Not a penny out of my pocket to enjoy a mini vacay or try a new travel product.
Even in the midst of our country battling Covid, my requests AND my income has increased. The past year has actually been one of my favorites in my travel writing because I've been exploring closer to home in my state of Florida.
How To Start A Travel Blog
How to start a travel blog? Even after years of writing for successful businesses, I wasn't quite sure how to launch a travel blog. I started researching other successful businesses and came across the best FREE course ever: Start A Blogging Business 5 Day Course
I thought to myself free? Well this is going to be a waste of time. I promise you it wasn't. Pete and Heather's course goes over EVERYTHING including how to start, where to put it, how to set up your account and more. The best thing I did for my blog was to take this free 5 day course: Start A Blogging Business 5 Day Course
If you enjoy writing AND travel and writing a successful travel blog is what you want to do, take advantage of this offer. You'll be glad you did. I'm glad I did and so is my family. Happy travels!
Upcoming Trip?
I like to use Booking for booking not only my hotels, but my tickets and rental cars as well. Makes life so much easier with only having to log into one location for my information.
Be sure to grab my travel tips to save you time and money. You'll also be entered into the weekly drawings.
Register here: Get 100 Travel Tips EVERY traveler should know PLUS entered into the weekly drawing.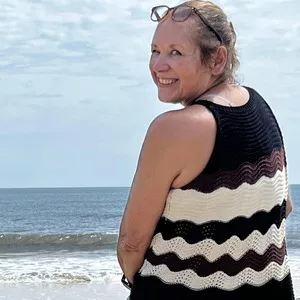 About Denise
Denise Sanger lives a life split between her love for fitness and her passion for travel particularly to the BEACH. Denise also has a love of marketing and lives in beautiful Suwannee County, Florida. You can find out more about Denise here: About Denise