Surviving the grocery store.
This article may contain affiliate links. Whenever you buy something through one of these links, I may earn a small commission without any cost to you. I really appreciate it as it supports this site and my family. Thank you!
Every time I go into our local grocery store, I run into someone I know from the gym. And also just about every time, they say to me "don't look in my cart." Cracks me up because I honestly don't focus on things like that nor would I ever judge someone from what's in their grocery buggy.
Have you ever looked in MY buggy? Next time you see me take a look because you will be sure to find Blue Bell Homemade Vanilla Ice Cream – my husband's favorite thing to have in the evening. And if mom is here, you can bet there will be caramel sauce to go on top of that ice cream. (Click here to read What The Is Clean Eating Anyway? It'll help you plan your grocery list.)
The rest of the things in my buggy? You may find this very boring but it's usually cat or dog food, laundry detergent, almond milk and vegetables including a great big container of organic spring mix. I do for the most part stay away from things that will tempt me like candy or pretty much anything in the bakery. The smells alone are hard to resist so I know it's better that I simply don't go into those parts of the store.
Are you ready to shop for groceries? Grab your list and let's head out. These simple tips will help you stay on track:
Thank you for reading this post. Don't forget to subscribe! This way you never miss an update, travel deals, discounts and more!! Subscribe to the right------>
Have a plan. Truly the best way to stay on track is to begin with a plan. Decide on your meals for the following week then write down the ingredients you will need to buy. Be sure to check the pantry for what you already have in the house.
Organize your list. For me, I organize the list based on the store shopping the perimeter first because that's where I buy the majority of what's on my list. When you're looking to stay healthy and eat healthily, the perimeter of the grocery store is where you want to stay. This is where all your fresh produce, meat, seafood and dairy products are located. It's very seldom I go down the center aisles except for staples like brown rice, quinoa, canned veggies, dog food or detergents. Not only will help you with impulse buys, it'll save you money too.
Avoid the center aisles where the junk foods are located. Act like they are not even there. After all out of sight out of mind.
Not too difficult right? Having a plan always makes things a little easier. Have an amazing week!
To your health,
Denise
Upcoming Trip?
I like to use Booking for booking not only my hotels, but my tickets and rental cars as well. Makes life so much easier with only having to log into one location for my information.
Be sure to grab my travel tips to save you time and money. You'll also be entered into the weekly drawings.
Register here: Get 100 Travel Tips EVERY traveler should know PLUS entered into the weekly drawing.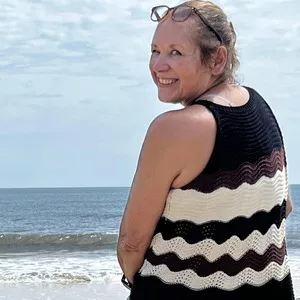 About Denise
Denise Sanger lives a life split between her love for fitness and her passion for travel particularly to the BEACH. Denise also has a love of marketing and lives in beautiful Suwannee County, Florida. You can find out more about Denise here: About Denise