Romantic cabin getaways in Florida.
This article may contain affiliate links. Whenever you buy something through one of these links, I may earn a small commission without any cost to you. I really appreciate it as it supports this site and my family. Thank you!
When you think of the sunshine state, you might not think romantic cabins. But don't sell Florida short. There are quite a few fantastic romantic cabin getaways in Florida.
As I write this, Fort Myers, Sanibel, Captiva and that part of the state of Florida took a direct hit from Hurricane Ian. I will still mention the options for this area but note that many may not become available for several years as the Southwestern portion of the state rebuilds.
Cozy cabin? Fully equipped kitchen? Hot tub? Yes, you can find them all here in the beautiful sunshine state.
First where should you begin your search for a romantic cabin getaway? Some of the best places to look may actually surprise you.
Thank you for reading this post. Don't forget to subscribe! This way you never miss an update, travel deals, discounts and more!! Subscribe to the right------>
From St. Augustine to Amelia Island on the northeast side to Palm Beach, Miami Beach, Key Biscayne into the Florida Keys with Key Largo and Key West as options on the Atlantic coast. Over on the Gulf of Mexico, your choices for the perfect place could be Marco Island up through the Florida Panhandle.
Other great options to consider? Look at a beautiful state park which often has the best cabins away from the hustle and bustle of busy tourist areas.
From luxury cabins to primitive cabins to a lakefront cabin or beach cottage, you will find the perfect cabin for you and your romantic partner. Let's dig in!
Florida Panhandle Romantic Cabins
I love the Florida Panhandle and truly cannot think of a better destination for a romantic getaway. Whether you are searching for a luxury cabin or fully equipped kitchen, there is something on the Panhandle for you.
This region of Florida is home to sandy beaches, turquoise waters, and plenty of activities for couples to enjoy. Here are three romantic cabin getaways in the Florida Panhandle that are sure to please.
Rosemary Beach Cottages. These charming cottages are located right on the beach in the quaint town of Rosemary Beach near Panama City Beach. The cottages come complete with private balconies and all the amenities you need for a relaxing stay. You can even request a cozy cabin with a hot tub.
Seaside. Seaside is a unique community that was designed with couples in mind. The town is filled with charming shops and restaurants, and there are plenty of activities to keep you busy. Cottages, cabins and more are available for your romantic getaway.
Grayton Beach State Park. If you're looking for a more rustic setting, Grayton Beach State Park is the ideal place for you. The beautiful state park offers miles of hiking trails and pristine beaches; almost as if you have your own private beach! There are several cabins available for overnight or longer stays. This is one of the prettiest state parks to visit in Florida.
Pirate's Cove Villa. If you're looking for something a little different, try Pirate's Cove located in gorgeous Panama City Beach. This waterfront property is literally steps from the Florida Gulf and out of this world sunsets. Ahoy matey!
Central West Florida Cabin Getaways
The Florida Gulf Coast is dotted with romantic cabin getaways, each offering its own unique blend of natural beauty and amenities depending on where you are.
Whether you are looking for a secluded spot to unwind or a home base for exploring the area's attractions not too far from central Florida/Orlando, you're sure to find the perfect place for your next romantic getaway. Here are five of my favorites.
Sunshine Dreams. There are several cabins and cottages named Sunshine Dreams. This one that I am talking about is a wonderful spot for a romantic getaway. The house provides calm and relaxation in an absolutely beautiful setting. Located in Cape San Blas on Florida's Forgotten Coast. This area of Florida is breathtakingly beautiful.
Dolphin Watch. Also located in Cape San Blas, and as its name suggests, Dolphin Watch is the perfect place to see dolphins in their natural habitat. You really can't get closer to the water. All bedrooms on the top floor overlook the water, making it easy to spot dolphins swimming by. This is also the perfect destination for those that love an active vacation with plenty of water sports. St. Joseph Bay is literally across the street and a marine life wonderland. Perfect choice for snorkeling, kayaking, paddleboarding and fishing.
Seashell Cottage. Seashell Cottage located on Anna Maria Island is a charming one-bedroom hideaway that's perfect for couples looking for some privacy and relaxation. The cottage is nestled among tall pines and oaks and has its own private patio with a hot tub. Perfect for stargazing on clear night skies. Easy, short walk to the beach.
Hurricane House. I am mentioning this cottage, but it is not open right now due to Hurricane Ian. Keep it on your list. Private beach with stunning views of the Gulf of Mexico, Hurricane House is the perfect place to escape the hustle and bustle of everyday life and get back to you. The property includes a two-bedroom house, a one-bedroom guest house, and a pool, making it ideal for couples who want to get away and reconnect.
Central Florida Cabin Getaways
Everyone ALWAYS thinks of the Disney World, Mickey Mouse, Universal Studios, Sea World and more when I mention Central Florida. But there is so much more to explore in this area.
Central Florida is home to some of the most romantic cabin getaways in the state. Nestled in the woods, these cabins offer a private and intimate setting for couples looking to escape the hustle and bustle of everyday life.
With wood-burning fireplaces, hot tubs, and king-sized beds, these cabins are designed for relaxation and romance. Top of my list are:
Oak Ridge Cabin located in Ocala, FL, If you're looking for a rustic yet chic cabin rental near Ocala, look no further than Oak Ridge. Super cute and cozy cabin has everything you need for a romantic getaway, including a fully stocked kitchen, comfortable beds, and a private hot tub on the back deck.
Plus, with all the amazing hiking and biking trails nearby including inside Ocala National Forest, you'll have plenty of opportunities to explore the gorgeous Central Florida area. And you are roughly an hour to either coastline.
Next in this area to talk about is a Lakefront Cabin Rental in Davenport. A bit south of Orlando but still under an hour's drive. For those who are looking for something a little more luxurious, this is the cabin for you.
Includes its own private dock as well as access to a secluded beach area This is the perfect cabin for couples who love being outdoors. But it also has all the amenities you could want for a relaxing weekend indoors. These include a king-sized bed, flat screen TV, and even an indoor fireplace.
Near Salt Springs in the Ocala Forest you will find Lake Kerr as well as this a beautiful lakefront rustic cabin with a large king bed. Again as mentioned right above, this is the perfect part of the state for those that love to be outdoors.
Super cute and secluded, you can really get away from it all and focus on each other. Boating, kayaking, fishing, hiking or biking on the nature trails and more fun activities are all available here.
And if either of those are not available, check the other cabins nearby Orlando and Ocala here: Ocala National Forest Cabins
North Central Florida Romantic Cabin Getaways
So many people overlook north central Florida. You shouldn't. Rivers, lakes, creeks, pristine springs and so much more to explore.
Nearby Suwannee River and Sante Fe River makes this area perfect for the best romantic getaways. On both rivers, you will find gorgeous crystal clear freshwater springs to explore and play in.
If you want a secluded cabin, this is where you want to be. In nearby Mayo, you will find Red Bird Cabin.
This beautiful cabin has everything you could possibly want for that romantic vacation memories are made of. 16 private acres to explore only 450 yards to the majestic Suwannee River.
Also, nearby is Lafayette Blue Springs State Park. One of the prettiest springs you will every lay eyes on.
This cute and cozy cabin can sleep up to 6 comfortably and is surrounded by beautiful live oak, lemon and orange trees. Includes a private dock so plan on bringing your boat and fishing poles!
TIP: Do not overlook the many cabin rentals available in the State Parks located in this area. But you will need to plan ahead. Florida State Parks tend to be booked out 11 months in advance.
Some Florida State Park cabins may be rustic but usually include modern amenities like air conditioning and multiple bedrooms some with bunk beds. A few state parks in this area with cabins are Suwannee River State Park, Lafayette Blue Springs State Park, Fanning Springs State Park, and Stephen Foster Folk Culture State Park.
TIP: Don't be afraid to look in the more rural areas of Florida. Literally right up the road from me in McAlpin is a beautiful private cabin retreat. Located on the property are an outdoor pool, spa with a sauna and gym, open floor plan with fireplace and a gorgeous gourmet kitchen. Even better? Bring your pets! The name of this property? Oasis in the Woods and it's clothing optional. Get more info here: VRBO Oasis Cabin In The Woods
Southwest Florida Cabin Getaways
Looking for a romantic getaway in Southwest Florida? It will take time for this area to rebound from Hurricane Ian, but hang on to this list of most Romantic Southwest Florida Cabin Getaways.
The cabins here are perfect for couples looking to escape from the hustle and bustle of everyday life. They offer privacy, tranquility, and beautiful natural surroundings.
Best options to consider are:
Castaway Cottage on Anna Maria Island is definitely at the top of the list. Private, heated pool and hot tub and a short walk for easy access to a white sand beach.
If you prefer tropical to rustic, this is the cottage for you. With beach chairs, golf cart, bikes, kayaks, outdoor shower AND outdoor TV, you will never want to leave this tropical oasis.
Over to Captiva, you will find several cute cabins including Baywatch Cabin. Cutest cabin ever!
Within a few miles of the cabin, J. N. Ding Darling National Wildlife Refuge and Captiva Beach. Turner Beach and Blind Pass Beach are ready for you to explore and enjoy. All the comforts of home away from the crowds.
One more I want to mention is the Fisherman's Dream Cabin. This beautiful home is located on Pine Island near Fort Myers and Sanibel Island.
Beautiful upscale, tropical decor plus convenient private pier for fishing or simply watching the sunset over the Gulf at the end of a busy day. What's to do? Club pool, tennis courts and other amenities usually found only at high-end resorts.
NOTE: Again this area took a direct hit from Hurricane Ian and may not have cabins available until the area rebuilds. This is expected to take several years, but Florida always comes back. #floridastrong.
Romantic cabin getaways in Southeastern Florida.
So many cabin options available in this area all the way through the southernmost tip of the state, Key West. We will start with Everglades National Park.
Everglades National Park could have been listed with the Southwestern Florida cabin options, but I've decided to put it here. Wild, native Florida at its best!
Whether you are looking for a secluded cabin in the middle of the woods or a more modern home to enjoy, you will find them here.
Explore the swamp on an airboat. Swim in the community pool then head to one of the cute cottages to enjoy some alone time. You can check out the many options here: VRBO Everglades National Park
You may be wondering are the ANY cute, rustic cabins in the Fort Lauderdale or Miami areas? The answer would be yes.
Peel back the high rise condos and hotels that line the coastline, and you will find Oleta River State Park. This beautiful, native Florida park is located in the heart of Miami.
Bike trails, beach access, kayaking and easy access to the Everglades, Dry Tortugas, Florida Keys and all that Miami has to offer. Get more info here: Oleta River State Park cabins.
Moving into the Keys, you will find several adorable cabins and cottages to stay in. My husband and I enjoyed a long weekend stay in a cottage on Key Largo, Gulf Side several years back. The name? Key Largo Cottages! Easy to remember.
Each cottage is adorably decorated, and your stay includes free use of 22′ sailboat, kayaks, sail/row/paddle boats, canoes, bicycles, snorkel/fishing gear. Not only wonderful for a romantic getaway but also for families.
TIP: Check Bahia Honda State Park for cabin rentals. Beautiful Florida Keys views and balmy beaches perfect for snorkeling.
East Central Florida Cabin Getaways
Moving back up the coastline on the east side or Atlantic Ocean side of the state, opens up even more fantastic options. Whether you are interested in NASA and a space launch fanatic, surfing in Cocoa Beach, or the Daytona 500 in Daytona Beach, there is a getaway for you.
Think outside the box. When looking for a cute, funky cabin or cottage, get away from the tourist areas.
You can choose a surf bungalow directly on the water near Daytona or a luxury glamping cabin with views of Florida's natural beauty.
When you stay in this part of the state, you will find yourself wishing you could actually live here. The views are out of this world.
One of my favorites is located right near the beautiful beach but is a small, cozy bungalow cottage. My other favorite is an adorable little beach "shack" which is not really a shack at all.
When you take a step back from all the high rise hotels, you will find some pretty cute little cabins that are quiet and private. Some less than $70/night like this one in Cocoa Beach VRBO Beach Shack.
For those that prefer to be away from the beach but still enjoy nature, check out Osteen and Wekiva – both a bit inland. And may I say the springs at Wekiva are something to see.
Tomeka State Park as well as Bulow Creek State Park both have cabins available to rent many with a fire pit and picnic table to enjoy. Also, nearby at Flagler Beach is Bulow Cottage. Literally a few miles away from the beach as well as Daytona 500 Speedway. Check it out here: Bulow Cottage
Northeast Florida Romantic Cabin Getaways
That brings us all the way around the state back up towards St. Augustine, Jacksonville and Amelia Island areas. Did I save the best for last? Maybe.
I love all areas of Florida and this part of the state never disappoints. And the remote cabin and cottage options are fantastic!
Whether you want to be on the Atlantic Ocean or the St. Johns River, you will find the perfect romantic getaway here. Again, once you get away from the high rise hotels and resorts, the funky little options here for rent are exactly what you're looking for.
In St. Augustine, less than 30 minutes to the historic district, you will find St. Augustine's Riverfront Cabin. Easy access to all of St. Augustine also includes access to a boat ramp. Perfect for those that prefer to be outdoors on vacation.
Up a bit further north to Jacksonville Beach, are some really cute beach cottages to explore. Some like Whale Cottage are pet friendly as well.
Private yet easy access to the beach and everything nearby. Get more information here: VRBO Jacksonville Beach Cottages Finally, we cannot forget about the barrier islands like Amelia Island. Fort Clinch at Amelia Island is one of the few State Parks with beach camping.
Definitely one of my favorite places to visit. Horseback riding, kayaking, shelling, fishing, hiking, and beautiful beaches. What's not to love?
And you will find some of the most adorable cottages to rent and enjoy that romantic getaway you planned. There are so many to choose from, but my favorite is right on the beach.
Step out your door right on to sand. Enjoy cocktails in the evening catching glimpses of dolphin as they swim by. Get more info here: Amelia Island Beach Cottage
This article will be one you will want to bookmark as I will be adding more cabins and cottages perfect for enjoying a romantic getaway. If you find one you think I should add, please message me! Enjoy!
Upcoming Trip?
I like to use Booking for booking not only my hotels, but my tickets and rental cars as well. Makes life so much easier with only having to log into one location for my information.
Be sure to grab my travel tips to save you time and money. You'll also be entered into the weekly drawings.
Register here: Get 100 Travel Tips EVERY traveler should know PLUS entered into the weekly drawing.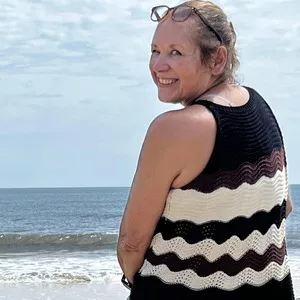 About Denise
Denise Sanger lives a life split between her love for fitness and her passion for travel particularly to the BEACH. Denise also has a love of marketing and lives in beautiful Suwannee County, Florida. You can find out more about Denise here: About Denise