Great Places To Stay In Cedar Key Florida for An amazing Getaway
This article may contain affiliate links. Whenever you buy something through one of these links, I may earn a small commission without any cost to you. I really appreciate it as it supports this site and my family. Thank you!
I absolutely LOVE Cedar Key, and it's old small beach town vibe. It is the perfect place for a quick, fun getaway to an uncrowded small island and there are some great places to stay in Cedar Key Florida.
The funny thing about Cedar Key is that folks seem to either love it or hate it. I do not understand how many do not fall in love with the Old Florida feeling of this great place on the Gulf of Mexico.
In my opinion, it is one of the best places to visit any time of the year and a great way to spend the holidays. This little town goes all out to decorate including a Christmas tree in the local park.
Before I get into the great places to stay in Cedar Key Florida, I want to tell you why you should consider making it a point to visit. It is a great spot not only for nature lovers but also those that enjoy relaxing, kayaking, fishing and more.
Thank you for reading this post. Don't forget to subscribe! This way you never miss an update, travel deals, discounts and more!! Subscribe to the right------>
You will definitely enjoy the slower pace of life on this island and return home refreshed.
Top things to do in Cedar Key
My favorite thing to do is explore both on land and in my kayak. You can rent a kayak, golf cart, and more in close proximity to where you are staying.
This is a fun, scenic roughly 20 minute paddle from the boat launch to Atsena Otie Key. Once on the island, get ready to explore.
You will find ruins from previous settlers on the island. Originally the key was home to indigenous people before being used as an outpost during the Second Seminole War.
After that factories, schools, and even a hospital were on this tiny key until a hurricane destroyed most of what was on the island. It was never redeveloped.
In 1997, it became part of the Cedar Keys National Wildlife Refuge. When we launched we kept our eyes on the white sandy beach you can see from Cedar Key.
Once on the island, follow the sign to the hiking trail and explore the remnants of what is still there. My favorite spot was the cemetery dating back more than 100 years.
Read more about kayaking to Atsena Otie Key here: Kayaking Cedar Key Florida
Cedar Key Museum State Park
You can also go back in time with a visit to the Cedar Key Museum State Park, one of the state parks in this area. This museum features various collections also dating back not only 100 years but to prehistoric times.
Be sure to walk through the restored home of St. Clair Whitman located on the grounds near the Cedar Key Historical Museum to see what life was like on the island in the 1920s.
Cedar Key Historical Society Museum
Enjoy walking through two historic buildings with various exhibits ranging from prehistoric life on the island to Florida's first coast-to-coast train.
It is definitely worth visiting and seeing the history and buildings of Cedar Key.
Cedar Key Scrub State Reserve
This beautiful location is another Florida State park roughly 6 miles away from downtown area Cedar Key. Enjoy exploring the 5,000 acres through nature trails, salt marshes, flatwoods and Florida scrub.
Equestrian trails as well as bird trails. Something for all nature lovers.
Manatee Springs State Park and Fanning Springs State Parks
Before you leave this part of the Gulf coast with its rich history, take a ride over to Manatee Springs State Park and/or Fanning Springs State Park. They are close to each other.
Both of these parks sit on the banks of the majestic Suwannee River. There are a number of things to enjoy but seeing manatees is always my favorite. I have been able to see these beautiful animals in both state parks.
Cedar Key Beach
There is a small beach located near the public parking area and boat launch. I have been on it many times. Usually not crowded and a great place to relax.
great places to stay in Cedar Key Florida: Hotels, BNB
Now that you want to visit this island, you will need to know where to stay. One of the best things about the hotels and rental homes are that many are a short walk to the main area of the island.
There are several options for booking hotels rooms as well as finding a vacation home set up with a full kitchen, dining room, living room, multiple bedrooms and even washing machines and dryers. What you will not find though are chain hotels.
The Beach Front Motel has a large outdoor swimming pool and great views of the Gulf.
Don't overlook Faraway Inn for its funky vibe and kayaks or bikes you can use free. It is also pet friendly, so you can bring your four legged friend with you.
Located on Dock Street is Cedar Key Harbour Master Suites. Here you will find private balconies on the second floor with fantastic views of the Gulf. Think of the sunsets you can watch.
One more I want to mention is Dockside Motel also on Dock Street. Budget friendly and right in the middle of the activity with shops, restaurants, and also near the fishing pier.
Free parking by the public boat ramp which is also near the main beach and park. It's a small beach, but it is a beach.
The Island Hotel and Restaurant is another option. This is a Bed and Breakfast with free Wi-Fi and breakfast. I have not stayed in this hotel so be sure to check reviews as I always do when booking.
Check here for all options for hotel rooms and best hotel deals on the island: Cedar Key Hotels
Great places to stay in Cedar Key Florida: Vacation Homes
My personal choice for great places to stay in Cedar Key Florida is to always look for a budget friendly vacation rental and there are plenty here to choose from.
Many of these cottages and homes also have easy access to everything that makes Cedar Key amazing.
Choose one, two or three bedrooms. Offsite parking area. Also, many of these vacation home rentals have an outdoor pool you can enjoy. Check out the wonderful options here: Cedar Key Vacation Rentals
Cedar Key is a short drive from Gainesville and the surrounding cities. It is also a popular spot for those looking to escape the day-to-day grind and get away from it all from major cities such as Tampa or Ocala.
It is not part of the Florida Keys such as Key West or Key Largo which are in the South Florida area. Nor is it close to Amelia Island on the East Coast near Jacksonville.
But it is one of the most interesting things and a great reason to visit Florida.
Upcoming Trip?
I like to use Booking for booking not only my hotels, but my tickets and rental cars as well. Makes life so much easier with only having to log into one location for my information.
Be sure to grab my travel tips to save you time and money. You'll also be entered into the weekly drawings.
Register here: Get 100 Travel Tips EVERY traveler should know PLUS entered into the weekly drawing.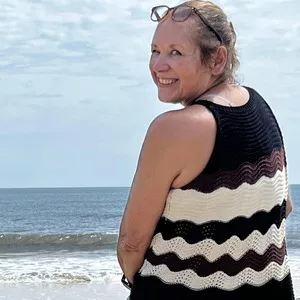 About Denise
Denise Sanger lives a life split between her love for fitness and her passion for travel particularly to the BEACH. Denise also has a love of marketing and lives in beautiful Suwannee County, Florida. You can find out more about Denise here: About Denise