Ponte Vedra Beach, Florida: Beauty You Have To See
This article may contain affiliate links. Whenever you buy something through one of these links, I may earn a small commission without any cost to you. I really appreciate it as it supports this site and my family. Thank you!
Honestly? I did not know about Ponte Vedra Beach the first time I visited it. I was with a friend heading to Guana River Wildlife Management Area for a day of kayaking and hiking.
Below is why you should stop and see Ponte Vedra Beach Florida
Ponte Vedra Beach Florida is a beach destination you will never find anywhere else.
As we were driving to the management area, I caught a glimpse of the stunning beaches and a pristine coastline through the dunes and homes that are on A1A.
I said wow! What beach is that? Is that Jacksonville Beach? My adventure friend said no, it's Ponte Vedra Beach.
Thank you for reading this post. Don't forget to subscribe! This way you never miss an update, travel deals, discounts and more!! Subscribe to the right------>
She asked if I had ever been, and I said no, so she took me to explore. When I tell you it's the perfect place to unwind, explore, and relax, it really is.
Ponte Vedra Beach Florida is more low-key than other Florida beaches like Jacksonville Beach or Daytona Beach but positively breathtaking and unlike any other.
And whatever you want to do on vacation from relaxing to fishing to golfing to swimming and more, you will find it right here in this tropical paradise.
How to Get to Ponte Vedra Beach Easily and Quickly
Whether you are coming by car, plane, or train, getting to Ponte Vedra Beach is really easy. The closest airport is the Jacksonville International Airport (JAX), located 25 miles away.
There are several car rental companies located in the airport for travelers who would prefer to explore Ponte Vedra Beach and the surrounding area on their own.
Additionally, there is a regional Amtrak station in nearby St. Augustine, from which you can take a bus or taxi to reach Ponte Vedra Beach.
The Best Things to Do in Ponte Vedra Beach.
There are many incredible activities and attractions to discover in Ponte Vedra Beach. Enjoy a range of outdoor activities like swimming, surfing, fishing, golfing and more.
Test your skills at local golf courses such as the TPC Sawgrass, the World Golf Village, or the Innisbrook Resort.
Or just spend a day relaxing by the beach or strolling along the boardwalk. With so much to do and see, you'll never be bored in Ponte Vedra Beach.
And let's talk about the beaches! More than 25 miles of beaches and over 15 miles of the most stunning coastline, Ponte Vedra Beach is an ideal spot to visit.
Whether you're looking for a romantic getaway or an adventure with the kids, there is something here that caters to everyone.
Spending time outdoors is always a popular pastime in Florida and something you will definitely want to do in Ponte Vedra Beach.
Explore Ponte Vedra Beach's Stunning Coastline.
First Ponte Vedra Beach is known for its stunning views and serene settings. Take a walk along the boardwalk and admire the sweeping views of the ocean.
Another day, relax on the sand of Ponte Vedra Beach watching for dolphins or possibly catch a glimpse of the endangered North Atlantic right whale.
Take a dip in the tranquil waters, explore tidal pools, or take time for some sun-filled days at the beach. This traditional barrier island also offers kayaking or paddleboarding in the lagoons and tidal marshes.
Be sure to take time to explore the unique geological features of the area, such as Ponte Vedra's sand dune islands known as "the spit."
For a fun family outing, head a bit south and visit St. Augustine Beach Pier and watch fishermen unload their day's catch. Or take a cruise on one of Ponte Vedra Beach's many charter boats for an unforgettable experience on the Atlantic Ocean.
End your day with a spectacular sunset viewed from any of the beach's coastal trails.
Nature Surrounds You In Ponte Vedra Beach
Ponte Vedra Beach is also home to many tranquil parks and incredible nature preserves.
Here you can take some time to enjoy the local wildlife, relax and recharge your batteries in peaceful surroundings.
Two of the most popular parks in the area include Ponte Vedra Lake Park and Guana River Wildlife Management Area.
First explore by kayak or wander through the trails of Guana River Wildlife Management Area. You will be glad you did when you are rewarded with stunning views of nature's beauty.
Paddle 6 miles along the northeast side of this barrier island. Pack a lunch then hike or bike the 15 miles of nature trails through pine flat woods and scrub.
There are over 2,000 acres in this Wildlife Management Area. On the nature trails and wetlands, watch for bald eagles, roseate spoonbills, osprey and other native wildlife species.
Another option is to visit Ponte Vedra Lake Park. This park features a beach, picnic tables, pavilions, and fishing piers along its 5 acres of shoreline.
If you're looking for a bit more adventure, Ponte Vedra Beach has plenty of water sports to enjoy. With the warm waters of the Atlantic Ocean and its limestone bedrock, these beaches provide some of the best waves in Florida.
Try surf lessons, paddleboarding and or even snorkle the clear waters in this part of the Sunshine State.
Discover a Unique Shopping and Dining Scene.
Shop til you drop? Foodie? Ponte Vedra Beach also offers great shopping and dining for any traveler.
Browse unique boutiques then enjoy dinner at one of the top-notch restaurants. While strolling along the area's coastal streets, you'll notice plenty of unique treasures to bring home.
Local art galleries feature the works of residents and inspiring local artists. These are great choices if you're in search of souvenirs or gifts you won't find anywhere else.
Be sure to check out the locally grown selections like fresh seafood, honey and jams from a nearby farm stand. There are also upscale boutiques for fashion finds, as well as stores offering handmade jewelry and clothing.
And don't miss out on the dining opportunities. Lively beach bars to family-friendly restaurants with an ocean view.
Visitors can enjoy flavorful meals including French, Spanish, Italian and classic American dishes. Many eateries feature local seafood caught fresh by local fishermen or ingredients from nearby farms.
If you're looking for outdoor seating options, many restaurants here are near the coast, so you can enjoy your meal with an ocean breeze.
Where To Stay In Ponte Vedra Beach
Choose between upscale resorts or hotel on the beach. You have options for accommodations in Ponte Vedra Beach.
I personally have not enjoyed a stay at the Sawgrass Marriott Golf Resort & Spa but many of my friends RAVE about it. Other options are the Ponte Vedra Inn, Hilton or Hampton. Get the details here: Ponte Vedra Beach Hotels & Resorts
And your other great options includes staying in a vacation home or condo directly on the beach which is what I prefer to do. I have had so many enjoyable vacations, many less expensive than staying at a hotel. Start your search here: Ponte Vedra Vacation Rentals.
Upcoming Trip?
I like to use Booking for booking not only my hotels, but my tickets and rental cars as well. Makes life so much easier with only having to log into one location for my information.
Be sure to grab my travel tips to save you time and money. You'll also be entered into the weekly drawings.
Register here: Get 100 Travel Tips EVERY traveler should know PLUS entered into the weekly drawing.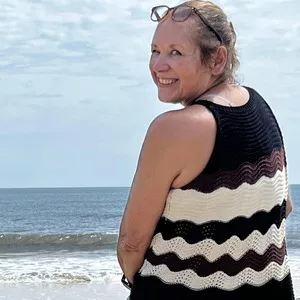 About Denise
Denise Sanger lives a life split between her love for fitness and her passion for travel particularly to the BEACH. Denise also has a love of marketing and lives in beautiful Suwannee County, Florida. You can find out more about Denise here: About Denise