AirBNB vs VRBO: What is The Better Choice For You?
This article may contain affiliate links. Whenever you buy something through one of these links, I may earn a small commission without any cost to you. I really appreciate it as it supports this site and my family. Thank you!
Looking for an in-depth guide to AirBNB vs VRBO? Then you're in the right place!
When it comes to finding the perfect accommodation for a vacation, travelers are faced with many options. From hotels to platforms like Airbnb and Vrbo, how do you know what's the best choice?
For this article, we are going to focus on Airbnb vs VRBO. Both are very well-known for vacation rentals, but what is the difference between the two?
AirBNB Vs VRBO: Ultimate Comparison For Travelers
The decision, however, on whether to choose Airbnb or Vrbo often comes down to what each of them offers to travelers as well as what suits the traveler's specific needs.
Thank you for reading this post. Don't forget to subscribe! This way you never miss an update, travel deals, discounts and more!! Subscribe to the right------>
Traveling solo versus traveling as a family, really are two different vacations needed significantly different accommodations. Solo, it would be safer for you to stay in accommodations that offer some security like a hotel.
Traveling as a family can get quite expensive plus you need more room. A vacation rental might be more suitable.
Airbnb boasts a larger number of listings, with options varying from stand-alone homes to shared spaces, such as renting a room in a host's home.
This platform also provides hotel room listings, catering to guests who seek the comfort and convenience of a hotel experience while exploring new destinations. This may work for a solo traveler as well as families.
Vrbo focuses primarily on whole-home vacation rentals, offering individual houses, cabins, and villas for travelers seeking a more private and independent lodging experience.
Definitely why my family has used VRBO for many years now. We want the whole house. It's simply easier for us.
Despite the differences in accommodation choices, both Airbnb and Vrbo provide user-friendly booking processes and consistently strive for customer satisfaction.
Therefore, determining the best platform ultimately depends on vacationers' preferences, such as their desire for a shared living space, extra amenities, or customizable stay options.
How to make your Reservations
The booking process on Airbnb and Vrbo is very similar. Both platforms are focused on providing an easy and efficient experience for travelers.
Let's take a look at the booking process for each platform.
On Airbnb, users can search for accommodations by entering their destination, travel dates, and the number of guests.
After starting your search, a list of available properties will appear, with filters available to further narrow down the options based on factors like price, type of accommodation, and amenities.
Once a user finds what they are looking for and want to rent, they can send a booking request to the host, who will then have 24 hours to accept or decline the booking.
Users can also take advantage of the "Instant Book" feature, which allows them to book a property without waiting for the host's approval.
Similarly, Vrbo users enter their destination, travel dates, and number of guests to search for available vacation rentals.
Vrbo also provides filters to help users find their desired accommodation based on criteria like price, property type, and amenities.
Once you find what you want to reserve, users can request to book or, if available, use the "Instant Booking" feature. That allows you to book the property immediately without waiting for the host's response.
For both platforms, once booking is confirmed, users are able to communicate with their host through the platform's messaging system. This way you can coordinate check-in details and other relevant information before you arrive.
Payment for the booking is handled by either AirBNB or VRBO through the respective platform, ensuring a secure transaction process for both guests and hosts.
In summary, both Airbnb and Vrbo offer a user-friendly booking process, with features like filters, instant booking, and secure payment handling contributing to a smooth experience for travelers.
Accommodation Options AirBNB vs VRBO
When considering Airbnb and VRBO as choices for travel accommodation, it's essential to evaluate the variety and types of properties available on each platform.
Airbnb boasts a more extensive selection, with over 5.6 million listings, while VRBO offers around 2 million rental properties worldwide.
However, it's crucial to understand the differences in the types of accommodations each platform specializes in to make an informed decision.
Airbnb caters to travelers searching for diverse lodging options, ranging from single rooms to entire houses. This platform allows guests to choose from various accommodation styles, including shared spaces, private rooms, or entire homes.
This versatility makes Airbnb a popular choice for budget-conscious travelers and those looking for unique and one-of-a-kind experiences.
On the other hand, VRBO strictly focuses on providing separate condos, apartments, and houses. It does not list shared spaces, ensuring that guests will not share any room or space with others, including the homeowner. This reason is exactly why I personally choose VRBO.
This aspect of VRBO appeals to travelers seeking more privacy, comfort, and a true "home-away-from-home" feeling during their stay.
Both platforms offer an array of amenities and features to suit various traveler preferences.
Some popular categories for accommodations include:
Family-friendly stays
Pet-friendly lodgings
Beachfront properties
Mountain retreats
City-center apartments
The choice between Airbnb and VRBO for accommodation options really depends on the traveler's personal preferences and requirements.
Those seeking a diverse range of options and a more social experience may lean towards Airbnb, while travelers prioritizing privacy and a more traditional vacation rental experience may find VRBO more fitting.
Pricing and Fees AirBNB vs VRBO
When comparing Airbnb and Vrbo, pricing and fees play a significant role in determining the best option for travelers. Both platforms have distinct fee structures for guests and hosts, which can directly impact the overall cost of a stay.
Airbnb uses a split-fee structure, with hosts typically paying a 3% service fee, while guests pay a service fee between 14% and 20%.
Some listings, such as hotels, may not charge a service fee to guests. The total cost of an Airbnb stay factors in the nightly rate, cleaning fees, and any additional fees set by the host.
Vrbo, on the other hand, generally charges guests a lower service fee ranging between 6% and 12%.
For hosts, Vrbo offers two advertising options: a flat annual fee of $499 for unlimited bookings or a pay-per-rental commission-based structure, which charges 5% per rental plus a 3% credit card processing fee.
The cost of a Vrbo stay includes the nightly rate, cleaning fees, and any additional host-determined fees.
Both platforms tend to be priced competitively. Individual property listings may vary in price depending on factors such as location, amenities, and the time of year.
To get the best deal, travelers are encouraged to compare property listings on both Airbnb and Vrbo to identify any potential differences in costs.
This approach may also uncover instances where the same property is listed on both platforms with differing fees and total costs. This has happened to me where VRBO was much less than AirBNB for the same rental.
AirBNB vs VRBO which is Easy to use?
When comparing Airbnb and Vrbo, user experience plays a significant role in determining which platform is best suited for travelers. Both platforms offer intuitive search tools, making it easy for users to find their ideal accommodation.
There are some differences between them, which can impact the overall user experience.
They are:
Airbnb is known for its unique accommodations, with options including single rooms, private homes, and even treehouses or igloos. This variety attracts younger and business travelers who may be seeking a more personalized experience.
In contrast, Vrbo focuses on whole-property rentals, which are more suitable for longer stays and tailored to travelers seeking more spacious and private accommodations.
As for the booking process, both Airbnb and Vrbo offer a straightforward and seamless experience.
However, payment options differ between the two platforms. Airbnb provides the flexibility to pay with PayPal, while Vrbo may not always offer this option.
Additionally, Vrbo has more built-in user protections, making it a safer choice for some travelers.
In terms of filters and search customization, Vrbo offers a more comprehensive array of options for users to narrow down their search results. This allows travelers to find specific types of homes or amenities to suit their needs.
However, Airbnb has made notable improvements in their search functionality, incorporating visual elements such as prices and locations on their map view.
Cancellation Policies AirBNB vs VRBO
Both Airbnb and Vrbo offer various cancellation policies that property managers can choose from. These policies differ from one property to another, and it is essential to read the specific terms for each booking carefully.
Airbnb provides six types of cancellation policies, ranging from "Flexible" to "Super Strict 60 Days." In a flexible policy, free cancellation is available up to 14 days before check-in.
If the reservation is booked less than two weeks out, guests have 48 hours after booking to cancel.
On the other hand, Vrbo's cancellation policies tend to be slightly stricter.
In the best-case scenario, guests can cancel within 14 days before arrival and receive a full refund; however, some bookings offer no refund for cancellations regardless of how far in advance they are made.
When comparing the policies of the two platforms, keep the following points in mind:
Always read the fine print and understand the specific cancellation terms for each booking.
Consider looking for properties with flexible cancellation policies, especially during uncertain times or when travel plans may change unexpectedly.
Make note of any deposit requirements or applicable fees associated with cancellations, as these can vary between properties and platforms.
For your protection, double check and the cancellation policies for each property when booking through either Airbnb or Vrbo.
Other things to know
Below are some of the special features:
Airbnb offers "Experiences" for travelers, an option that allows guests to explore and book various local activities and events hosted by locals.
This feature enables visitors to immerse themselves in the local culture and gain a more personalized travel experience.
In addition, Airbnb provides a variety of accommodation options, ranging from shared rooms and private rooms to entire homes. This diversity caters to travelers with different budgets and preferences.
Additionally, Airbnb has made efforts to be more inclusive by implementing features like the "Open Homes" program, which offers free or discounted stays for people in crisis, such as refugees and medical patients.
Vrbo, on the other hand, specializes in whole-property rentals. This focus makes it an appealing choice for larger groups, families, and those who prefer having a dedicated space during their stay.
One significant feature of Vrbo is the "Book with Confidence Guarantee" program, which offers payment protection, rebooking assistance, and other services in case of booking issues.
Another notable feature is Vrbo's "Trip Boards," a functionality that allows users to create personalized lists of their favorite properties, making the planning process more streamlined and collaborative.
This tool is particularly useful when traveling with a group, as it allows everyone to contribute opinions and ideas about potential stays.
Safety
When choosing between Airbnb and Vrbo, travelers may prioritize safety and support as key factors in their decision. Both platforms have implemented measures to ensure the well-being of their guests and hosts.
Airbnb has taken significant steps to enhance safety by requiring hosts to follow strict cleaning protocols and conducting background checks on certain hosts.
The platform also provides 24/7 customer support and offers its hosts and guests access to Airbnb's Host Protection Insurance and $1 Million Host Guarantee in case of damages or accidents.
Additionally, Airbnb allows users to view ratings and reviews from previous guests, creating a system of trust within its community.
Vrbo offers its guests the option to add travel protection insurance to their bookings. This helps safeguard against unforeseen circumstances, such as illness or emergencies, by offering a refund for the prepaid cost.
Moreover, guests traveling with pets or children may also purchase damage protection insurance to avoid incurring additional charges.
While Vrbo does not have a shared room option, its focus on entire home listings can offer guests a heightened sense of privacy and security.
Both platforms uphold the importance of trust and commitment within their communities. Airbnb and Vrbo have implemented safety measures such as secure messaging systems, verified listings, and trust and safety teams to monitor and address potential issues.
Safety is VERY important in today's world. For me if I were traveling alone, I would opt to stay in a hotel.
Girls trips, couples getaways, family vacations and more, I would choose to stay in a VRBO. I simply prefer to have the whole house to myself. Hope this has helped explain the differences between these two companies.
Below is other information you will find helpful in planning your next getaway.
Other information to help you plan the perfect vacation:
Upcoming Trip?
I like to use Booking for booking not only my hotels, but my tickets and rental cars as well. Makes life so much easier with only having to log into one location for my information.
Be sure to grab my travel tips to save you time and money. You'll also be entered into the weekly drawings.
Register here: Get 100 Travel Tips EVERY traveler should know PLUS entered into the weekly drawing.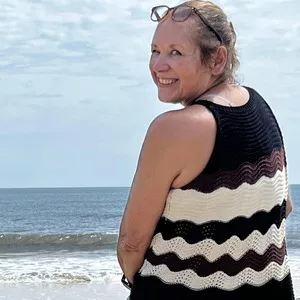 About Denise
Denise Sanger lives a life split between her love for fitness and her passion for travel particularly to the BEACH. Denise also has a love of marketing and lives in beautiful Suwannee County, Florida. You can find out more about Denise here: About Denise