Off the beaten path: visit Rural North Florida.
This article may contain affiliate links. Whenever you buy something through one of these links, I may earn a small commission without any cost to you. I really appreciate it as it supports this site and my family. Thank you!
Florida. The land of beaches and Mickey Mouse. But is that all that Florida has to offer? Absolutely not. Rural North Florida is one of my favorite stomping grounds and where I call home.
How did I get here? Well it was Cleveland via Miami before I landed in beautiful Suwannee County. While visiting a friend that had moved up here, I fell in love with the simplicity and natural beauty of the area. Today I'm still in awe of the mighty Suwannee River and although I haven't kayaked the whole river, I have completed several beautiful sections.
Many folks when they think of Florida only think of hitting the beaches on our beautiful coastlines. Or they fly in and out landlocked Orlando to Disney World, Universal or Sea World never seeing the untamed beauty of the rest of the state. The Everglades is truly something everyone should see in their lifetime.
Hopefully after you read this post, you'll take some time. Hop off I-75 or I-10, depending on which way you're traveling, and check out rural North Florida.
Thank you for reading this post. Don't forget to subscribe! This way you never miss an update, travel deals, discounts and more!! Subscribe to the right------>
As you meander east or west on I-10, you have quite a few exits where you can easily hop off and check out the beauty of the area. My first recommendation would be to hop off at the Live Oak exit with the bustling Busy Bee Gas Station.
At this exit, you will find several restaurants – both fast food and sit down. Grocery stores, pharmacies and of course Walmart. But don't get side tracked by places you have in your city. Head north on US-129 and stop at Suwannee Springs (on the east side of the road) or visit Spirit of The Suwannee Music Park which also is a campground on the west side of the road. Both are located right on the Suwannee River.
Suwannee Springs is now a park but in it's hey day, there was a hotel and a bath house located on the spring that feeds into the river. You will smell the sulfur from the springs and see the remains of the bath house. But don't stop there. Head to the right and take a walk down to the sandy beach on the Suwannee before returning to the trailhead. Walk along the trail that will take you up to a bridge that is no longer used. It's covered with graffiti and perfect for snapping a few pics. The trail continues on the other side of the bridge if you feel like a hike along the river.
Spirit of the Suwannee is on the west side of 129 across from the Ag station. It also has a restaurant but check ahead as I'm not sure of the hours. It's a pretty little park worth exploring and a great choice for camping.
Suwannee River State Park is located on Highway 90 the exit PRIOR to the Busy Bee/US 129 exit. Another gorgeous Florida State Park to explore. In this park, you'll find the ruins of an old cemetery along with many trails to explore and hike.
Madison, Florida is also located right off I-10 and is great for stretching your legs while exploring. Good food and several antique shops for window shopping while enjoying the historic architecture.
Also located in Madison, is Madison Blue Springs State Park. The springs are out of this world and definitely worth a visit to take a look. I kayaked from this spring that flows into the Withlacoochee River. BEYOND gorgeous.
Heading north or south on I-75, you'll be on the east side of Live Oak. Hop off at CR 136 exit 439 east. Enjoy the country views as you drive toward town. Over the Suwannee River and you'll be in historic White Springs.
White Springs was the location of another bath house that tourists flocked to in the early 1800's. Be sure to stop and take a look before heading through town toward Big Shoals State Forest and Park. A beautiful 1.25 mile hike (2.5 miles round trip) will have you overlooking Big Shoals – Florida's only claim to white water rapids. You can paddle over the shoals depending on water levels but if you look across the river, you can see the site where it's recommend you portage (carry) your kayak or canoe to put back in after the shoals. Kayaking this portion of the river is NOT on my bucket list.
All of these southern towns are perfect places to stop for a break or to enjoy lunch in one of the many state parks in the area. Take time to smell the wisteria in spring or the wildness of the Suwannee River as it meanders south.
Upcoming Trip?
I like to use Booking for booking not only my hotels, but my tickets and rental cars as well. Makes life so much easier with only having to log into one location for my information.
Be sure to grab my travel tips to save you time and money. You'll also be entered into the weekly drawings.
Register here: Get 100 Travel Tips EVERY traveler should know PLUS entered into the weekly drawing.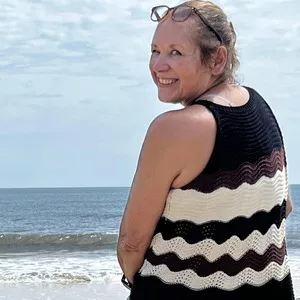 About Denise
Denise Sanger lives a life split between her love for fitness and her passion for travel particularly to the BEACH. Denise also has a love of marketing and lives in beautiful Suwannee County, Florida. You can find out more about Denise here: About Denise