Madison Blue Springs State Park & Withlachoochee River Kayak Trip
This article may contain affiliate links. Whenever you buy something through one of these links, I may earn a small commission without any cost to you. I really appreciate it as it supports this site and my family. Thank you!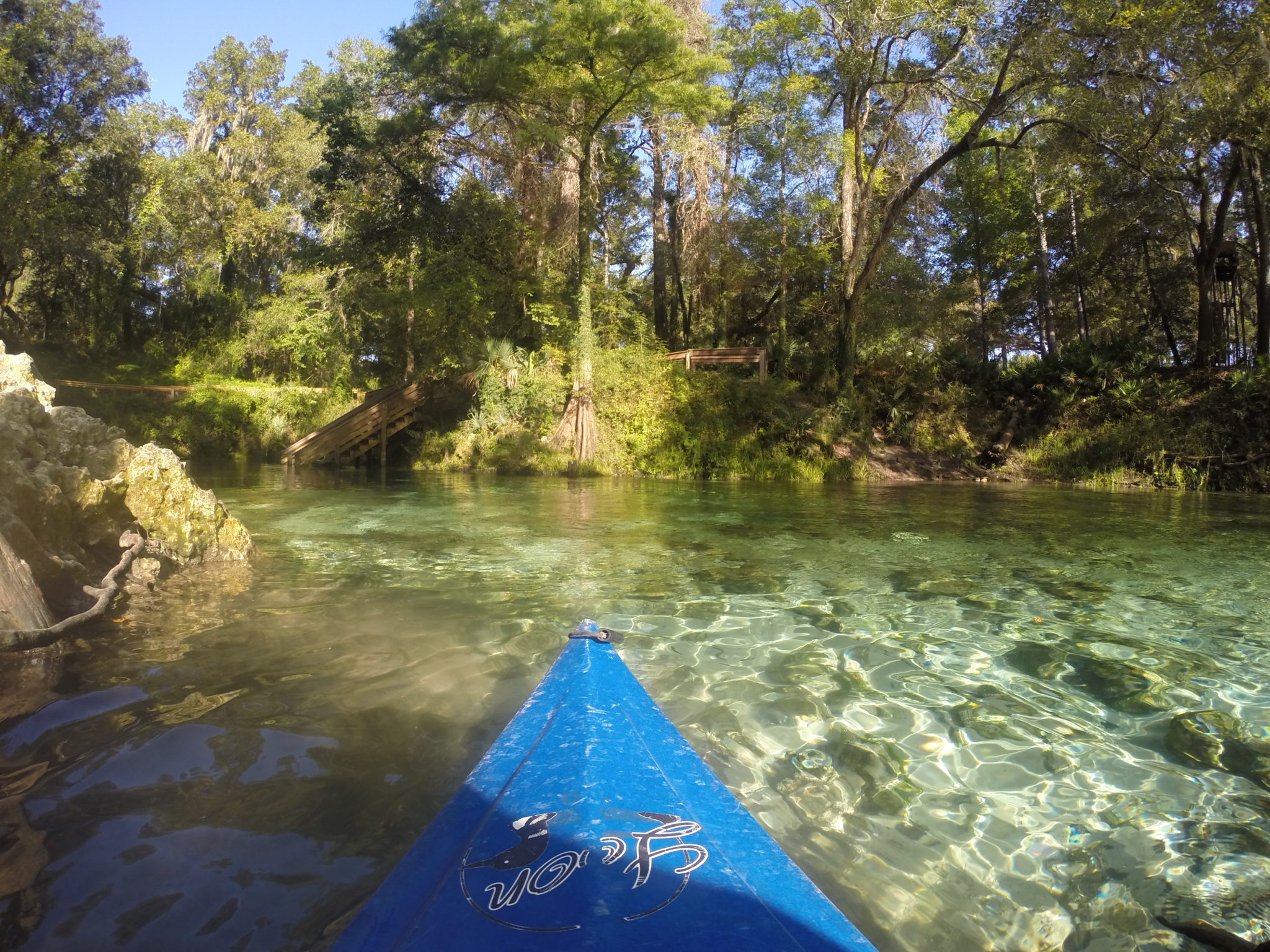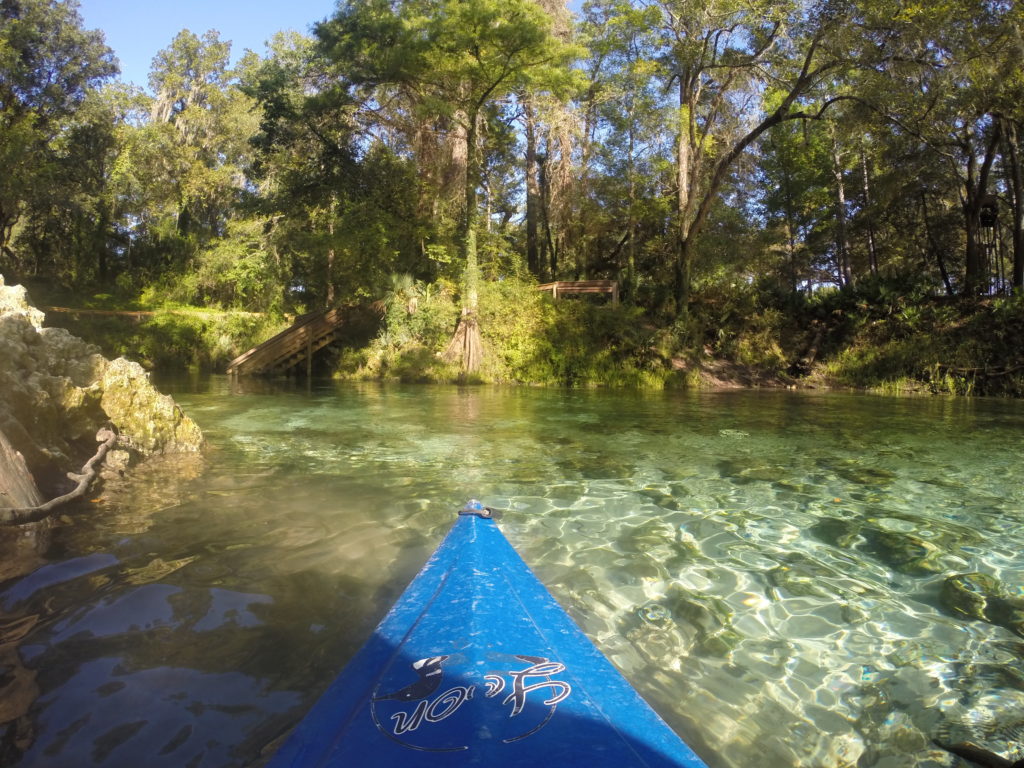 Beautiful, crystal clear waters of Florida's springs in hues of blues and greens are beyond anything you can imagine unless you see them for yourself. This week's kayaking trip had me back at Madison Blue Springs State Park heading into the Withlacoochee River.
As soon as I catch my first glimpse of the water, I can literally feel my blood pressure go down. This week we put in right at the springhead of Madison Blue Springs which connects to the Withalocoochee River. We kayaked the northern Withlacoochee River which is one of the longest and calmest rivers in Florida.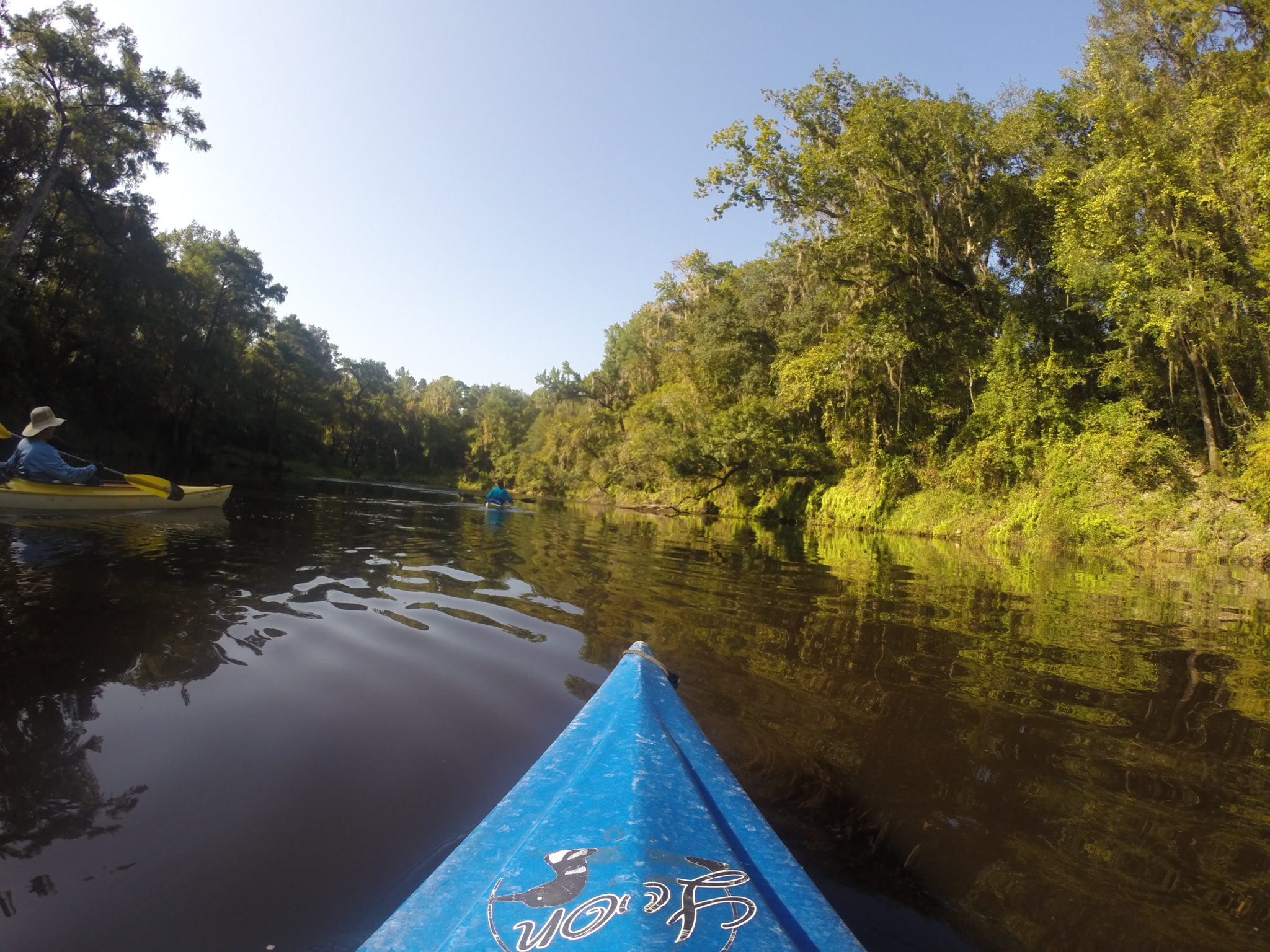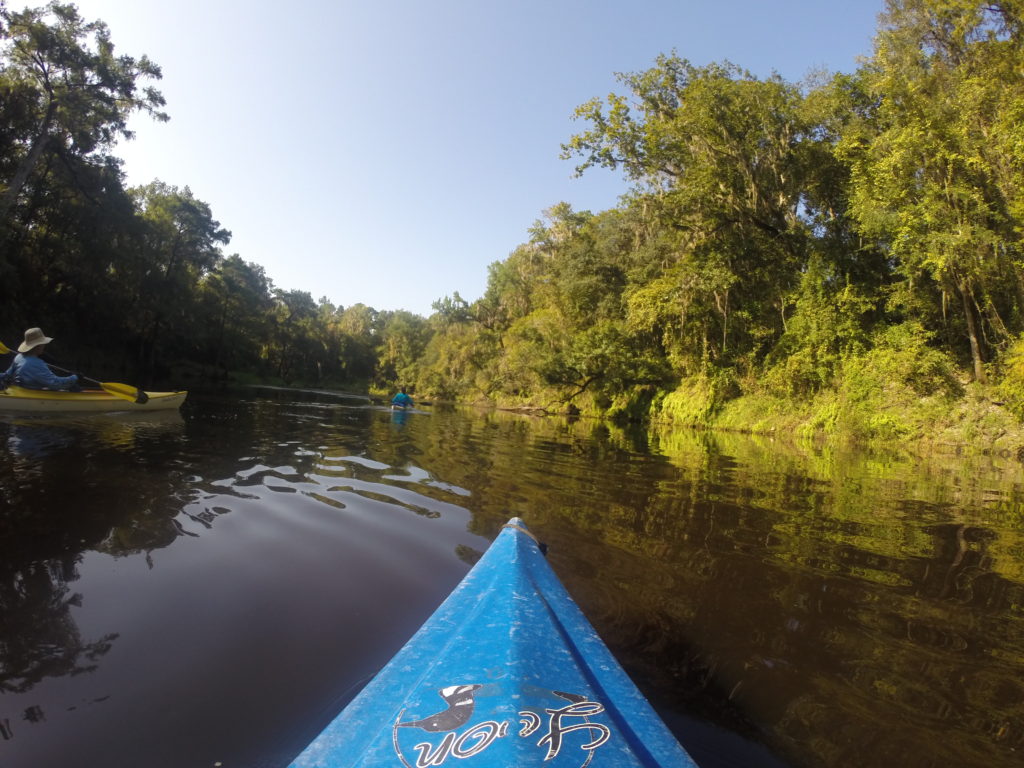 Withlacoochee River North
After floating around Madison Blue Springs springhead, we headed onto the Withlacoochee River. The Withlacoochee River can be classified as a beginner paddle or an intermediate paddle. This was a completely different river than the last time, we kayaked it. The water was much lower and I could see the sandy river bottom as we let the current pull us downstream.
So relaxing. Until we heard the shoals! I've been kayaking consistently on and off for several years now but one thing that can always make me nervous are shoals. When the water is lower, the rocky shoals that you may not notice when the level is higher are definitely something to be aware of.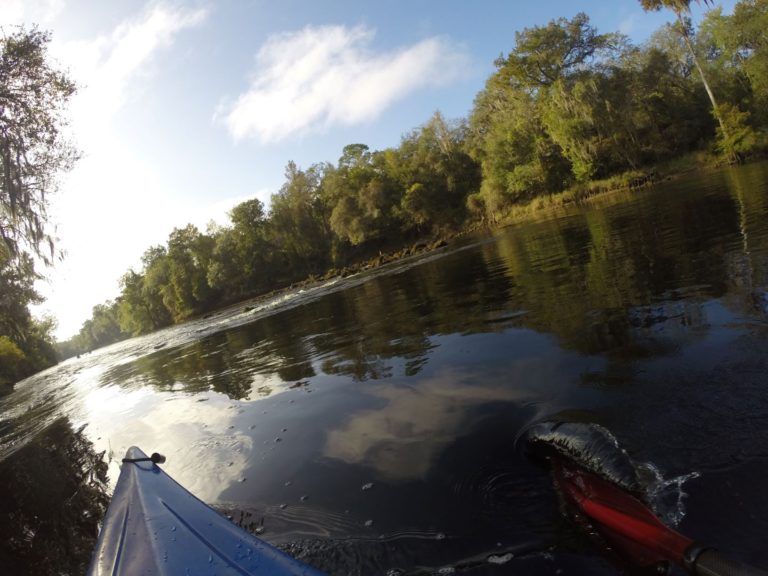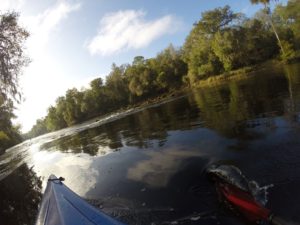 We don't have the rapids of Colorado or North Carolina but water rushing over any rocks has you making a game plan. Quickly.
Look for the V. Look for the V. That's all that kept going through my mind as I got closer and closer to the rocks. Found the V! Headed to the left of the rocks and sailed smoothly on through. Was pretty exhilarating too!
On the other side of the shoals, the river gently twists and turns through Twin Rivers State Forest. One of the beautiful forests on the Florida Trail Walker program I just completed.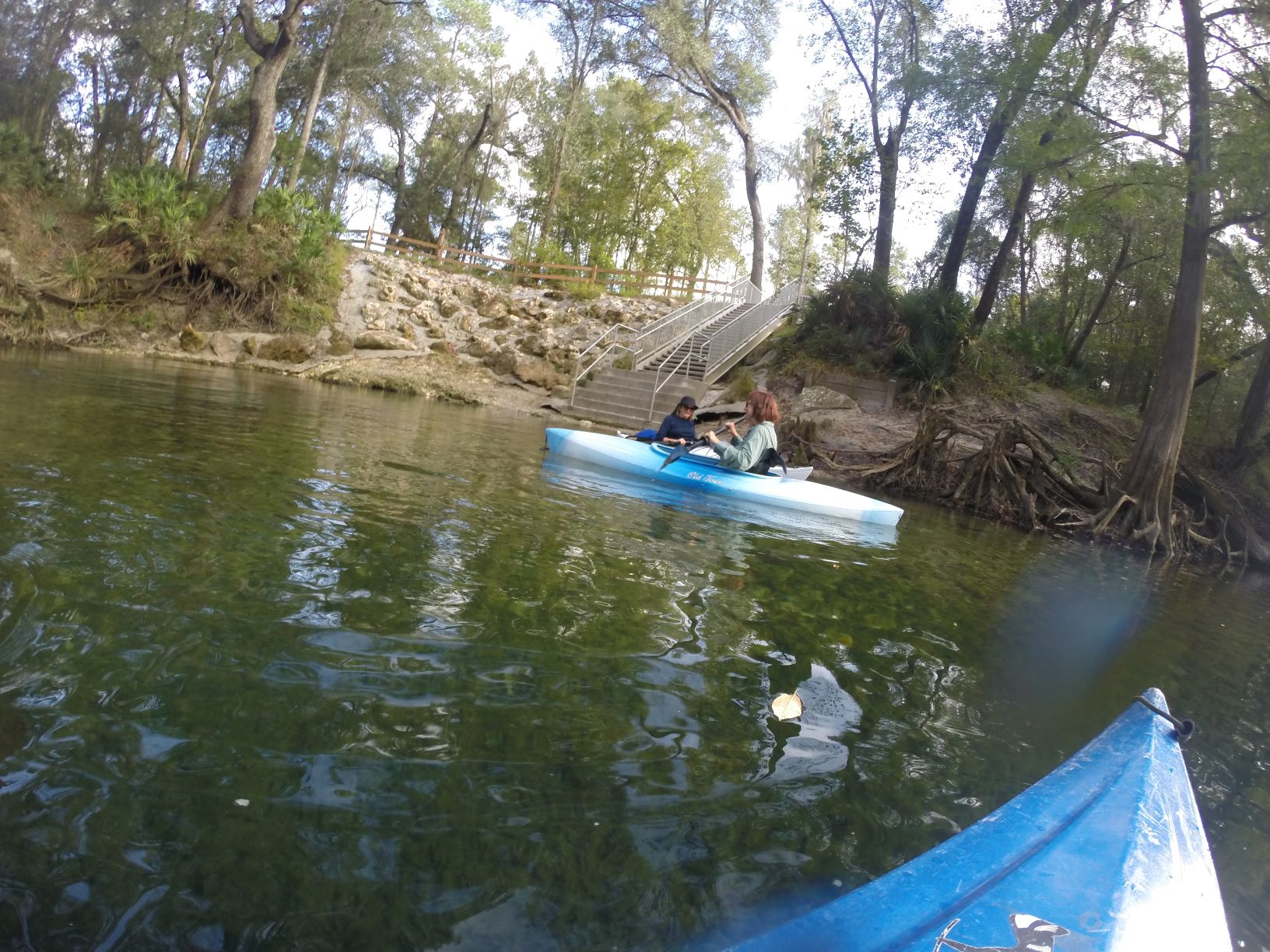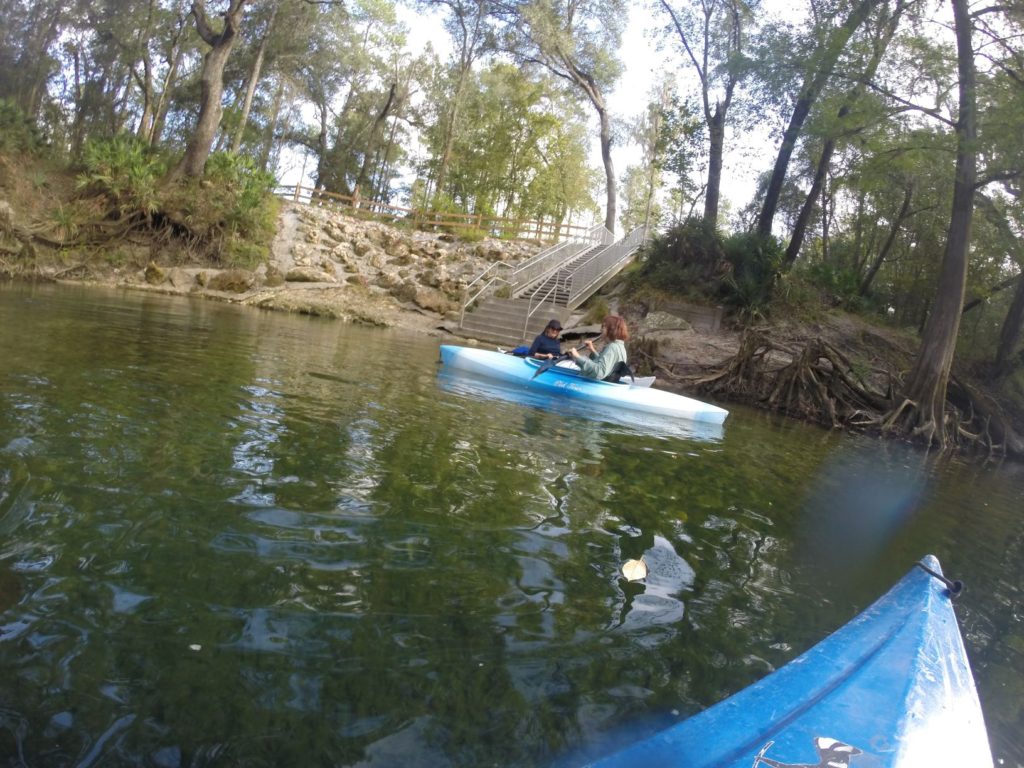 There are several crystal clear springs that feed the river. As I was scanning the river banks, I noticed a waterfall off to the right that was an unnamed spring flowing into the river.
Pot's Spring
About a mile or so downriver, we found Pot Spring. This park had been closed for management activities but when you're on a kayak, you can float on in. We saw a huge turtle swimming in the spring but unfortunately, I didn't get my GoPro in the water fast enough to catch a pic of him.
Along the way, cypress knees and tree hammocks lend their old Florida vibe to the trip. The Withlacoochee River, particularly putting in at Madison Springs State Park definitely stands up to it's reputation as one of the most scenic rivers to kayak in Florida.
Paddler's Notes:
The launch is located inside Madison Blue Spring State Park on HWY 6, 10 miles East of Madison. There is a fee to enter Madison Blue Springs State Park but it's minimal at $5. I have an annual pass which I enter onto the envelope. Be sure to put the blue mirror hangtag on your mirror.
There are two ramps but we chose to walk down the boardwalk to the spring. The other side where the launch appears to have been has access cut off. Kind of confusing. The spring current is strong so you will need to paddle against it to see the spring head.
Difficulty: Easy to moderate depending on river depth. If river is low, watch for the shoals you'll encounter a few times downstream.
Paddle Time: We were only on the river about two hours and exited at an unnamed boat ramp where we had parked the truck.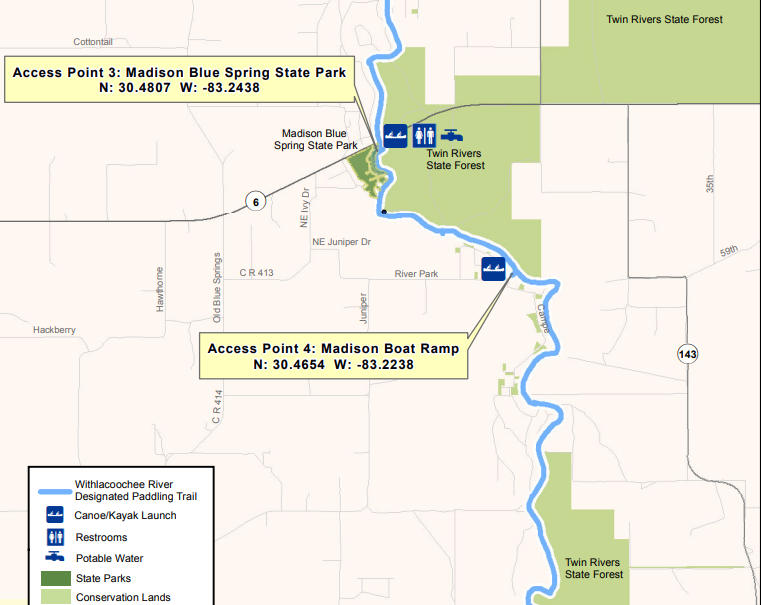 Upcoming Trip?
I like to use TripAdvisor for booking not only my hotels, but my tickets and rental cars as well. Makes life so much easier with only having to log into one location for my information.
Be sure to grab my travel tips to save you time and money. You'll also be entered into the weekly drawings.
Register here: Get 100 Travel Tips EVERY traveler should know PLUS entered into the weekly drawing.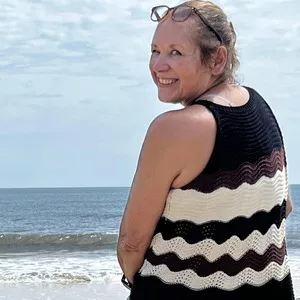 About Denise
Denise Sanger lives a life split between her love for fitness and her passion for travel particularly to the BEACH. Denise also has a love of marketing and lives in beautiful Suwannee County, Florida. You can find out more about Denise here: About Denise