Hiking Florida Forests Trails Big Shoals State Forest
This article may contain affiliate links. Whenever you buy something through one of these links, I may earn a small commission without any cost to you. I really appreciate it as it supports this site and my family. Thank you!
Big Shoals State Forest Trailwalker Program
2020 has been a year like no other that's for sure. Normally my travel writing takes me outside of Florida all over the country. This year I've been staying close to home. Doing Staycations so to speak. Every week, I've been hiking one of Florida's beautiful state forests as part of the Trailwalker program. One of the most beautiful of these state forests is Big Shoals State Forest.
The hiking trail takes you along the Suwannee River to a viewing area where you overlook the river bluffs which are Florida's only Class III river rapids. The day we hiked Big Shoals, the Suwannee River was high so we weren't able to see the rapids over the shoals. Don't let high water deter you though because the rushing river scene was still beyond gorgeous!
Big Shoals is located in picturesque White Springs which is in Hamilton County, Florida. Driving into White Springs is like driving back in time. You can easily see how life would have been more than a 100 years ago by looking at the century homes and stores. One of my favorite things about where I live in Florida is how often you can get a glimpse back in time by taking a drive.
The hike to the shoals is stunning. We did this hike in the late Spring and here in Florida, late Spring is similar to a hot summer up north so we headed out early.
Thank you for reading this post. Don't forget to subscribe! This way you never miss an update, travel deals, discounts and more!! Subscribe to the right------>
There are alligators in pretty much every river in Florida so you will see signs telling you no swimming. As long as I've lived in Florida which is over 25 years now, I can count on one hand the number of gator attacks. I'm not advising you to ignore the signs by any means. What I'm saying is to be aware of your surroundings while enjoying the beautiful wildness of Florida.
In addition to hiking, there are options for kayaking, equestrian trails and bike trails in the forest. There are near by campgrounds for those that would like to stay in the area longer.
This day we hiked 5 miles. 2.5 miles out and 2.5 miles back but the actual state forest trail walker trail is 1.5 miles. Big Shoals State Park is next to Big Shoals State Forest giving you many options for longer hikes.
If you're new to hiking and not quite sure what to bring, keep it simple. I recommend the following for hikes 2 to 3 miles:
Sturdy shoes.
Lightweight back pack. I use an old pack that I received at a half marathon years ago. This is similar to what I use: Nike Backpack
Water
Cell phone (you may not always have service but it's smart to have a phone on you.)
Bug spray. And make sure it's strong. Depending on what time of year it is, these mosquitoes will pick you up and carry you away.
I also wear a hat and have a cooling bandanna in my pack that I'll put around my neck if it's very warm. In addition to cooling me, the bandanna can be used as an emergency bandage. This is the one I carry: Cooling Bandanna
As I've been making my way through the many forests Florida has to offer, I've noticed that each our unique in their own way. Trees and vegetation are different. In some you'll see an abundance of wildlife such as deer or turtles and in others you may be treated to butterfly jewels as they float past you. Most important is to take your time. Stop and smell the roses and enjoy this beautiful world we live in.
Post contains affiliate links. If you purchase through any of these links, I may receive a small commission at no charge to you. Thank you 🙂
Upcoming Trip?
I like to use Booking for booking not only my hotels, but my tickets and rental cars as well. Makes life so much easier with only having to log into one location for my information.
Be sure to grab my travel tips to save you time and money. You'll also be entered into the weekly drawings.
Register here: Get 100 Travel Tips EVERY traveler should know PLUS entered into the weekly drawing.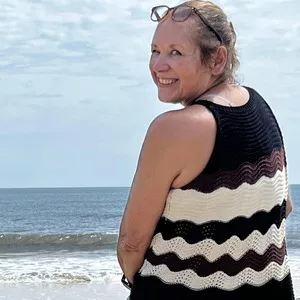 About Denise
Denise Sanger lives a life split between her love for fitness and her passion for travel particularly to the BEACH. Denise also has a love of marketing and lives in beautiful Suwannee County, Florida. You can find out more about Denise here: About Denise