Best Surfing Beaches in Florida. Catch The Waves At These Great Destinations
This article may contain affiliate links. Whenever you buy something through one of these links, I may earn a small commission without any cost to you. I really appreciate it as it supports this site and my family. Thank you!
Welcome to the Sunshine State, where palm trees sway, the sun shines bright. But the state also boasts a coastline teeming with incredible beaches including the Best Surfing Beaches in Florida below.
Here you will find the most beautiful beaches in the world, but Florida is also one of the best places to surf. But I have had to interview a few surfers because this is not a sport I partake in. If you are looking to give it a try, I can tell you surfers are very helpful and happy to chat with you.
From the historic charm of St. Augustine to the vibrant shores of Miami, check out the best surfing beaches for both beginning skill level and the best surfers in the world like six-time world champion Kelly Slater.
So grab your board, slather on the sunscreen, and let's dive into the best beaches in Florida for some rad surfing adventures!
Thank you for reading this post. Don't forget to subscribe! This way you never miss an update, travel deals, discounts and more!! Subscribe to the right------>
Catch The Wave: Best Surfing Beaches in Florida
Best Surfing Beaches in Florida Atlantic Coast
St. Augustine and St. Augustine Beach
Our journey begins in the oldest city in the United States, St. Augustine where rich history merges with great waves. Known for its picturesque beaches, St. Augustine offers reliable swells and consistent breaks for both beginners and advanced surfers. Head to Anastasia State Park for some gentle waves and one of the best surfing spots in the Northeast part of Florida. You will find a tranquil surfing experience amid pristine natural beauty.
Jacksonville Beach:
Just a short drive north of St. Augustine, you'll discover Jacksonville Beach and Jacksonville Beach Pier, a haven for wave riders and one of the best spots to catch a wave. With a laid-back atmosphere and a variety of breaks, this beach is perfect for all skill levels. If you're new to surfing, don't miss the opportunity to take lessons at one of the local surfing schools, where seasoned instructors will have you riding waves in no time.
In addition to surfing, Jax is a great destination to enjoy many water sports. Be sure to make time to take a walk along this stretch of beach on the Atlantic Coastline.
Cocoa Beach:
Moving south along the coast, we arrive at Cocoa Beach, known as the "Surfing Capital of the East Coast" and absolutely one of the best surf spots in the Sunshine State. This iconic beach and popular destination has attracted surfers since the early days of the sport.
With consistent waves and a vibrant surf culture, Cocoa Beach is an excellent spot for both beginners and experienced riders. The best break is usually around the Cocoa Beach Pier.
Be sure to visit Ron Jon Surf Shop, the world's largest surf shop and a legendary institution offering everything a surfer could dream of. Interesting fact, hurricane season in this of the state, is the best time to hit the water as the storm churns up the waves of the warm water.
Also while you are in this area, hop over to the Space Coast where you can also surf and check out Kennedy Space Center when you need a break.
Flagler Beach
Continuing our journey down the East Coast of Florida we arrive at Flagler Beach, a hidden gem cherished by local surfers and the perfect place to grab your board as the surf breaks toward the shoreline.
This laid-back beach town boasts uncrowded waves and a relaxed vibe. The Flagler Beach Pier is a popular spot to catch some awesome rides while enjoying breathtaking ocean views.
Daytona Beach
Famous for its high-speed racing, Daytona Beach is also a mecca for surfing enthusiasts. With its wide sandy shoreline and consistent waves, Daytona Beach caters to surfers of all levels. After catching some waves, take a break and explore the bustling boardwalk, offering an array of entertainment options for beach goers.
Palm Beach
For those seeking a touch of luxury alongside their surf adventures, head to Palm Beach. This upscale destination is home to crystal-clear waters, stunning resorts, and a vibrant surf scene. While the waves might be mellower here, the breathtaking surroundings make it an idyllic spot for leisurely rides and soaking up the sun.
Sebastian Inlet State Park:
If you're craving bigger waves and a more thrilling surf experience, make your way to Sebastian Inlet State Park. Situated between Melbourne and Vero Beach, this renowned surf spot boasts powerful swells and epic breaks that challenge even the most experienced surfers. Exercise caution and respect the power of the waves at this exhilarating location.
Ponce Inlet
Located just south of Daytona Beach, Ponce Inlet offers consistent breaks and uncrowded waves. This tranquil beach spot is perfect for beginners looking to refine their skills or more experienced surfers seeking a relaxed and peaceful surfing experience.
New Smyrna Beach And New Smyrna Beach Inlet:
Last but certainly not least, we have the legendary New Smyrna Inlet. This world-renowned surf spot boasts the most consistent waves, attracting surfers from all over the globe. It holds the reputation of being one of the top surfing destinations on the East Coast. While its powerful waves might intimidate beginners, experienced surfers again like world-renowned surfer Kelly Slater, will find an exhilarating challenge here.
Best Surfing Beaches in Florida Gulf Coast
Venice Beach:
Venturing to Florida's Gulf West Coast, we find ourselves at Venice Beach, known for its unique black sand and a great spot for amazing surf. While the waves here are generally smaller, it's an ideal spot for beginners or those looking for a more laid-back surfing atmosphere. Don't forget to explore the nearby jetties, where you can find the best waves in this area.
A Few More Of The Best Surfing Beaches in Florida East coast:
Atlantic Beach
Miami South Beach
Boynton Beach Inlet
Melbourne Beach
On the West Coast, you can also enjoy surfing at Perdido Key, which is near Pensacola Beach. This is another excellent place on the Gulf Side.
Finding the Biggest Waves: At what time of the year are waves biggest in Florida?
If you're an experienced surfer and crave the thrill of riding big waves, a few spots along Florida's coast are known to deliver those epic swells. You will want to watch for the beach break which is a surfable wave breaking onto the beach.
If you are looking for consistent swells and larger waves, the winter months from end of August through Spring is the best time for ideal conditions to surf. You can often see waves up to 10 feet during these months.
That's not to say you can't surf during the summer months. Depending on weather conditions including tropical storms and hurricane season, Florida's Atlantic Coastline can kick up and provide you with good waves for surfing.
Sebastian Inlet State Park on the Atlantic Ocean side mentioned earlier, is famous for its larger and more powerful waves. With its ideal positioning and proximity to the Gulf Stream, this spot consistently generates sizeable waves that attract skilled surfers seeking an adrenaline rush.
Additionally, New Smyrna Inlet is renowned for its powerful waves, which can reach impressive heights. It's important to note that these larger waves come during high tide not low tide. Also, larger waves increase risks, and only experienced surfers should attempt to tackle them. Always prioritize safety, assess the conditions, and consider your skill level before paddling out into more challenging waters.
Whether you're a seasoned shredder or a beginner ready to catch your first wave, Florida's beaches offer a plethora of options for all levels of surfers. From the historic shores of St. Augustine to the renowned breaks of New Smyrna Inlet, there's a wave waiting for everyone. So pack your board, embrace the salty air, and embark on an unforgettable surfing adventure along Florida's Atlantic Coast!
Note: It's important to remember that surfing can be dangerous, especially for those without experience. Always prioritize safety and take proper precautions. If you're new to surfing, consider taking lessons at one of the many reputable surfing schools along the Atlantic Coast to ensure a safe and enjoyable experience.
Here Are A Few More Links To Help You Plan Your Surfing Vacation:
Upcoming Trip?
I like to use Booking for booking not only my hotels, but my tickets and rental cars as well. Makes life so much easier with only having to log into one location for my information.
Be sure to grab my travel tips to save you time and money. You'll also be entered into the weekly drawings.
Register here: Get 100 Travel Tips EVERY traveler should know PLUS entered into the weekly drawing.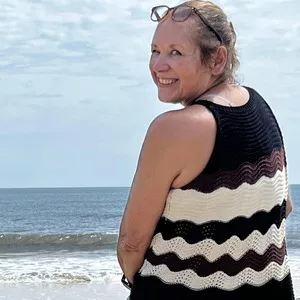 About Denise
Denise Sanger lives a life split between her love for fitness and her passion for travel particularly to the BEACH. Denise also has a love of marketing and lives in beautiful Suwannee County, Florida. You can find out more about Denise here: About Denise