Key West: Warmest Florida city In December
This article may contain affiliate links. Whenever you buy something through one of these links, I may earn a small commission without any cost to you. I really appreciate it as it supports this site and my family. Thank you!
Let's see. Boots, bubble coat, cardigan, socks, hat, gloves, scarf, check. Ugh. Where can you go in December? I know! Key West, warmest Florida city in December!
While December paints the rest of the country in chilly hues, you can enjoy Key West in your swimsuit, sipping sunshine cocktails while the rest of the country is bundling up.
This island city isn't just warm in temperature; it's practically the Santa Claus of warmth, gifting travelers with balmy breezes and sunny days in the midst of winter's chilly embrace.
Key West Warmest Florida City In December
While much of the country bundles up, Key West boasts average December temperatures ranging from the mid-70s to low 80s Fahrenheit.
Thank you for reading this post. Don't forget to subscribe! This way you never miss an update, travel deals, discounts and more!! Subscribe to the right------>
What about the water temp in Key West? What may be cold to me, is probably for you.
Water temps in Key West in December are usually around 75 Fahrenheit. The perfect temps for spending the day on the beach, swimming or snorkeling, sightseeing or shopping and a bite to eat on Duval Street.
Enjoy the sun without the sweltering heat and humidity of summer, making it the perfect climate for exploration.
What about Christmas in Key West?
Should you plan to visit Key West and the Florida Keys during the holidays? Absolutely!
December in Key West doesn't just bring warm weather; it also brings festive cheer! The island is dressed up in its finest with plenty of events celebrating the season.
Even better? Fewer people.
Many other Florida cities and destinations throughout the United States get slammed with tourists during the holidays. Key West offers a more getaway. Enjoy attractions and activities without the long lines.
What to Do in Key West in December
There is always something happening in the Southernmost city of the United States, and December is even more special with the holiday. Be sure to make time to do and see the following:
Sunset Celebrations at Mallory Square
Gather at Mallory Square each evening for the world-famous sunset celebration. Enjoy street performers, local artisans, and the breathtaking sunset over the Gulf of Mexico.
Explore Historic Key West
Take a stroll through history in Old Town Key West. Visit the Ernest Hemingway Home and Museum, the Key West Lighthouse, and wander the charming streets lined with colorful Victorian homes.
Water Adventures
Indulge in water activities like snorkeling, kayaking, or taking a boat tour to spot dolphins or explore nearby coral reefs. Tip: I cannot recommend enough that you make time to take the ferry over to the Dry Tortugas to snorkel. I had the best time on my last visit.
Art and Culture
Discover the vibrant art scene by visiting galleries and attending local art walks. Don't miss the Key West Art & Historical Society exhibitions. Simply walking down Duval, you will see many art galleries as well as shops that display and sell, recovered treasure such as coins and jewelry.
Holiday Festivities
Who doesn't love a parade? Enjoy holiday events like the Lighted Bike Ride, the Key West Holiday Fest, and the Schooner Wharf Bar & Galley Lighted Boat Parade.
Culinary Delights
Savor fresh seafood at waterfront restaurants, indulge in Key Lime Pie, and experience the island's diverse culinary scene. There are so many options, you will run out of time before restaurants.
There you go! With its warm climate, festive decorations and events, and range of fun activities, Key West in December is an ideal destination for a getaway.
Pack your bags, leave the winter gear behind, and embrace the sunshine and celebrations of this vibrant island paradise.
The information below will help you plan your Key West vacation:
Upcoming Trip?
I like to use Booking for booking not only my hotels, but my tickets and rental cars as well. Makes life so much easier with only having to log into one location for my information.
Be sure to grab my travel tips to save you time and money. You'll also be entered into the weekly drawings.
Register here: Get 100 Travel Tips EVERY traveler should know PLUS entered into the weekly drawing.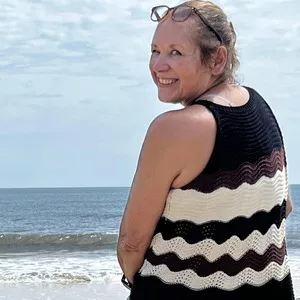 About Denise
Denise Sanger lives a life split between her love for fitness and her passion for travel particularly to the BEACH. Denise also has a love of marketing and lives in beautiful Suwannee County, Florida. You can find out more about Denise here: About Denise