Best And Cheapest Way To Get To Dry Tortugas National Park
This article may contain affiliate links. Whenever you buy something through one of these links, I may earn a small commission without any cost to you. I really appreciate it as it supports this site and my family. Thank you!
The United States has some of the most beautiful national parks and my recent visit to the Dry Tortugas National Park did not disappoint! Many folks have asked me the best and cheapest way to get to Dry Tortugas National Park I thought the thing to do would be to give you all the options available, so you can make the choice that fits best for you.
The Dry Tortugas is our country's most remote national park and the National Park Service does an amazing job of maintaining it in often rough conditions.
Don't have time to read the whole article? Get information on the Dry Tortugas Ferry here: Dry Tortugas Ferry
It consists of 7 small islands not one though you will often hear it referred to as a remote island. This national park and monument has been on my bucket list for years.
Thank you for reading this post. Don't forget to subscribe! This way you never miss an update, travel deals, discounts and more!! Subscribe to the right------>
What Are The Islands Of The Dry Tortugas National Park
The seven islands include Garden, Loggerhead, Bush Key, Long, East, Hospital, and Middle Keys, and they are located roughly 70 miles off the coast of Key West in the Florida Keys.
Garden Key which is where historic Fort Jefferson is located as well as the visitor center and where the seaplane and ferry both land.
What is Dry Tortugas most famous for?
The main attraction is Fort Jefferson but right behind is the beautiful waters of the Gulf of Mexico to snorkel in. The colors are insane ranging from blue to turquoise to even aqua.
This national monument is the largest masonry structure in the Western Hemisphere. It covers 16 acres and was constructed with over 16 million bricks but is unfinished.
The fort was abandoned in 1875. It was never used in battle, although prisoners were housed here during the Civil War.
It is located on Garden Key which funny enough is not the largest island. The largest key is Loggerhead Key.
Fun fact, the prisoners housed here were those who were convicted of the conspiracy to assassinate President Lincoln. They included Dr. Samuel Mudd, Samuel Arnold, Michael O'Laughlen, and Edmund Spangler.
Even though not used in battle, the fort had 520 heavy guns. You can see the tracks where they were in the fort.
In addition to the fort, these islands host migratory birds and a nesting place for the sooty terns. This portion was closed off and not accessible to protect the birds.
Coral reefs, and marine life including loggerhead sea turtles, tropical fish, and more were all visible as we snorkeled along the moat wall. The clear turquoise waters provide some of the best snorkeling I have ever experienced.
It made it easy to see for the most part, but parts of the water were a bit cloudy and difficult to see, so I simply turned around and headed back to crystal-clear waters.
What Is The Best And Cheapest Way To Get To Dry Tortugas National Park
When planning our Key West trip, we knew we wanted to include the Dry Tortugas. We researched all options including Dry Tortugas Ferry, private charter, private boat, and sea plane.
We chose to go by ferry which for us provided the best value for our Dry Tortugas Day Trip but if you have your own boat that can navigate the open water, you can easily get to this remote location.
Matter of fact, while talking to a woman who was on a camping trip at the fort, she told us that at night there are quite a few boats that dock at the fort when night falls.
Ferry Boat Ride
We went with the Yankee Freedom Ferry specifically Yankee Freedom III which is the most popular way to get to the islands.  One of the best things for us was everything was included in the $200 per-person fee including the following:
Snorkel Gear
Breakfast that we ate on board and lunch that we ate at a picnic table in the park
National Park Entrance Fee
Guided tour of the Fort
Ferry Ticket including the return trip to the terminal
A parking garage is located directly across the road from the ferry terminal where our car was parked while we were on our full-day excursion exploring. The travel time is about 2 hours and 15 minutes one way. 
Get information on the Dry Tortugas Ferry here: Dry Tortugas Ferry
Check-in time for the ferry was 7 a.m. with a departure time of 8 a.m. This is a full day trip with your return arrival at the terminal at 5:30 p.m.
The main cabin is air-conditioned, but we chose to sit up top and watch the water for sea turtles and dolphins. We did have military jets buzz by overhead which was pretty cool to see in the middle of the ocean.
There is no fresh water on the island, but the ferry provides that as well as other beverages throughout the day. The restroom on the island is closed while the ferry is in port.
Even though the ferry ride travel time is 2.25 each way, there was enough time to explore everything and snorkel too. The tour guides and park rangers are outstanding with information about the largest brick structure and there is a small gift shop on the island, but it was closed when we were there.
Key West Seaplane Adventures
The next option is not quite as affordable, but I wanted to be sure to let you know about this half-day or full-day trip option. Key West Seaplane Adventures is the only seaplane service to the islands and departs from Key West International Airport.
Flight time is roughly 40 minutes each way, and you can choose between a half day trip excursion or a full-day excursion. The cost for the half-day at this time is $451 per person and the full-day cost is $792 per person.
Time on the island for the half day is two and one half hours while the full day is six and one half hours.
Charter Boat
Finally, if you would like the extra cost of complete control over your trip, a charter boat may be the best way for you to visit Las Tortugas.
Get more information here: Best Charter Boats To Dry Tortugas National Park
Travel Tips
The best time to visit the Dry Tortugas would be during the winter months into spring of February through April when it is the dry season. We actually visited in the summer months during the Atlantic Hurricane Season.
We kept an eye on the weather and booked our ferry when we could see bad weather from Hurricane Idalia had left Florida. The subtropical climate makes summer a wonderful time to snorkel, but it is a good idea to do as we did and check the weather.
One of the best tips I can give you? Sunscreen! Even though we repeatedly applied sunscreen, we returned sunburned, but this unique experience was worth it.
Also, be sure to bring fresh water in a non-disposable container. We filled ours with ice before departing Key West and still needed to get water from the boat.
Summer is the most popular time for snorkeling and there are two sides for you to snorkel. We started with the north swim beach which in my opinion was much more clear and a great place to see fish. The south swim beach side was more cloudy with limited underwater vision.
Depending on how much time you allow, you should be able to see everything inside and outside the fort, walk along the moat wall, and snorkel on both sides. Definitely one of the best places I have ever enjoyed snorkeling.
One more tip. If you are subject to motion sickness, I'd recommend bringing motion sickness medication on the ferry.
Dry Tortugas Packing List
We had brought our snorkel gear with us to Key West but did not take it to the islands as the ferry provided that for us. You can bring your own and I do recommend you bring the following items:
Large Water Bottle. Yes, there is water on the boat but while out exploring, carry your own to stay hydrated. This is mine: RTIC Large Water Bottle
Snacks. Breakfast and lunch are included in the ferry trip price, but you may want to have a snack also during the day.
Sunscreen. Be sure to apply a high SPF continually throughout the day. This is the best in my opinion, and it's reef safe: Sun Bum Original SPF 50 Sunscreen Lotion
Shoes to explore the fort. I opted to bring my hiking shoes. These are the one I wear: Columbia Waterproof Hiking Shoes
Hat to help keep the sun off your face. This is by far the best one I have ever had: Sunhat I use it for hiking and kayaking as well.
Camera. There is so much to see and do that you will want to have photos of your amazing trip. Waterproof is even better like this one: KODAK PIXPRO WPZ2 Rugged Waterproof Shockproof Dustproof WiFi Digital Camera
Binoculars. I always have binoculars in my hiking pack and used those to see the birds and even a sea turtle in the water. These are mine and they are very affordable: Binoculars
Change of clothes. I wore my swimsuit under a sundress but did not want to sit in wet clothes on the return ferry ride. There are changing rooms on the island. I carry a dry bag like this: Earth Pak Waterproof Dry Bag – Roll Top Waterproof Backpack
Bug spray. We did not have any issues with bugs as there is no standing water. But I have been told to bring bug spray just in case and I always have it also in my hiking pack.
Below is more information to help you plan your trip to the Dry Tortugas:
Absolutely a top 10 trip for me. Be sure to bookmark this page as there will be four additional articles including everything you need to know about camping at Dry Tortugas National Park.
Upcoming Trip?
I like to use Booking for booking not only my hotels, but my tickets and rental cars as well. Makes life so much easier with only having to log into one location for my information.
Be sure to grab my travel tips to save you time and money. You'll also be entered into the weekly drawings.
Register here: Get 100 Travel Tips EVERY traveler should know PLUS entered into the weekly drawing.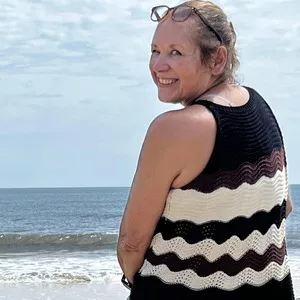 About Denise
Denise Sanger lives a life split between her love for fitness and her passion for travel particularly to the BEACH. Denise also has a love of marketing and lives in beautiful Suwannee County, Florida. You can find out more about Denise here: About Denise