Best Sunset Cruise In Key West Everything You Need To Know
This article may contain affiliate links. Whenever you buy something through one of these links, I may earn a small commission without any cost to you. I really appreciate it as it supports this site and my family. Thank you!
Looking for the best sunset cruise in Key West? Key West, Key Largo, Marathon, and the Florida Keys are well known for their beautiful sunsets.
Here you will see some of the most beautiful sunsets in North America. The kind of sunset that looks like a painting with the pinks, oranges, and reds of the setting sun.
The trip to the Dry Tortugas was the highlight of my trip this time around – read more here: Best And Cheapest Way To Get To Dry Tortugas National Park But, I have to say the sunset cruise is a very close second.
This article will cover the best sunset cruise in Key West and everything you need to consider before booking. Most of the cruises do depart from Garrison Bight Marina making it easy to select what works best for you.
Thank you for reading this post. Don't forget to subscribe! This way you never miss an update, travel deals, discounts and more!! Subscribe to the right------>
What should you look for when considering a sunset cruise in Key West?
Type of Boat
First, look at the type of boat. There are quite a few options as some sunset cruises are offered on catamarans, while others are offered on schooners or yachts. The type of boat will affect the size of the cruise, the amenities offered, and the price.
Some sunset sails will include live music, hors d'oevres, water, soft drinks, and even a glass of champagne or an open bar while others offer a sunset dinner cruise.
For a special occasion and unique experience, you may prefer a private sunset cruise or private charter. Truly the perfect way to celebrate a special occasion or add a bit of romance to your vacation.
Size Of Boat
If you're looking for a more intimate experience, choose a smaller boat. If you're traveling with a group, you'll want to choose a larger boat.
Time Of Year
If you prefer smaller crowds, the best time to go on a sunset cruise is during the spring or fall, when the weather is mild and the crowds are smaller. My best sunset cruises, however, have been in the summer. I love to be outside as much as possible and the weather doesn't affect me where it might you.
When To Book Your Sunset Cruise
Book as soon as possible as sunset cruises are very popular especially when it comes to seeing a famous Key West sunset and often sell out. However, I want to say, if you are traveling like I just did during hurricane season, wait at least to the week before to book.
Other Things To Consider
Finally, look at the departure time for the cruise you are considering. Yes, you are on vacation BUT if you are not one to stay up past 9 p.m. you should consider an earlier time for your cruise.
Next, where is the cruise going, and how long will it be on the water? Key West is one of the best places by far to see a spectacular sunset, but if you are traveling with little kids, you might consider a dolphin, sunset cruise to keep them occupied for the time you are sailing.
Will your cruise be longer than just sunset hours? Maybe you would like to snorkel over a coral reef. Several sunset cruise options include snorkel trips where you can see tropical fish, sea turtles, dolphins, and more in their natural habitat.
​Best Sunset Cruise In Key West
Now that you know what you should consider choosing the best option for you to view those breathtaking sunsets in the Florida Keys, what are the best boat tours?
I just returned from an amazing vacation in Key West and yes, enjoyed the best sunset sail. We had knowledgeable captains and crew, Sangria, cold beer or a rum punch with hors d'oeuvres.
We departed from the Key West historic seaport of this southernmost point in the United States. Likewise, we had such a good time as well as a gorgeous sunset on our Key West Sunset Sail.
Our first day, we joined the Mallory Square Sunset Celebration and I thought that was a beautiful sunset to see but the spectacular views from the sailboat over the tropical waters of Key West were some I had not seen before.
Our cruise was with Sebago, and it was truly the best experience from beginning to end. We did book our cruise in advance as they do tend to sell out. That's me to the left.
There was plenty of room, and we chose to sit on the upper deck in the back of the boat, outside. We could have opted to sit in the main cabin which was air-conditioned, but one of the best things about sitting outside are the views!
The boat was a 60-foot catamaran, I won't say luxury catamaran but nice. On board were restrooms, and a local entertainer who played music and sang as well. Great option for large groups. Definitely an amazing time.
​Get more info on Sebago Watersports and Cruises, which is the one I just enjoyed here: Sebago Sunset Cruise
Key West Sunset Sail Aboard Schooner America
The next fantastic option would be the replica of the 1851 Schooner America. Perfect if you would like a champagne sunset cruise.
From Schooner America, you will see Fort Zachary, Sand Key Lighthouse, downtown Key West and Mallory Square. It's a great way to not only enjoy sailing on an historic schooner replica, but the complimentary champagne isn't too bad either.
Premium beer, wine, champagne, bottled water and hors d'oeuvres are included in this sailing cruise. This wine sunset sail has amazingly great reviews, so I definitely plan to enjoy this one next visit.
Get more info on Schooner America Sunset Sail here: Sunset Cruise Schooner America
Sunset Sail Cruise in Key West Jolly II Rover
One more fantastic option is the Jolly II Rover, the only square-rigged, topsail vintage schooner in the area. The red sails are definitely something to see!
This sunset cruise does not have a full bar or even a cash bar that I am aware of, but they do provide bottled water and ice. From this sailing, you will see Man O War Harbor, Christmas Tree Island, Fort Taylor, and more.
Of course, the main event is watching the sun dip and trying to see that green flash everyone talks about when it does. I have yet to see that green flash, but I am not giving up!
Get more info on Key West Jolly II Rover here: Sunset Cruise Jolly II Rover
Small Groups and Private Tours
For those who prefer a more intimate setting, there are private tours or cruises designed for small groups.
First for a small group, Danger Charters is the way to go. Enjoy sailing on this 65-foot schooner as you enjoy a glass of wine or beer.
On board, you will be treated to up to eight different wines and/or five different beers. Also included are a gourmet cheese buffet and other appetizers such as summer sausages, water crackers with brie, green apples with a honey drizzle, and more.
Maximum on this boat is 26 travelers. Definitely a great time as you watch the sunset on the open water.
Get more info on Danger Charters Small Group Sunset Cruise here:  Small Group Sunset Cruise
Special occasion? Then you will want to opt for a private boat tour and Sunset Sail Key West delivers!
The captain and crew do a great job making sure you have the best experience possible. If you are planning this cruise for a special occasion such as a proposal, honeymoon, birthday, anniversary, and more, you will not be disappointed.
Truly a memory not soon forgotten. Get more info on this private sunset cruise here: Sunset Key West An experience like no other!
Below is additional information to help you plan the most memorable Key West Vacation:
Upcoming Trip?
I like to use Booking for booking not only my hotels, but my tickets and rental cars as well. Makes life so much easier with only having to log into one location for my information.
Be sure to grab my travel tips to save you time and money. You'll also be entered into the weekly drawings.
Register here: Get 100 Travel Tips EVERY traveler should know PLUS entered into the weekly drawing.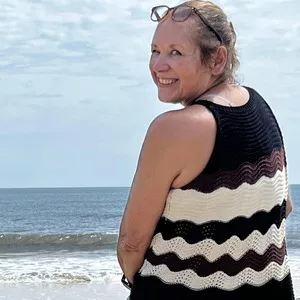 About Denise
Denise Sanger lives a life split between her love for fitness and her passion for travel particularly to the BEACH. Denise also has a love of marketing and lives in beautiful Suwannee County, Florida. You can find out more about Denise here: About Denise