How Far Is Cuba From Key West? Can You See It? What you need To Know.
This article may contain affiliate links. Whenever you buy something through one of these links, I may earn a small commission without any cost to you. I really appreciate it as it supports this site and my family. Thank you!
On my first trip back to Key West in roughly 25 years, I have really been enjoying the sites including stopping at the Southernmost Point Buoy for a photo. While waiting in line to take our picture with the buoy, I kept hearing how far is Cuba from Key West. Can you see Cuba? 
A lot has changed since the last time I drove through the Florida Keys, but the Southernmost Point looks exactly the same at this popular tourist destination. 
TIP: This article is part of the ultimate travel guide to Key West section of my site. You can see the guide here: Key West Travel Guide
The answer? Depending, but before we get into the details of whether you can see Cuba from Key West, let's talk about a few other things first.
Thank you for reading this post. Don't forget to subscribe! This way you never miss an update, travel deals, discounts and more!! Subscribe to the right------>
Cuban Government restrictions, time difference, and other details make it difficult to provide accurate information, but I do have links to additional resources for you below.
Make sure you take advantage of not only seeing the Southernmost Point but also to see all the historic sites in Key West and how they are intertwined with the Cuban people and the island's history.
How To Get To Key West
Getting to Key West is fairly easy.  You can fly directly into the Key West Airport or like us, travel the Overseas Highway enjoying the sights of various islands and bridges including the 7-mile bridge.
There are 100 miles between Key Largo to Key West, with a travel time of about 2.5 hours. It may sound like a short distance that would take less time, but the speed limits vary from 35 mp to 55 mph along the islands.
Can You See Cuba From Key West?
Key West, Florida is the southernmost point in the continental United States. It is only 90 miles (145 kilometers) from Cuba, which is located in the Caribbean Sea.
90 miles does not seem so far but no you cannot see Cuba or even Cuban waters with the naked eye from anywhere in Key West.
The reason for this is due to the curvature of the Earth prevents objects that are more than 3 miles (4.8 kilometers) away from being visible.
There have been reports, though, of people seeing the lights of Havana, Cuba at night from Key West with strong telescopes but nothing that I can verify.
The Florida Straits separates the United States and Cuba. This is where the Gulf of Mexico and the Atlantic Ocean meet.
It is also where the shortest distance is between the USA and the tropical island country. When you look out across the water, you simply see water and any boats that may be traveling by.
Key West versus Cuba
American history shows Key West was discovered by Ponce de Leon in 1513. As he explored Florida and the part of Florida called the Keys, he discovered the Gulf Stream. Spanish settlers had planned to set up a farming community when they landed on the Southwest Coast of Florida.
Local settlers attacked the Spanish expedition and Ponce de Leon suffered an arrow to the thigh. Those he was traveling with sailed with him to Cuba where he died from the wound.
Spanish settlers from Cuba also traveled back and forth to what is today Mallory Square for meat, fish, and eggs. This is where today, you can watch the sunset as part of the Mallory Square Sunset Celebration.
The two islands have been historically linked many times over the years including during the Cuban Revolution in the 19th century when many Cuban Refugees landed and settled in Key West.
Can Americans Travel To Cuba As Tourists?
The next question I heard was "Can Americans travel to Cuba? Are there restrictions? Can only family visit Cuba?"
I did some research and yes, due to the recent easing of travel restrictions but depending on your circumstances. If you are interested in traveling to Cuba from Key West, there are a few different ways you can do so based on the reasons outlined below.
I still recommend and think it is a good idea to check several times before booking any travel between the two countries. Things are constantly changing. I recommend you check the US Department of State information here: US Embassy Travel Information
From Key West, you can fly from the Key West International Airport. The air travel distance or flight distance is 105 miles as the crow flies.
There are several direct flights as well as charter flights including the Havana Day Trip Ernest Hemingway excursion which shows a flight time of about one hour.
As far as commercial, the only commercial flights are with American Airlines from Key West Island Airport to the beautiful city of Havana also with a travel time of 1 hour. Miami International Airport as well as Fort Lauderdale also have flight options. 
Honestly? I'm not certain about flights in and out of Havana, but you can check here: Key West To Havana Flights for current schedules.
There are no ferry companies at the time of this writing that will take you on open water to Cuba and back, but you can charter a private boat or private yacht charter for a day trip from the southernmost city to Havana through the Strait of Florida.
The large ships that do travel to Cuba include Norwegian and Royal. You can check current schedules here: Cruises To Cuba
Traveling at 10 knots and depending on weather conditions, the boat ride will cover 105 nautical miles and take anywhere from 4 to 9 hours depending on your travel choice. Small boats are the least popular option due to the rough waves and currents in the strait of Florida.
As far as taking a cruise ship, US citizens are still required to meet the reasons below to visit the beautiful island nation of Cuba.
IF you are able to get to the island, I did find several places for you to stay. You can check those out here: Cuban Accommodations: Hotels, Resorts
According to the US Department of Treasury, you can travel to Cuba for the following reasons:
Family visits
Official business of the U.S. government, foreign governments, and certain intergovernmental organizations
Journalistic activity
Professional research and professional meetings
Religious activities
Public performances, clinics, workshops, athletic and other competitions, and exhibitions
Support for the Cuban people
Humanitarian projects
Activities of private foundations or research or educational institutes
Exportation, importation, or transmission of information or informational materials
Certain export transactions that may be considered for authorization under existing Department of Commerce regulations and guidelines with respect to Cuba or engaged in by U.S.-owned or -controlled foreign firms
The boat trip is the most common way to travel between the two countries, and it takes about 4–5 hours. The plane trip is faster, but it is also more expensive. The private charter is the most expensive option, but it is also the most flexible.
It is important to note that there are restrictions on travel between the United States and Cuba. You will need to obtain a permit from the US government before you can travel to Cuba.
The restrictions for U.S. Citizens on travel are constantly changing, so it is important to check with the U.S. government before you book your trip.
Despite the restrictions, travel between Key West and Cuba is becoming more popular and many Americans are enjoying everything the Cuban culture offers. You may have caught the TV show The Kardashians when they visited the island and enjoyed traveling by vintage car.
The two countries share a rich history and culture, and there are many things to see and do in both places. If you are interested in learning more about Cuba, a trip from Key West is a great way to start.
Here are some additional things to keep in mind when planning a trip from Key West to Cuba:
The weather in the Straits of Florida can be unpredictable, so it is important to check the forecast before you travel. Also, check before traveling during the rainy season and hurricane season.
There are a number of different companies that offer boat trips to Cuba from Key West. Do some research to find a company that has a good reputation.
If you are taking a boat trip, be sure to bring sunscreen, sunglasses, and a hat. The sun can be very strong in the Keys.
You will need to bring your passport and a visa to Cuba. You can apply for a visa at the Cuban embassy in Washington, DC.
Finally, below are even more links to help you plan your trip to Cuba from Key West if you are able to do so:
Additional Key West/Cuba Information:
Upcoming Trip?
I like to use Booking for booking not only my hotels, but my tickets and rental cars as well. Makes life so much easier with only having to log into one location for my information.
Be sure to grab my travel tips to save you time and money. You'll also be entered into the weekly drawings.
Register here: Get 100 Travel Tips EVERY traveler should know PLUS entered into the weekly drawing.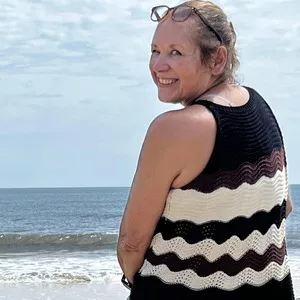 About Denise
Denise Sanger lives a life split between her love for fitness and her passion for travel particularly to the BEACH. Denise also has a love of marketing and lives in beautiful Suwannee County, Florida. You can find out more about Denise here: About Denise