Florida Clothing Optional Vacation Destinations: A Quick Guide To Help You Plan Your Getaway
This article may contain affiliate links. Whenever you buy something through one of these links, I may earn a small commission without any cost to you. I really appreciate it as it supports this site and my family. Thank you!
Are you planning a clothing optional vacation in the Sunshine State? Look no further! We have compiled some of the best Florida clothing optional vacation destinations.
These destinations will allow you to enjoy your vacation with absolute freedom and comfort.
From pristine, sun-kissed beaches to stress-free resorts, these clothing optional vacation spots have got you covered or, rather, uncovered.
As Floridians, we know how diverse our state is, and these clothing optional locations are a testament to that fact.
Thank you for reading this post. Don't forget to subscribe! This way you never miss an update, travel deals, discounts and more!! Subscribe to the right------>
Whether you prefer the natural beauty of a nudist beach or the serenity of a clothing optional resort, you will find your ideal getaway in Florida.
So, let us dive into the world of clothing optional vacation destinations in Florida, where you can unwind, relax, and embrace body positivity.
Note: I have not personally visited these resorts; a member of my team did. Please email me if something needs to be updated.
We have also not included resorts that did not have good reviews. At the bottom of this post, I have included links to additional information to help you plan your trip.
Discover your favorite spot and experience the liberating pleasure of living life au naturel in the Sunshine State.
Nudist Capital Of The World
When planning our Florida clothing-optional vacation, we can't ignore one of the most well-known destinations: Pasco County. Pasco County has earned the nickname "Nudist Capital of the World" due to its sheer number of clothing-optional resorts, hotels, and beaches.
The area is a paradise for naturists and nudists alike, offering a variety of ways to bare it all and unwind in beautiful Florida surroundings.
Caliente Resort & Spa is a popular luxury clothing-optional resort in Pasco County that caters to our every need. We can enjoy a day in the sun by their tropical-themed lagoon pool. Or participate in daily activities, or head to the spa for some pampering.
They also have an excellent on-site restaurant providing quality dining options. Plenty of choices when we want to refuel after our day of fun.
For more of a laid-back atmosphere, Lake Como Family Nudist Resort is another great option in Pasco County.
With its vast natural beauty, Lake Como provides us with the perfect location to connect with nature. Truly relax on our clothing-optional vacation.
In addition to traditional vacation amenities like pools, hot tubs, and trails. The resort also offers unique amenities such as a 2-acre lake for kayaking and fishing.
There is also a disc golf course, and even a nude volleyball court!
Moving away from resorts, Dade County is home to the famous Haulover Beach. Soak up the sun on sandy shores while au naturel.
This clothing-optional beach, located near Miami, is known for its pristine sand and blue waters. A Very welcoming atmosphere for nudists and naturists of all ages.
Is A Private Beach And Clothing Optional Beach The Same
When it comes to comparing private beaches and clothing-optional beaches, we need to consider some key differences. A private beach typically refers to a beach that is owned by an individual, a resort, or a private community.
Access to these beaches is usually limited to the property owners or paying guests. There are usually specific rules and regulations in place to govern the behavior of visitors at these type of beaches.
Clothing Optional Or Private? Which Is Better
On the other hand, a clothing-optional beach is a public or private beach where visitors are allowed to be nude. These beaches are also known as nude beaches or naturalist beaches.
While some clothing-optional beaches might be located within private properties, others are public spaces managed by local governments or communities.
It is important to note that the rules and regulations at clothing-optional beaches are often focused on ensuring that all visitors feel comfortable and safe while they enjoy the freedom of being nude in a public space.
Now, let's explore some key differences between these two types of beaches:
Access: Private beaches usually require an invitation or paid access, while clothing-optional beaches might be open to the public or require a membership fee.
Nudity Acceptance: Private beaches may or may not allow nudity, depending on the rules set by the property owners. At clothing-optional beaches, nudity is generally allowed and embraced.
Crowds: Because private beaches have limited access, they tend to be quieter and less crowded than clothing-optional beaches, which can be popular destinations for both naturists and curious tourists.
Amenities: Private beaches, especially those owned by resorts, often offer a range of amenities such as beach chairs, umbrellas, and food services. Clothing-optional beaches may have similar amenities, but they might also be more basic depending on the location and management.
Private beaches and clothing-optional beaches have some similarities, they are not the same thing.
Each type of beach has its own unique features and experiences, so it is important for us to understand the difference in order to choose the best vacation destination that meets our needs and preferences.
Clothing Optional Vacations Florida Keys
Ah, the Florida Keys, a truly beautiful and unique destination in the United States, and what better way to experience it than by enjoying a clothing optional vacation?
We love this serene paradise and thought it would be helpful to share some of our favorite spots to visit.
First, there's Key West, the most popular of the Florida Keys and home to a mix of lively entertainment and relaxation. You can check out The Garden of Eden, a clothing optional bar located on the rooftop of the Bull & Whistle Bar.
It's a great spot to relax and meet new people while enjoying some drinks and views of Key West.
If a more secluded experience is what you're seeking, head down to Boca Chica Beach. Just around 10 miles east of Key West, this gorgeous beach is popular among naturists for its clothing optional areas.
Be it a quiet retreat on the beach, a lively night at a bar, or a stay in a clothing optional resort, there's truly something for everyone. Enjoy your time in our beautiful paradise!
Best Clothing Optional Destinations in Southeast Florida
We have explored some amazing clothing optional destinations in Southeast Florida that cater to guests who appreciate a unique and freeing vacation experience.
These are some of our top choices:
Haulover Beach Park: Mentioned above, this is one of the most popular clothing optional beaches in the United States, Haulover Beach offers a pristine white sand shore and clear blue waters.
There's plenty of space for sunbathing, swimming, and socializing. Plus, there are numerous amenities for a comfortable day at the beach, including picnic areas, showers, and concessions.
Rooftop Resort: Located in Hollywood, this oceanfront hotel and club offers an adult only, clothing optional environment perfect for a relaxed vacation.
With a rooftop pool, Jacuzzi, and sun deck, guests can enjoy beautiful ocean views while basking in the sun. The resort also offers modern rooms, a nightclub, and events for its guests.
Sunsport Gardens Family Naturist Resort: Situated in Loxahatchee, this resort caters to naturist families looking for an inclusive and friendly environment.
With over 40 acres of lush tropical grounds, guests can enjoy outdoor recreation, such as tennis, volleyball, and canoeing, as well as an inviting pool area and hot tub. The resort also offers lodging options ranging from tent camping to fully furnished apartments.
Blind Creek Beach: Found on Hutchinson Island, Blind Creek Beach is a scenic and tranquil clothing optional beach that offers a more secluded and peaceful experience.
This undeveloped stretch of shoreline is perfect for exploring nature and enjoying a slice of relaxation away from the crowds.
Each of these destinations provides a unique and welcoming atmosphere for those seeking a clothing optional vacation in Southeast Florida.
Explore these sites and enjoy making memories and connections with like-minded individuals who appreciate the joys of a clothing optional lifestyle.
Clothing Optional Vacations Atlantic Coast Of Florida
We love the freedom of clothing optional vacation destinations in Florida, and the Atlantic Coast has a few amazing places to visit.
The warm sun, refreshing ocean breeze, and sandy beaches create an inviting and relaxing atmosphere for naturists and nudists alike.
One of the favorite clothing optional spots on the Atlantic Coast of Florida is Apollo Beach. Located near the Space Coast. It is clothing optional and makes a great vacation destination.
Best Clothing Optional Destinations Southwest Florida
When vacationing in Southwest Florida, we found some of the best clothing optional destinations that cater to those who prefer a more relaxed, au naturel environment. Here are a few of our favorites:
Cypress Cove Nudist Resort: This family-friendly and clothing-optional resort located in Kissimmee, just south of Orlando, offers a variety of amenities for guests of all ages.
With 300 acres of beautiful grounds, you can enjoy activities such as swimming, tennis, and volleyball. They even offer a nudist/clothing-optional water park for the adventurous types.
Caliente Club & Resorts: Located in Land O'Lakes, Caliente Club & Resorts is an upscale clothing-optional destination ideal for couples and singles alike.
With luxurious accommodations, spa services, and themed events, this resort caters to every preference. Relax by the pool, indulge in fine dining or participate in a variety of recreational activities.
Great Options For A Clothing Optional Vacation On The Florida Gulf Of Mexico And Panhandle
We are excited to share some fantastic clothing-optional vacation destinations along the Florida Gulf of Mexico and Panhandle.
These spots offer a relaxing atmosphere, beautiful scenery, and the freedom to enjoy the sun and water without the restrictions of clothing.
Caliente Tampa Resort is a premier clothing-optional destination located in Land O'Lakes, Florida.
This luxurious resort features upscale accommodations, multiple pools, a full-service spa, fine dining, and various activities such as water volleyball and tennis. With everything this resort offers, you'll never want to leave!
For those seeking a more laid-back vibe, the Secrets Hideaway Resort in Kissimmee near Orlando is located in the center of the Sunshine State. This resort is listed as number 5 out of 10 for special resorts.
This adults-only resort offers a more intimate setting with private villa lodging, multiple pool areas, and on-site dining options.
With plenty of themed events and social gatherings, Secrets Hideaway is an ideal spot for couples and friends to relax and connect with like-minded individuals.
Visiting any of these incredible destinations will provide you with the perfect setting to enjoy a clothing-optional vacation on the Florida Gulf of Mexico and Panhandle.
From luxurious resorts to laid-back beachside retreats, you're sure to find the perfect spot for your unique experience. Here are a few more links to help you plan your Clothing Optional Vacation:
Upcoming Trip?
I like to use Booking for booking not only my hotels, but my tickets and rental cars as well. Makes life so much easier with only having to log into one location for my information.
Be sure to grab my travel tips to save you time and money. You'll also be entered into the weekly drawings.
Register here: Get 100 Travel Tips EVERY traveler should know PLUS entered into the weekly drawing.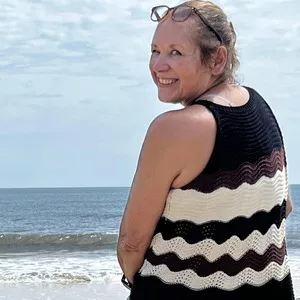 About Denise
Denise Sanger lives a life split between her love for fitness and her passion for travel particularly to the BEACH. Denise also has a love of marketing and lives in beautiful Suwannee County, Florida. You can find out more about Denise here: About Denise