Pineapple Mango Tequila Smash Beach Cocktail With A Tropical Twist!
This article may contain affiliate links. Whenever you buy something through one of these links, I may earn a small commission without any cost to you. I really appreciate it as it supports this site and my family. Thank you!
Pineapple and Mango Tequila Cocktail with a Tropical Twist
A refreshing tropical cocktail is the perfect way to beat the heat and transport yourself to a beach paradise. While there are many classic recipes to choose from, why not try something unexpected like this Pineapple Mango Tequila Smash Beach Cocktail.
I really enjoy creating and changing cocktail recipes. Probably due to my bartender background which is how I put myself through college.
This scrumptious beach cocktail combines juicy pineapple and mango into a tequila-based drink, creating a surprising and delicious twist on a traditional margarita.
To make this fun beach cocktail, you will need a few key ingredients that are readily available in most stores. Along with tequila, pineapple and mango juice, you will also need fresh lime juice, agave nectar, and a splash of orange liqueur.
Thank you for reading this post. Don't forget to subscribe! This way you never miss an update, travel deals, discounts and more!! Subscribe to the right------>
By following the easy step-by-step instructions, you can easily mix up a batch of this tropical delight for your next summer gathering or just a relaxing evening at home.
So, get ready to impress your friends and family with a unique and flavorful tequila recipe that will have everyone asking for seconds. I've included a few more of my favorite beach cocktail recipes below.
Pineapple Mango Tequila Smash Beach Cocktail Recipe Ingredients
To make this delicious tropical tequila recipe, you will need the following ingredients:
2 cups of fresh pineapple, chopped
2 cups of fresh mango, chopped
1 cup of tequila
1/2 cup of lime juice
1/4 cup of honey
1/4 cup of orange liqueur
1/4 cup of coconut cream
Ice
Pineapple wedges, mango chunks, and mint leaves for garnish
All ingredients can be found in most grocery stores or liquor shops. The combination of fresh pineapple and mango gives this tequila recipe a tropical twist that is both refreshing and unexpected.
The addition of honey and coconut cream adds a touch of sweetness and creaminess that balances the tartness of the lime juice and the kick of the tequila.
Next, you will need to follow these step-by-step instructions to make this fun beach cocktail.
Pineapple Mango Tequila Smash Beach Cocktail Prep
To start, gather all the necessary ingredients for the tropical tequila recipe. Make sure to have fresh pineapple and mango, tequila, lime juice, agave syrup, and ice on hand.
Next, chop the pineapple and mango into small pieces and set them aside. In a shaker, combine two ounces of tequila, one ounce of lime juice, and half an ounce of agave syrup. Add ice to the shaker and shake vigorously for about 15 seconds.
Then, add the chopped pineapple and mango to the shaker and give it a quick stir. Strain the mixture into a glass filled with ice.
For an extra touch of flavor, garnish the cocktail with a slice of fresh pineapple or mango.
This tropical tequila recipe with pineapple and mango is the perfect beach cocktail for any summer gathering. The unexpected addition of these two fruits creates a unique and refreshing flavor that will have everyone coming back for more.
The Surprising Twist
When it comes to tropical cocktails, pineapple and mango are common ingredients that are often used together. But what if there was a surprising twist that could take this classic combination to the next level?
Introducing the Pineapple Mango Tequila Smash, a refreshing and unexpected beach cocktail that will have you coming back for more. The surprise ingredient? Fresh jalapeño peppers, which add a subtle kick of heat that perfectly balances the sweetness of the fruit.
To make this delicious drink, gather the following ingredients:
2 oz tequila
1 oz pineapple juice
1 oz mango juice
1/2 oz fresh lime juice
1/2 oz agave nectar
2–3 slices of fresh jalapeño pepper
Pineapple and mango chunks, for garnish
In a shaker, muddle the jalapeño slices with the lime juice and agave nectar until well combined. Then, add the tequila, pineapple juice, and mango juice, along with a handful of ice, and shake vigorously for about 10 seconds.
Strain the mixture into a glass filled with fresh ice, and garnish with chunks of pineapple and mango. The result is a tropical tequila cocktail with a surprising twist that will make you feel like you're sipping on a beach in Mexico.
Whether you're hosting a summer party or just looking for a fun new cocktail to try, the Pineapple Mango Tequila Smash is sure to impress. So why not give it a try and see for yourself?
Garnish Ideas
Spice it up! There are plenty of garnish options to consider. Here are a few ideas to make your beach cocktail stand out:
Pineapple Wedges: Cut a fresh pineapple into small wedges and place one on the rim of each glass. This not only adds a pop of color but also complements the pineapple flavor in the cocktail.
Mango Slices: Similar to the pineapple wedges, slicing fresh mango and adding it to the rim of the glass can enhance the mango flavor in the drink.
Coconut Flakes: Toasted or untoasted coconut flakes can be sprinkled on top of the drink to add a tropical touch.
Lime Wedges: A classic garnish for any tequila cocktail, lime wedges can be placed on the rim of the glass or squeezed into the drink for an extra burst of citrus.
Jalapeño Slices: For those who enjoy a bit of spice, adding thin slices of jalapeño to the cocktail can add a kick to the fruity flavors.
Serving Suggestions
These tropical flavors in this scrumptious beach cocktail should be served in a festive and colorful glass. A classic margarita glass or a tiki mug would work well.
To add an extra touch of fun, consider adding a colorful paper umbrella or a slice of fresh pineapple with jalapeño as a garnish.
This cocktail pairs well with a variety of beach-inspired foods. Some great options include fish tacos, ceviche, or grilled shrimp skewers. For a lighter option, a fresh fruit salad or a side of guacamole and chips would also be a great addition to any beach day picnic.
To really set the mood, serve the cocktail alongside a beach towel or a beach umbrella. This will create a fun and relaxed atmosphere that will transport guests to a tropical paradise.
This beach cocktail is perfect for any beach day or summer party. It's refreshing, tropical, and unexpected, making it a crowd-pleaser for any occasion. Salute!
Upcoming Trip?
I like to use Booking for booking not only my hotels, but my tickets and rental cars as well. Makes life so much easier with only having to log into one location for my information.
Be sure to grab my travel tips to save you time and money. You'll also be entered into the weekly drawings.
Register here: Get 100 Travel Tips EVERY traveler should know PLUS entered into the weekly drawing.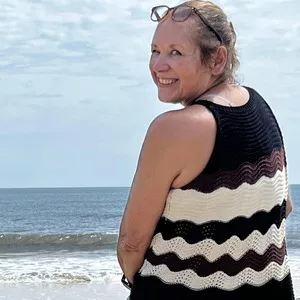 About Denise
Denise Sanger lives a life split between her love for fitness and her passion for travel particularly to the BEACH. Denise also has a love of marketing and lives in beautiful Suwannee County, Florida. You can find out more about Denise here: About Denise