The Ultimate Beach Cocktail For A Day At The Beach. Includes Tequila.
This article may contain affiliate links. Whenever you buy something through one of these links, I may earn a small commission without any cost to you. I really appreciate it as it supports this site and my family. Thank you!
In my humble opinion, the most important thing when choosing the ultimate beach cocktail for a day on the beach comes down to one thing. Refreshing.
You also do not want it to be too strong. You want to be able to spend the full day on the beach without getting too tipsy.
No matter which way I look at it, that means tequila. Why tequila? It's easy. Mixes with so many things. And can be made stronger or weaker depending on the drink you choose.
Another reason for me personally? Tequila generally does not give me a hangover. Very important on vacation right?
Thank you for reading this post. Don't forget to subscribe! This way you never miss an update, travel deals, discounts and more!! Subscribe to the right------>
It also goes nicely in a thermos with ice. My choice? Tequila with Fresca. That's right. Fresca.
Many beaches do not allow glass and some do not allow alcohol. When you make your cocktail in a thermos, grab some plastic cups you are set for hours with a refreshing cocktail.
Most important? Be sure to you are able to have adult beverages on the beach you are at.
Wondering if Fresca was still around? It is. The reason I choose Fresca? It is sugar-free and available in several flavors, so you can switch things up.
Sugar-free is also can help prevent that hangover. It does not directly cause the hangover, but it does mask the taste of the alcohol which could result in overindulging. Not what I want to do on my beach vacation.
Tequila And Fresco Ingredients And Recipe
Ready for the recipe for Tequila and Fresca? That's it. Tequila and Fresca.
More specifically:
2 fluid ounces tequila
Ice cubes.
6 fluid ounces Fresca in your choice of flavor. Tip: Grapefruit Citrus is fantastic if you want to put salt along the rim as it mimics a margarita.
There you have it. The Ultimate Beach Cocktail for a day at the beach. Let me know what you think.
There are more beach cocktail recipes on my site. I have put the links below for you. Salute!
Upcoming Trip?
I like to use Booking for booking not only my hotels, but my tickets and rental cars as well. Makes life so much easier with only having to log into one location for my information.
Be sure to grab my travel tips to save you time and money. You'll also be entered into the weekly drawings.
Register here: Get 100 Travel Tips EVERY traveler should know PLUS entered into the weekly drawing.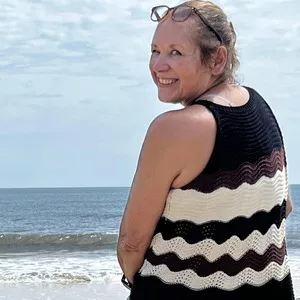 About Denise
Denise Sanger lives a life split between her love for fitness and her passion for travel particularly to the BEACH. Denise also has a love of marketing and lives in beautiful Suwannee County, Florida. You can find out more about Denise here: About Denise