How to make a frozen Bushwacker drink.
This article may contain affiliate links. Whenever you buy something through one of these links, I may earn a small commission without any cost to you. I really appreciate it as it supports this site and my family. Thank you!
If you have never enjoyed a Bushwacker at the beach, you don't know what you're missing. Creamy. Chocolately. Oh and ALCOHOL. Add a touch of whip cream and a cherry on top and you'll feel absolutely decadent. Tip for you. Don't get a frozen Bushwacker drink on a full stomach. This cocktail is sure to fill you up and more.
I always have one when on vacation in Panama City Beach. Every restaurant and bar seems to have a slightly different boozy recipe. Below is my favorite recipe on how to make a frozen Bushwacker drink to enjoy at home.
Fill your blender half full with ice. Next add 1 ounce each of rum, spiced rum, Kahlua coffee liqueur, amaretto, dark creme de cacao followed by a scoop of vanilla ice cream and blend. If too think add coconut milk, half and half or regular milk. At this point you're already over 800 calories. Take chocolate syrup and coat the inside of your glass, pour in the blended Bushwacker and top with a cherry.
Plan ahead! You can get the rum, amaretto, Kahlua and more delivered right to your door and have it on hand ready to make your cocktail. Drizly is one of my favorite places to order from.
Thank you for reading this post. Don't forget to subscribe! This way you never miss an update, travel deals, discounts and more!! Subscribe to the right------>
Depending on where you are, the recipe may vary a little bit. But never fear! Your Frozen Bushwacker drink will be always AMAZING. Salute!
Upcoming Trip?
I like to use Booking for booking not only my hotels, but my tickets and rental cars as well. Makes life so much easier with only having to log into one location for my information.
Be sure to grab my travel tips to save you time and money. You'll also be entered into the weekly drawings.
Register here: Get 100 Travel Tips EVERY traveler should know PLUS entered into the weekly drawing.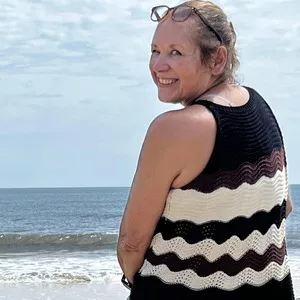 About Denise
Denise Sanger lives a life split between her love for fitness and her passion for travel particularly to the BEACH. Denise also has a love of marketing and lives in beautiful Suwannee County, Florida. You can find out more about Denise here: About Denise