Sex On The Beach Jello Shots Easy To Follow Recipe
This article may contain affiliate links. Whenever you buy something through one of these links, I may earn a small commission without any cost to you. I really appreciate it as it supports this site and my family. Thank you!
The number one beach cocktail recipe everyone looks for on this site? Sex On The Beach cocktail. So here you will find the the recipe for Sex On The Beach Jello Shots.
Nothing says beach vacation cocktail like a Sex On The Beach cocktail over ice. It is easy to make this delicious concoction at home too. You can find the recipe here: Sex On The Beach Cocktail.
Visualize yourself lying on the beach. Feel the sun warming your body while the ocean breeze keeps you cool.
You get a bit parched and take a sip of your Sex On The Beach cocktail that was made perfectly for you.
Thank you for reading this post. Don't forget to subscribe! This way you never miss an update, travel deals, discounts and more!! Subscribe to the right------>
What do you though when you are not on vacation at the beach? You create the experience at home with easy to make Sex On The Beach Jello Shots.
Not sure about you but I love jello shots and often bring my beach themed shots to parties and other events. Everyone loves them, and they are very easy to make.
One of the best things about jello shots? You can them make ahead of time. Just be sure to grab the shot cups with lids. You can get these on Amazon here: Shot Glasses With Lids
Ready to surprise your guests at the next party? Follow the easy directions below and as always, enjoy yourselves responsibly.
Sex On The Beach Jello Shot Ingredients
These jello shots require Vodka. My favorite is Grey Goose, but you should use your favorite.
1/2 cup Vodka
1/2 cup Peach Schnapps
1/2 cup Cranberry Juice
1 cup cold water
3/4 cup boiling water
1 box of orange jello
Sex On The Beach Jello Shot Recipe Directions
Empty the orange jello into a bowl. Add the boiling water and stir until jello is dissolved.
Next add cold water. Mix.
Once the jello mix is completely dissolved, add Vodka, Peach Schnapps and Cranberry Juice. Stir until well mixed.
Pour into the plastic shot glasses and place in the refrigerator for at least 2 hours until firm.
Make it fun!
Pick fun toppings for the jello shots and add before serving. Think out of the box with whipped cream, cherries, even cute little umbrellas like they place in our beach cocktails at the beach. These are adorable: Drink Umbrellas
Anything that instantly transports you to your happy place is a wonderful thing. Let me know how like this recipe and be sure to bookmark to watch for the next in a week. Salute!
Upcoming Trip?
I like to use Booking for booking not only my hotels, but my tickets and rental cars as well. Makes life so much easier with only having to log into one location for my information.
Be sure to grab my travel tips to save you time and money. You'll also be entered into the weekly drawings.
Register here: Get 100 Travel Tips EVERY traveler should know PLUS entered into the weekly drawing.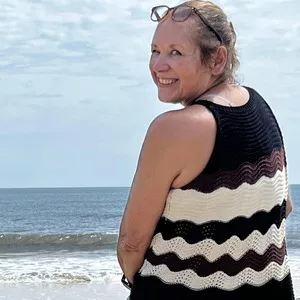 About Denise
Denise Sanger lives a life split between her love for fitness and her passion for travel particularly to the BEACH. Denise also has a love of marketing and lives in beautiful Suwannee County, Florida. You can find out more about Denise here: About Denise