#1 Beach Cocktail Sex On The Beach Low Carb
This article may contain affiliate links. Whenever you buy something through one of these links, I may earn a small commission without any cost to you. I really appreciate it as it supports this site and my family. Thank you!
Sex On The Beach Low Carb or Regular Versions
One thing special about going to the beach? My beach cocktails of course. Yes I can have Mich Ultra or White Claws at home, but there is something special about sipping a cocktail at a Tiki Bar while watching the sunset. Don't you agree?
Way back in the day, I was a bartender. Probably one of the most fun jobs I ever had. And I was good at it too. Made some AMAZING tips. Actually made more money bartending 3 nights a week than I did working a full time job for BP Oil. Imagine that? Put myself through college bartending.
I've decided that these uncertain times are not going to ruin my summer. This weekend I'm breaking out all the ingredients to mix up a batch of Sex On The Beach Cocktail low carb option for this girl because I really try to keep an eye on my sugar intake.
To mix an amazing regular Sex On The Beach cocktail, you will need the following:
Thank you for reading this post. Don't forget to subscribe! This way you never miss an update, travel deals, discounts and more!! Subscribe to the right------>
1.5 ounces of Vodka. I'm a Grey Goose kind of gal but also enjoy Titos.
1/2 – 1 ounce Peach Schnapps (depends on your taste preference. I use 1/2 ounce)
2 ounces orange juice
2 ounces cranberry juice
Garnish with cherry or orange slice
Layer in a tumbler and enjoy.
Now for those of you that prefer to go with the Cocktail Sex On The Beach Low Carb this is the recipe I found and LOVE:
1.5 ounces Vodka
1/2 ounce Cranberry Vodka
1/2 ounce Peach Vodka
Fill tumbler with Sparkling Ice. I have tried several flavors and love them ALL. They're delicious. Find the flavor you like the best.
Garnish with an orange or lime slice.
Both cocktails are absolutely delicious and transport me IMMEDIATELY to sunsets on the beach. Enjoy!
For assistance planning a vacation, recommend TripAdvisor.
Planning any vacations or trips? Definitely grab this: 100 Travel Tips EVERY traveler should know Save time and money
p.s. This post contains affiliate links to products I love.
Upcoming Trip?
I like to use Booking for booking not only my hotels, but my tickets and rental cars as well. Makes life so much easier with only having to log into one location for my information.
Be sure to grab my travel tips to save you time and money. You'll also be entered into the weekly drawings.
Register here: Get 100 Travel Tips EVERY traveler should know PLUS entered into the weekly drawing.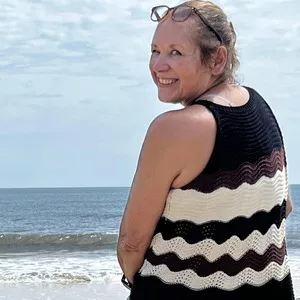 About Denise
Denise Sanger lives a life split between her love for fitness and her passion for travel particularly to the BEACH. Denise also has a love of marketing and lives in beautiful Suwannee County, Florida. You can find out more about Denise here: About Denise