How to make a Beach Painkiller Cocktail
This article may contain affiliate links. Whenever you buy something through one of these links, I may earn a small commission without any cost to you. I really appreciate it as it supports this site and my family. Thank you!
This past weekend you would have found me on the beach on Amelia Island. Amelia Island is a bit north of Jacksonville and one of my favorite places. Let's just say that after this trip, I have a new favorite cocktail. A Beach Painkiller Cocktail but I'll come back to that.
Amelia Island is one absolutely gorgeous place to take a vacation or mini-break guide for the best beaches on the island you can grab here: best beaches in Amelia Island. It's definitely one of my favorite places I hit several times a year.
We camped on the beach this visit. My second camping trip on the island, and it was the night of the full Harvest Moon. The views on the beach at sunset were spectacular.
So many of us think we have to book these elaborate getaways. My trip this past weekend to Amelia Island was less than $150 and that included my campsite, food and bike event I attended with friends early Sunday morning.
Thank you for reading this post. Don't forget to subscribe! This way you never miss an update, travel deals, discounts and more!! Subscribe to the right------>
During the day, you would have found us visiting Fort Clinch and downtown Fernandina Beach. There are so many things to see and do on this little island.
After exploring most of the day Saturday, we jumped in the car and headed over to the beach for an early dinner. We enjoyed a nice dinner literally on Fernandina Beach.
We parked right on the beach and walked over to Sliders. Sliders Seaside Grill never disappoints. But this time, I decided to try a new beach cocktail. I'm so glad I did. One word? YUM!
Your choice of scrumptious entrées and cocktails to indulge in. I chose a chicken sandwich and a Painkiller Cocktail. First time for me but it was out of this world delicious.
You know me. I live, breathe, eat and drink the beach. So today I had to recreate this amazing drink for you to enjoy.
Below are the few ingredients you will need to create this Beach Painkiller Cocktail. Hope you enjoy it as much as I did. Let me know!
How to make a Beach Painkiller Cocktail
What's the history of a Painkiller? British Virgin Islands was owned by Daphne Henderson created all this deliciousness in a glass.
The bar, Soggy Dollar Bar, did not have a dock. To get to the bar, folks had to swim to shore. And back to their boats.
The "secret" drink, Painkiller, was crated by Ms. Henderson in the 1970s. When you taste it yourself, you will quickly see how it has survived 50 years!
Painkiller Ingredients
It is actually quite easy to make this cocktail. These are the few ingredients you will need:
2 oz of Rum
4 oz of pineapple juice
1 oz orange juice
1 oz of cream of coconut
Top with fresh grated nutmeg to taste
Pour ALL the ingredients into a shaker cup filled with ice. Next? Shake then pour into your glass and top off with grated nutmeg. My mouth is watering just thinking about this heavenly beach cocktail.
Beach staycation? Add a little umbrella and slice of orange or pineapple as garnish. Enjoy!
p.s. Try my #1 Bushwhacker cocktail next. Get the recipe here: How to make a frozen Bushwacker drink.
Upcoming Trip?
I like to use Booking for booking not only my hotels, but my tickets and rental cars as well. Makes life so much easier with only having to log into one location for my information.
Be sure to grab my travel tips to save you time and money. You'll also be entered into the weekly drawings.
Register here: Get 100 Travel Tips EVERY traveler should know PLUS entered into the weekly drawing.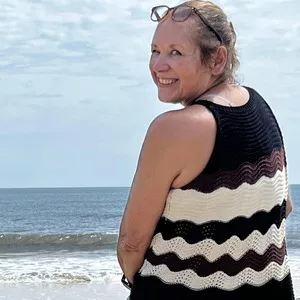 About Denise
Denise Sanger lives a life split between her love for fitness and her passion for travel particularly to the BEACH. Denise also has a love of marketing and lives in beautiful Suwannee County, Florida. You can find out more about Denise here: About Denise