Best beaches in Amelia Island Florida The Perfect Getaway Updated
This article may contain affiliate links. Whenever you buy something through one of these links, I may earn a small commission without any cost to you. I really appreciate it as it supports this site and my family. Thank you!
You can't take a trip to beautiful Amelia Island without taking time to explore the gorgeous beaches, but there is a lot more to enjoy. But first, you absolutely will find and enjoy some of the best beaches in Amelia Island Florida on both the Atlantic Coast and the Amelia river.
Be sure to check for vacation package deals before you book your vacation: Amelia Island Vacation Packages.
This beautiful barrier island is off the Atlantic Coast in Nassau County. With over 13 miles of beautiful beaches to explore, many with public beach access, you will quickly see why many say those highlighted below are the best beaches not only on the island but in Florida.
Keep in mind that is so much more to explore including the miles of beaches. You will find abundant wildlife and the beautiful waters of the Atlantic Ocean will quickly draw you in. And did I mention sharks teeth and sea glass?
Thank you for reading this post. Don't forget to subscribe! This way you never miss an update, travel deals, discounts and more!! Subscribe to the right------>
Fun events. Shows. Festivals and more. On your next visit, make sure your first stop is at the Welcome Center which is located at 102 Centre Street, Fernandina Beach for an updated list of events happening during the time of your visit. 
If you time your visit for the end of April, beginning of May, you will be able to enjoy the Isle of Eight Flags Shrimp Festival.
This festival attracts many visitors and is considered Amelia Island's biggest weekend of the year. Enjoy concerts, Pirate Parade, food and vendor booths right on the waterfront and so much more.
Where to find the best beaches in Amelia Island Florida
Before we get into everything that you can do, below is the list of best beaches in Amelia Island Florida
Fort Clinch State Park.
First on the list of best beaches in Amelia Island is Fort Clinch. Fort Clinch is a state park located in Fernandina Beach located on a peninsula on the northern part of the island.
One must-see attraction when visiting Amelia Island is Fort Clinch State Park. This park is located on a peninsula in the northern part of the island.
This historic fort was built back in 1847 and has been used in multiple wars throughout history including the Civil War. Today it is listed on the National Register of Historic Places as an important piece of American history.
Your first step into the fort is like taking a giant step back in history. Construction of this fort as we know it today began in 1847.
After being used in many wars including the Civil War, Fort Clinch, registered on the National Register of Historic Places before becoming one of Florida's first state parks.
After exploring the Fort, you will want to enjoy the natural beauty of the coastline of the Atlantic along with the beaches of St. Mary's Inlet and Amelia River inside the park. This beach is a shark tooth lover's paradise.
Fort Clinch State Park has plenty of picnic tables, restrooms, hiking trails, biking trails, birding trails, nature trails, kayaking, swimming, surfing, camping and more.
Spend the day or spend a week. You will not run out of things to do and explore.
Amelia Island State Park.
Next on our list of best beaches in Amelia Island is Amelia Island State Park. An easy drive from Jacksonville, this beautiful state park is located 7 miles north of Little Talbot Island State Park on A1A.
Breathtaking beaches to explore by horseback or stroll along the beach looking for shark's teeth or seashells. Unspoiled with salt marshes and maritime forests, this beach shows its Old Florida roots.
Want to fish? Amelia Island has an On The Line Bait & Tackle Shop ready to serve those fishing at George Crady Bridge Fishing Pier State Park.
American Beach
American Beach is a historic beach community on the south end of Amelia Island. It is also one of nine locations along the African-American Heritage Trail. Founded in 1935, American Beach was Florida's first African-American beach.
After exploring and soaking up the history, be sure to explore the A.L. Lewis Museum then head over to the beach to see some of the largest sand dunes on Florida's Atlantic Coast.
Seaside Park
Next on the list is the must-visit beach at Seaside Park. Seaside Park is a beautiful waterside park with a picnic area with picnic tables, pavilions, plus a boardwalk, public beach access, public restrooms and outdoor showers. 
Seaside Park is a small, clean beach with beach access parking.  You will find it at the end of Sadler Road.
Other Fun Things To Do On Amelia Island
Wondering whether you will be able to see sea turtles? The answer is yes if you visit during sea turtle laying season that runs from May 1 to October 31.
It is extremely important not to interfere with the sea turtles as they nest in the critical wildlife area of the beach.
History Buff?
History buffs may be interested in checking out Amelia's past by touring historical sites including Amelia Plantation Chapel and Old Jail Museum.
Each one of these historical landmarks offer a unique insight into what life was like on Amelia Island before modern times.
Love to shop?
If you love to shop, you will love Amelia Island. Shopping is fun in Amelia Island's Historic Districts.
Antiques shops to clothing stores to jewelry boutiques there's something for everyone in these two vibrant shopping areas.
There are two historic districts you will want to visit. First Fernandina Beach and second Amelia City. Both offer fun boutique shops with unique gifts and souvenirs from local artisans.
Golf
If you love to golf, the Amelia National Golf Club is one of the top golf courses in Florida and has been recognized as one of America's Best New Courses by Golf Digest Magazine.
With lush greens surrounded by lakes and marshes this course provides an exciting challenge for golfers at any skill level. Take time to enjoy the stunning views from every hole on the course.
What about the turtles you see walking on or near the beach?
Many people report turtles walking on or near the beach, but it's important to note the difference between sea turtles and gopher tortoises. Gopher tortoises can't swim and are land turtles.
Please do not put them in the water. These tortoises are protected by Florida statute and should be left alone.
Sea turtles generally come ashore during the night. They drag their bodies versus the gopher tortoise walking.
An easy way to tell the difference is sea turtles have flippers and gopher tortoises have what resemble feet.
Whichever pristine beach you choose to visit, or maybe you'll visit all of them, with 13 miles to explore you're sure to find your favorite. All beaches are convenient to historic downtown Fernandina Beach and a short drive from Jacksonville International Airport.
Note:  Be sure to read this article next 8 best things to do at Amelia Island Florida when planning for your Amelia Island vacation. If you're looking for a place to rent, check here: Amelia Island Vacation Rentals
Thinking about exploring more of Florida's beaches? Click here and grab the list of 190+ Florida Beaches: List Of All Beaches in Florida 190+ Reasons To Relax
Upcoming Trip?
I like to use Booking for booking not only my hotels, but my tickets and rental cars as well. Makes life so much easier with only having to log into one location for my information.
Be sure to grab my travel tips to save you time and money. You'll also be entered into the weekly drawings.
Register here: Get 100 Travel Tips EVERY traveler should know PLUS entered into the weekly drawing.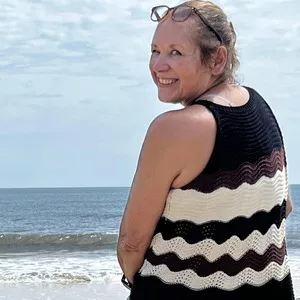 About Denise
Denise Sanger lives a life split between her love for fitness and her passion for travel particularly to the BEACH. Denise also has a love of marketing and lives in beautiful Suwannee County, Florida. You can find out more about Denise here: About Denise