List Of Beaches With Maps Key West to St. Augustine Beach To Panama City Beach
This article may contain affiliate links. Whenever you buy something through one of these links, I may earn a small commission without any cost to you. I really appreciate it as it supports this site and my family. Thank you!
List Of All Beaches in Florida
Florida has 825 miles of beautiful sandy beach coastline to explore. From the Florida Panhandle south along the Gulf Coast around the peninsula, enjoy the driving over the 3 and 7 mile bridges into the Florida Keys then head back north along the Atlantic Coast to the Florida/Georgia Border.
Are you dreaming of sun-soaked beaches, crystal-clear waters, and a vacation that will leave you feeling rejuvenated and refreshed? Palm trees, sea turtles, alligators, national parks – some on islands, and you'll find plenty of sandy beaches to explore.
Look no further than the beautiful coast of Florida, where a treasure trove of must-visit beaches awaits. From the vibrant and lively Key West to the glamorous and bustling Miami, this stretch of coastline is a haven for beach lovers and adventure seekers alike.
Whether you're looking for a family-friendly beach with plenty of fun activities or a secluded spot where you can unwind in peace, Florida has it all.
Thank you for reading this post. Don't forget to subscribe! This way you never miss an update, travel deals, discounts and more!! Subscribe to the right------>
Join us as we embark on a journey along this picturesque coastline, mapping out the must-visit beaches that will make your Florida vacation an unforgettable experience.
From the iconic South Beach to the serene Bahia Honda State Park in South Florida, get ready to discover the hidden gems and popular hotspots that make Florida's beaches some of the most sought-after in the world.
Grab your sunscreen, pack your beach towel, and get ready to explore the sandy shores of the Sunshine State. Below you'll find a list of all beaches in Florida by city or town. I will continue to add to this list as I continue my beach loving explorations so be sure to bookmark this page.
But first, here are answers to questions I always receive before you dig into the List Of All Beaches in Florida. Let me know if you have others and I'll be glad to answer them.
Which side of Florida has the best beaches?
For me, it really depends on what I want to do while I'm at the beach. I'm a turquoise calm water, white sandy beaches type of gal, so I prefer the Gulf side. If you're planning on water sports, you would probably prefer the Atlantic side with more waves.
Which beach has the clearest water?
I personally prefer the turquoise clear waters of the Gulf but the waters of the Atlantic Ocean in the southern part of the state are gorgeous. Fort Lauderdale Beach and south tend to be clearer than north of Broward County.
Where ares the whitest sand beaches?
Hands down the beautiful beaches on the Gulf Coast. Siesta Key is a favorite for good reason.
What animals call Florida beaches their home?
Sea turtles and loggerhead turtles both live in the water and sandy beaches of Florida. 80% of the Loggerhead Turtle population in the USA call Florida home.
Fun facts about Florida and it's beaches.
Florida is the southernmost point of the USA.
The oldest inhabited city in the USA is in Florida. It's St. Augustine.
Florida has the longest coastline in the USA.
Florida is the only state that borders the Gulf of Mexico and the Atlantic Ocean.
Prefer freshwater for swimming? Florida has more than 7,700 lakes. Many with nature trails along the shoreline to explore and fun for kayaking adventures.
Everglades National Park in South Florida is the only place in the world where alligators and crocodiles co-exist in the same ecosystem. If there is water, there are alligators.
Florida produces more than 70% of the country's oranges.
Whenever you're in Florida, you're never more than 60 miles from the nearest body of water. Exactly why this water baby calls the sunshine state home.
List Of All Beaches in Florida by City or Town BUT I am adding more that I'm finding so bookmark this page.
Alligator Point, St. James Island
Amelia City, Amelia City
Amelia Island, Amelia Island
American Beach, Amelia Island
Anna Maria Island, Anna Maria Island
Anne's Beach, Islamorada
Atlantic Beach, Atlantic Beach
Bahia Honda Key, Bahia Honda Lower Keys
Bal Harbour, Bal Harbour Village
Ballast Key, Ballast Key Florida Keys
Belleair Beach, Belleair Beach
Belleair Shore, Belleair Shore
Bethune Beach, Bethune Beach
Beverly Beach, Beverly Beach
Big Lagoon State Park, Pensacola
Bill Baggs Cape Florida State Park, Miami
Boca Chica Key, Florida Keys
Boca Grande, Boca Grande Village
Boca Raton, Boca Raton
Boneyard Beach, Jacksonville
Bonita Springs, Bonita Springs
Boynton Beach, Boynton Beach
Bradenton Beach, Bradenton Beach
Briny Breezes, Briny Breezes
Butler Beach, Butler Beach
Caladesi Island, Caladesi Island Gulf
Canaveral National Seashore, Near New Smyrna
Cape Canaveral, Cape Canaveral
Cape St. George Island, Uninahabited Island Near St. George Island
Captiva Island, Captiva Island
Captiva, Captiva
Carrabelle, Carrabelle
Cedar Key, Cedar Key
City of Anna Maria, City of Anna Maria island
Clearwater Beach Island, Clearwater
Cocoa Beach, Cocoa Beach
Crandon Park, Miami
Crescent Beach, St. Johns County, Near St. Augustine Anastasia Island
Dania Beach, Dania Beach
Daytona Beach Shores, Daytona Beach
Daytona Beach, Daytona Beach
Deerfield Beach, Deerfield
Delnor-Wiggins Pass State Park, Near Naples
Delray Beach, Delray Beach
Destin, Destin
Dog Island Barrier Island, near Carrabelle
Don Pedro Island Barrier Island, near Placida
Don Pedro Island State Park Don Pedro Island, near Placida
Dry Tortugas, Dry Tortugas west of Key West
Dry Tortugas National Park, Dry Tortugas west of Key West
Dunedin, Dunedin
Eastpoint, Eastpoint
Egmont Key, Secluded island near Tampa Bay
Estero Island, Island off Fort Myers Beach
Flagler Beach, Jacksonville
Fort De Soto Park, Near St. Petersburg
Fort Island Gulf Beach, Crystal River
Fort Lauderdale, Fort Lauderdale
Fort Myers Beach, Fort Myers
Fort Walton Beach, Fort Walton
Gasparilla Island State Park, Gasparilla Island
Golden Beach, Golden Beach near Miami
Grayton Beach State Park, Santa Rosa Beach
Grayton Beach, Grayton Beach
Gulf Islands National Seashore, Near Pensacola
Hagen's Cove, Near Steinhatchee
Hallandale Beach,Hallandale
Haulover Park, Miami
Henderson Beach State Park, Destin
Highland Beach, Highland Beach
Hillsboro Beach, Hillsboro Beach
Hollywood Beach, Hollywood
Holmes Beach, Anna Maria Island
Honeymoon Island, Dunedin
Hugh Taylor Birch State Park, Fort Lauderdale
Hutchinson Island, St. Lucie County
Hutchinson Island South, St. Lucie County
Indialantic, Indialantic
Indian Harbour Beach, Indian Harbour Beach
Indian River Shores, Indian River Shores
Indian Rocks Beach, Indian Rocks Beach
Indian Shores Indian Shores
Inlet Beach South Walton
Jacksonville Beach Jacksonville
Jacksonville Beaches Jacksonville
Jensen Beach Jensen Beach
John D. MacArthur Beach State Park North Palm Beach
John U. Lloyd Beach State Park Dania Beach
Juno Beach Juno Beach
Juno Dunes Natural Area Juno Beach
Jupiter Inlet Colony Jupiter Inlet Colony
Jupiter Island Jupiter Island Barrier Island
Jupiter Jupiter
Keaton Beach Near Steinhatchee
Key Biscayne Miami
Key Colony Beach Florida Keys
Key West Key West
Laguna Beach Panama City
Lake Worth Lake Worth
Lanark Village Lanark Village
Lauderdale-by-the-Sea Lauderdale By The Sea
Lido Key Barrier island near Sarasota
Little Duck Key Florida Keys
Little Gasparilla Island Barrier Island Boca Grande
Little Talbot Island Near Jacksonville
Loggerhead Park Juno Beach
Long Key Florida Keys
Long Key State Park Florida Keys
Longboat Key Longboat Key
Lovers Key State Park On Barrier Island near Ft Meyers
Lower Matecumbe Key Florida Keys
Madeira Beach Madeira Beach
Manalapan Manalapan
Manasota Key Barrier Island near Englewood
Marco Island Marco Island
Marquesas Keys Uninhabited Island Florida Keys
Mashes Sands Panacea
Matanzas Inlet St. Augustine
Matheson Hammock Park Coral Gables
Melbourne Beach Melbourne
Mexico Beach Mexico Beach
Miami Beach Miami
Miramar Beach Miramar Beach
Money Key Florida Keys
Mule Keys Florida Keys
Naples Naples
Neptune Beach Neptune Beach
New Smyrna Beach New Smyrna Beach
Nokomis Nokomis
North Captiva Island Island near Captiva
North Redington Beach North Redington Beach
Oleta River State Park North Miami Beach
Orchid Island City of Orchid Island Indian River
Orchid Island Indian River
Oriole Beach Gulf Breeze
Ormond Beach Ormand Beach
Ormond-by-the-Sea Ormand-By-The-Sea
Oscar Scherer State Park Osprey
Osprey Osprey
Palm Beach Island Palm Beach
Palm Beach Shores Palm Beach Shores
Palm Key Florida Keys
Panama City Beach Panama City Beach. Definitely my favorite. Find out why here: Things to do in Panama City Beach
Pensacola Beach Pensacola Beach
Perdido Key Pensacola
Pine Island, Hernando County Pine Island
Playalinda Beach Titusville
Pompano Beach Pompano Beach
Ponce de León Island Barrier Island Brevard County
Ponce Inlet Ponce Inlet
Ponte Vedra Beach Ponte Vedra Beach
Redington Beach Redington Beach
Redington Shores Redington Shores
St. Augustine Beach St. Augustine Beach
St. Pete Beach St. Pete Beach
Sanibel Island, Sanibel
Sandestin Golf and Beach Resort Sandestin
Santa Rosa Island Barrier Island Pensacola
Satellite Beach Satellite Beach
Scout Key Florida Keys
Sea Ranch Lakes Sea Ranch Lakes Village
Seaside Seaside
Sebastian Inlet State Park Melbourne Beach
Siesta Beach Siesta Key
Siesta Key Siesta Key
Smathers Beach Key West
South Beach Miami
South Palm Beach South Palm Beach
South Patrick Shores Satellite Beach
South Venice South Venice
St. Andrews State Park Panama City
St. George Island St. George Island
St. George Island State Park St. George Island
St. Lucie Inlet Preserve State Park Stuart
St. Teresa St. Teresa
St. Vincent Island Barrier Island near St. George Island
Sunny Isles Beach Sunny Isles Beach near Miami
Sunset Beach (Treasure Island) Treasure island
Surfside Surfside
T.H. Stone Memorial St. Joseph Peninsula State Park Port St. Joe
Tea Table Key Islamorada Florida Keys
Treasure Island Treasure Island
Venice Venice Beach
Vilano Beach St. Augustine
Virginia Key Barrier Island Miami
Wabasso Beach Park Wabassa Beach
Wilbur-By-The-Sea Near Port Orange
Woman Key Florida Keys
Fort Zachary Taylor Historic State Park Key West Florida Keys
Now that you've got your List Of All Beaches in Florida, bookmark it because I'll be adding more.
Upcoming Trip?
I like to use Booking for booking not only my hotels, but my tickets and rental cars as well. Makes life so much easier with only having to log into one location for my information.
Be sure to grab my travel tips to save you time and money. You'll also be entered into the weekly drawings.
Register here: Get 100 Travel Tips EVERY traveler should know PLUS entered into the weekly drawing.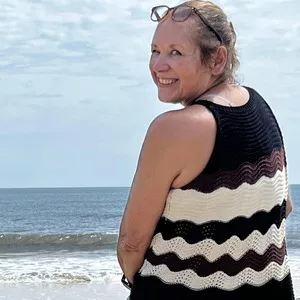 About Denise
Denise Sanger lives a life split between her love for fitness and her passion for travel particularly to the BEACH. Denise also has a love of marketing and lives in beautiful Suwannee County, Florida. You can find out more about Denise here: About Denise