Crystal River Florida Outdoor Vacation Destination
This article may contain affiliate links. Whenever you buy something through one of these links, I may earn a small commission without any cost to you. I really appreciate it as it supports this site and my family. Thank you!
Crystal River Florida is a hidden gem located on the Nature Coast and Gulf of Mexico.
Crystal River is one of my favorite places to visit in Florida. And for good reason.
This beautiful Florida city is called the manatee capital of the world to Kings Bay for kayaking. Walk the boardwalk and enjoy a hike at Three Sisters Springs or relaxing at Fort Island Gulf Beach, there truly is something for everyone.
This is the perfect place for a romantic getaway, an adventure vacation or family trip to see the manatees. The town of Crystal River provides it all for you to enjoy.
What is Crystal River known for?
Crystal River is known for its natural beauty and abundance of wildlife. Truly magnificent.
Thank you for reading this post. Don't forget to subscribe! This way you never miss an update, travel deals, discounts and more!! Subscribe to the right------>
Crystal River has a unique ecosystem that includes freshwater springs, saltwater marshes, and one of the largest concentrations of manatees in the world.
Natural springs in this area are the perfect place for manatees to winter. 
Take a manatee tour by boat or enjoy walking through the preserve. The trail that circles and follows the river is approximately 1.3 miles long.
Note there is no parking at Crystal River National Wildlife Refuge except for handicapped vehicles. The Three Sisters Spring Center does offer shuttle service for those that prefer not to walk or bike.
Where is Crystal River, Florida?
Crystal River is located in Citrus County, Florida on the Nature Coast and Gulf of Mexico. It is easily accessible from major cities like Tampa and Orlando. Perfect for a weekend getaway.
This beautiful city is on the West Central side of the state. From the panhandle, the easiest way to reach it is by scenic route 98. From other northern portions of the state, I-75 to Dunnellon exit then southwest.
For those that are flying into Orlando, it would also be heading west over to the Gulf. From Tampa St. Pete Airport, south. You will see portions of Florida most never see when they visit.
Why should you visit Crystal River?
Although it is most well known for the manatees, there is so much more to do when you visit. Crystal River offers endless outdoor activities that keep visitors entertained and active.
Manatees
I am not 100% sure if this is the only place in Florida you can swim with the manatees, but it is probably one of the best. The Florida Manatee is a subspecies of the West Indian Manatee and protected here at the Crystal River Preserve.
Crystal River National Wildlife Refuge preserves the crystal clear water of the spring that manatees visit when water temps cool. It was specifically created to protect the threatened Florida manatee.
Unfortunately, the photos you may have viewed of starving manatee are accurate. Their much-needed food supplies have been decimated as a result of many things including pollution.
This wildlife refuge is one of a few in the United States. Visiting this spring is an unforgettable experience for all.
For those that would like to swim with the manatees, you have several opportunities to do so here. Please remember that these animals are federally protected. Do not touch or harass them in any way.
Florida's springs are an average of 72 degrees year-round. While the springs feel chilly in summer, the warmth of the springs in winter is what draws the manatees and other animals to the area.
I honestly prefer to be in my kayak when visiting. There are several vendors that offer clear kayaks that allow you to see into the clear water.
Not sure about kayaking alone? It's okay. Take a kayak tour with an experienced travel guide that will help you reach the spring.
Scuba diving is another water sport to enjoy during your visit as well as many other recreational activities.
Unfortunately lately, there have been boats that have hit the sea turtles that enter the river. Bob, the sea turtle that was hit is one sea turtle you may have heard of. He was rehabilitated and released by the Clearwater Marine Aquarium.
Tip: While you are enjoying walking around the refuge, watch for beautiful bald eagles and even migrant birds. Last time I visited, I was pleasantly surprised by literally thousands of robins in the trees. They were getting ready to head back north after winter.
Does Crystal River have beaches?
The Nature Coast of Florida has some hidden gems when it comes to beaches. Many of these pretty beaches are located withing driving distance from Crystal River.
The best beaches to visit are:
Fort Island Gulf Beach. You will find this swimming hole at the end of Fort Island trail. Calm and shallow waters makes it a great place for families.
Alfred McKethan Park, Pine Island Beach Park. Located off county road 495, it offers a beach, picnic tables and is a very short drive from Crystal River.
If you had north, you can visit old vibe Florida's Cedar Key or south will take you to the Clearwater/Tampa Bay area.
Other Outdoor Activities
Crystal River isn't all springs. This Central Florida area is full of activities to enjoy including:
Crystal River Archaeological State Park. Within this state park you will find a temple mound, burial mounds and more.
A historical landmark that served as a ceremonial center for Native Americans.
Three spring-fed rivers, Homosassa, the Chassahowitzka and Crystal River all feed into the Gulf Coast and offer outstanding fishing year round. It is easy to find a boat ramp in this area to launch. You can also launch your kayak at King's Bay onto the Crystal River.
Nearby Wakulla Springs is also another river to enjoy a bit farther north.
Great Florida Birding Trail is a roughly 2,000 mile collection of trails to explore. Enjoy native birds in their natural habitat while also enjoying species of birds that migrate through the area throughout the year.
Florida Manatee Festival is held each year in January in downtown Crystal River. Enjoy live music and entertainment, river tours, food and more. Prefer to sit down and enjoy your meal? Pick a local restaurant and relax.
Where to stay in the Crystal River area
Crystal River offers several hotels including the Best Western Crystal River Resort and Days Inn. There are also many vacation rentals to choose from. Check here for hotels: Booking.com Crystal River or here for vacation rentals: VRBO Crystal River
Summer months are a bit busier to visit. The manatees are not around during the warm summer months. If you are visiting to see the manatees, you will want to do that during the winter months.
Upcoming Trip?
I like to use Booking for booking not only my hotels, but my tickets and rental cars as well. Makes life so much easier with only having to log into one location for my information.
Be sure to grab my travel tips to save you time and money. You'll also be entered into the weekly drawings.
Register here: Get 100 Travel Tips EVERY traveler should know PLUS entered into the weekly drawing.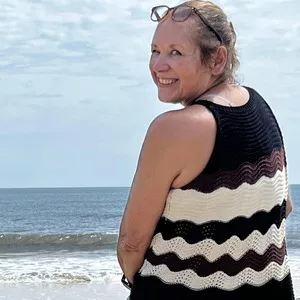 About Denise
Denise Sanger lives a life split between her love for fitness and her passion for travel particularly to the BEACH. Denise also has a love of marketing and lives in beautiful Suwannee County, Florida. You can find out more about Denise here: About Denise