Trips from Bimini to Miami
This article may contain affiliate links. Whenever you buy something through one of these links, I may earn a small commission without any cost to you. I really appreciate it as it supports this site and my family. Thank you!
What you need to know.
Have a trip to the Bahamas scheduled? Wondering how the trips from Bimini to Miami work? Easier than you might expect.
This article is about doing this fun trip in reverse from Miami to the Bahamas: Boat Trips From Miami to the Bahamas
I absolutely love the Bahamas and have enjoyed my stay on several of the islands many times. It was quite easy to hop on a ferry in the morning and arrive in the Bahamas a few hours later.
Spend the weekend and head home Sunday evening but ready to do it all again as soon as possible. Truly a blast when you're on any island in the Bahamas.
Thank you for reading this post. Don't forget to subscribe! This way you never miss an update, travel deals, discounts and more!! Subscribe to the right------>
Nicest people. Beautiful beaches. Great meals, cocktails and more.
The quickest way and relatively inexpensive to get from South Bimini or Grand Bahama over to mainland Miami or somewhere else in South Florida.
Travel time by boat ride ranges from 2 to 4 hours or take a direct flight, and you will land in less than 40 minutes.
In this blog post, I will tell you everything you need to know in order to make this trip happen from the Bahamas to the white sand beaches of South Florida in the United States.
From where to stay in Bimini, to what mode of transportation to use getting between the islands, how to get to Miami, we've got you covered.
All About Bimini Bahamas
Bimini with its crystal clear waters is home to some of the world's most beautiful beaches. It is actually comprised of three islands: North Bimini, South Bimini, and East Bimini.
This is a popular destination for not only those of us in the US but also for those that arrive via international flights into the lush Bahamas. This island is very tourist friendly with many hotels and resorts offering a day pass for roughly $40.
Fun vacation options to spend a full day range from relaxing at a beach club to enjoying time in a world-class casino.
One of the best things to do while in Bimini, is going offshore to view the wreckage of the SS Sapona. This partly submerged wreckage is roughly 15 feet underwater off South Bimini.
Prefer to dive? Rainbow Reef is where you want to explore. Beautiful color fish, sea turtles and more await your visit at this magnificent reef.
For those that prefer to see the sights from land, rent a golf cart and go explore. Before you choose an option, however, it is a good idea for you to check reviews on Tripadvisor or similar website for the best options for you.
There are also a variety of optional water sports activities available on this beautiful island. Or take the Bimini Day Cruise to the US Mainland and paddle board, jet ski and more in either Fort Lauderdale or Miami.
Fishing and boating are two activities that many people love taking part in. Soak up the sun by heading out on a boat, then try your hand at fishing for the best catches. You can even join a charter and make some friends along the way.
Side note: You can rent or book many of the above from Alice Town which you may hear as Bailey Town by the islanders.
Do You Need A Valid Passport?
Yes, you need a valid passport to be able to access Bimini whether you go for a day or for a week. The Bahamian Immigration Website can provide further information on requirements as far as passport or entry visa.
Get from Bimini to Miami by Air
Bimini is roughly 57 miles by air from Miami. Delta Air Lines, Bahamas Air and American Airlines all have flights from the larger Bahamian Islands such as Nassau or Freeport into Miami.
United Airlines offers flights to Fort Lauderdale from Nassau as does Silver Airways, a regional carrier.
I am not familiar with Silver so cannot say it this airline qualifies for one of the cheapest ways to get between the islands but worth a look before your next trip.
Get from Bimini to Miami by Boat
One of the best ways to get from Bimini to Miami is to take a boat or fast ferry. If you like to take a slower route, there are other ferry options.
An easy boat trip allows you to enjoy all the beautiful sights as you cruise from the Caribbean to the Port of Miami or Port Everglades. Keep your eyes scanning the water, and you might spot some playful dolphins if you're lucky!
A ferry ride from Bimini Island to Fort Lauderdale is roughly 61 nautical miles will take between 2 and 4 hours.
The faster ferries estimate 2 hours with top speeds up to 30 knots while the other slower options are closer to 4 hours.
Most ferries do run daily or at least 5 to 6 days weekly as Balearia Caribbean ferry service does.
The Bimini Shuttle Boat can also shuttle you for a fun Bahamas Day Trip with departure and return the same day. Costs begin at roughly US$99.
Direct Ferries offer service from Bimini to Fort Lauderdale. It is best to purchase your ferry tickets in advance as some ferry trips do have limits as to the number of passengers they can carry.
Also, when you book in advance, you might save significantly on purchasing your Bimini ferry tickets at the same time.
Boat trips offer ultimate freedom – with no fixed schedule or route, you can take as long as you want and head wherever your heart desires.
Indeed, boat trips are so much more than just a mode of transport; they're an experience in their own right that should not be missed!
Once You're In South Florida, There's Plenty To Do
Now that you are in South Florida, there's no shortage of things to do. Have a blast on Fort Lauderdale's gorgeous white-sand beaches, or explore the unique beauty of the Everglades National Park.
For a fun city experience, take in some live music and nightlife along Miami Beach. With year-round sunshine and warm temperatures, it's always the perfect time to visit this tropical paradise.
Enjoy a day cruise snorkeling with the marine life or a night cruise with dinner, dancing and music.
Love to play the one-armed bandit, check out a Miami Casino. For live action table gaming, visit the Seminole Casino Coconut Creek that offers legal live-action blackjack. Keep in mind that small children are generally not allowed in casinos.
Fort Lauderdale and Miami Beaches
Fort Lauderdale, Miami and all of South Florida offer beautiful white sand beaches that never fail to impress. Release your cares away in the warm and inviting turquoise waters of any one of them.
Appreciate the stretch of sand and stunning natural beauty. The architecture, art and culture are an added bonus!
Water sports? Yes and you can enjoy them year round due to the amazing weather. An unbeatable array of water activities such as snorkeling, kayaking and parasailing, and more.
Looking For A Party? Miami & Bimini are the places to be but don't forget Key West.
If you're looking for an epic time, look no further than Miami, Bimini and beyond! Round up your closest companions and head to the Sunshine State for a party in paradise.
From the sandy beaches in Miami to the epic Caribbean vibes of Bimini, you can find unforgettable experiences that will keep you coming back for more.
While you are there, don't forget to add Key West to the mix. Classic bars, Ernest Hemingway house and vibrant streets make it the perfect place to continue your island exploration.
Whichever way you choose to go between the states and the Bahamas, there is no better place to visit than Bimini. A memorable experience for the whole family.
Keep in mind most day trips have a departure time from the Bahamas in the morning, returning in the evening so plan accordingly.
Where to stay in Bimini
Planning to spend a few days in Bimini? The accommodations are many.
Choose a resort such as Resorts World Casino also called Resorts World Bimini. Hotels are also available such as the Hilton Resort, Hilton Bimini.
Many resorts and hotels do offer hotel pickup service. Whichever option you choose, it is always a great time to take a two-fer vacation to enjoy two countries with beautiful beaches and more.
Upcoming Trip?
I like to use Booking for booking not only my hotels, but my tickets and rental cars as well. Makes life so much easier with only having to log into one location for my information.
Be sure to grab my travel tips to save you time and money. You'll also be entered into the weekly drawings.
Register here: Get 100 Travel Tips EVERY traveler should know PLUS entered into the weekly drawing.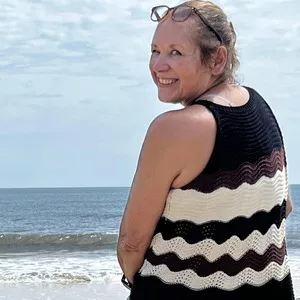 About Denise
Denise Sanger lives a life split between her love for fitness and her passion for travel particularly to the BEACH. Denise also has a love of marketing and lives in beautiful Suwannee County, Florida. You can find out more about Denise here: About Denise