Warm Beaches In Florida To Visit in January and February
This article may contain affiliate links. Whenever you buy something through one of these links, I may earn a small commission without any cost to you. I really appreciate it as it supports this site and my family. Thank you!
Looking for a warm place to escape the cold weather in January or February? I am with you 100% When I lived in Ohio, I would always look for warm beaches in Florida for a quick getaway to warm.
Florida is always a popular destination in the United States. And with good reason as you will find some of the best beaches in the world that are easy to get to in Florida where it stays warm all year long guaranteeing a great time.
Below are some of my favorite warm beaches in Florida to consider as the perfect place for your January or February beach vacation:
Southeast Florida Warmest Beaches in January and February
The warmest beaches in Southeast Florida during the winter months are a definitely a warm tropical paradise for those who want to escape the cold weather.
Thank you for reading this post. Don't forget to subscribe! This way you never miss an update, travel deals, discounts and more!! Subscribe to the right------>
Whether you're looking for a quick weekend getaway or an extended beach vacation, there are plenty of warm beaches in the South Florida region that will provide you with a memorable experience.
Key Largo Beaches
Located at the northern tip of the Florida Keys, Key Largo is home to warm sunny days as well as the sunny beaches that attract visitors from all over. The white sand beaches are perfect for swimming and soaking up some sun, while windsurfing and kayaking offer more active pursuits.
Be sure to check out John Pennekamp Coral Reef State Park if you love to be out in nature. This state park is one of the best places to snorkel or explore the nature trails and natural habitat of various sea life in Florida including sea turtles. A nature lovers paradise.
There are also plenty of shops, restaurants and bars nearby for when you have finished enjoying the warm water temperatures on the beach. You will find calm waters on the Gulf side of Key Largo.
Key West Beaches
No list of warm winter beaches in Southeast Florida would be complete without mentioning Key West. It is also one of my favorite destinations because it is so much fun.
This laid-back beach town is also known as the Conch Republic. It offers warm temperatures year-round and boasts crystal clear water, secluded coves, and unspoiled shorelines ideal for snorkeling and other activities.
My favorite beach here is Smathers Beach. This beach offers restrooms and nearby parking. Check before you go through as at certain times of the year, the smell of seagrass on shore can be quite strong.
There are plenty of great restaurants, fun bars, shops, and art galleries to explore when you need a break from the beach. If you are looking for a good time, you will find it in Key West!
Miami Beach
Definitely one of South Florida's most popular destinations is Miami Beach which offers warm days even during winter months. In January, the average ocean temperature is roughly 75 degrees.
Besides relaxing on the warm sand or swimming in its pristine waters, Miami Beach has a lively nightlife scene with clubs, bars and live music that will keep any visitor entertained.
Be sure to explore South Beach and Lincoln Road while you are there for fantastic restaurants and shopping. Enjoy a game of pickup as several beaches in Miami have beach volleyball courts.
Fort Lauderdale
Fort Lauderdale beach as well as another of my favorites, nearby Hollywood Beach are both great options for warm winter beach getaways in Southeast Florida.
Average temperature of 73 degrees Fahrenheit (23 Celsius) throughout January and February but many days you will find temps in the 80s.
Here you can enjoy ample sunshine as well as warm ocean water ideal for swimming or fishing from one of many piers extending out into the ocean.
My favorite thing to do is take a walk along the Hollywood Beach boardwalk.
You can enjoy two of the most beautiful beaches in Florida in one visit. There are plenty of shopping options, art galleries, restaurants, bars and clubs to enjoy during your visit.
Delray Beach
Just north of Fort Lauderdale lies beautiful Delray Beach. This beach town maintains a tropical climate year-round due to its proximity to both the Atlantic Ocean and Gulf Stream currents.
This makes it an ideal destination for anyone seeking warm temperatures during the winter months. It offers wide stretches of soft sand perfect for sunbathing along with numerous cafés that cater to both tourists and locals alike.
The laid back charm of Delray Beach is perfect for those looking to kick back and relax a few days in the sunshine.
Boca Raton
Boca Raton sits just south of Delray Beach and also boasts warm temperatures all year round including the months of January and February. High temps can often reach 75 degrees Fahrenheit (24 Celsius).
This charming seaside town provides prime access to warm waters where swimmers can explore and snorkel below its surface seeking out colorful fish among coral reefs.
For the more adventurous travelers, enjoy parasailing, jet skis and other water activities offered by local operators.
West Palm Beach
Moving up the coastline to West Palm Beach. This beautiful beach is north from both Boca Raton and Delray Beach. It is near the Lake Worth Inlet.
West Palm Beach which enjoys an average high temperature above 70 degrees Fahrenheit throughout January and February making it an appealing destination when looking for warm winter beach vacations.
Closer to Orlando than other South Florida cities further south the on I-95 corridor. But also not too far south of New Smyrna Beach for those that which to enjoy a bit more of the sunshine state.
The area features multiple public access beach locations offering visitors miles of scenic coastline perfect for walking along or simply enjoying some salty sea air.
For those that like to golf or play tennis, there are several beautiful golf courses and tennis courts to choose from in the area.
New Smyrna Beach
New Smyrna Beach is the farthest beach on the East Florida Atlantic coast I'd recommend for a winter vacation.
It offers a laid back atmosphere, easy to walk getaway from larger Florida beach towns yet still warm enough for a winter beach vacation.
This location is about one hour east of Orlando and other Central Florida locations and south of Daytona Beach and north of Cocoa Beach. Its tranquil shoreline offers fine white sand amidst clear waters.
Watch for wildlife sightings such as dolphins, manatees, rare birds, and more marine life mostly found only in regions like these.
TIP: One of the best things about Florida? Many beach towns have nearby state parks that provide ample picnic areas with picnic tables to enjoy lunch in nature.
Prefer a more upscale meal? Fantastic restaurants serve up fresh catches coupled with tasty cocktails suiting every beach cocktail craving you might be having.
Truly plenty of things to do ensuring any traveler will find fun activities despite being somewhat off the beaten path.
Note: When I recently visited New Smyrna Beach, this area too had been hit by Hurricane Ian. They are also in the process of rebuilding including the beautiful sand dunes this area is known for.
For those that want to include a visit to Everglades National Park, Homestead, south of Miami, is probably the closest city to the everglades.
Marco Island on the Gulf side is farther south but is said to be the closest beach town, but it's not exactly a short drive to get there.
If you continue to head north on the Atlantic side, you will be able to enjoy St. Augustine, Jacksonville and Fernandina Beach on Amelia Island.
Historic St. Augustine is just one of the national parks in Florida to visit. It is a great place to take the family any time of the year.
Southwest Florida Warmest Beaches in January and February
On the Gulf of Mexico, you will find some of the best Florida beaches. One thing to keep in mind though, is this area did take a direct hit from Hurricane Ian in 2022.
It may be better to stay farther north or south of Sanibel Island, Captiva Island and Fort Myers Beaches for the short term.
Sanibel Island
Sanibel Island is a popular warm winter beach destination that offers visitors warm and sunny weather all year round including in January and February when temperatures tend to hover around 75 degrees Fahrenheit (24 Celsius).
This barrier island lies off the Southwest Florida coast and features some of the best shelling beaches in the world, providing visitors with a truly unique beach experience.
While here, you can also explore its wildlife preserves, kayak through mangrove forests, or take in the incredible views from one of the many lighthouses that preside over its beautiful coastline.
Captiva Island
Captiva Island can be found just north of Sanibel near Fort Myers and is home to warm winter beach escapes with temperatures typically ranging from the upper 60s to low 70s Fahrenheit (around 18-22 Celsius) during January and February months.
Here you will find locals and tourists alike enjoying its versatile shores providing excellent conditions for water sports like paddleboarding or kayaking.
Enjoy plenty of nearby restaurants offering up fresh seafood dishes complemented by lovely waterfront views.
Fort Myers Beach
Just north of Sanibel Island sits Fort Myers Beach where warm waters beckon vacationers looking to relax along its sugar-white sands amidst temperate breezes warm enough for shorts and t-shirts throughout most days.
Enjoy time soaking up sun while admiring the beautiful lush surroundings that include mangroves and palm trees.
Or venture out onto the Gulf of Mexico for snorkeling or other ocean activities like standup paddleboarding or jet skiing.
Additionally, there are plenty of shopping and dining opportunities for those looking to mix it up a bit.
Marco Island
Marco Island is one of the warmest beaches in southwest Florida. Located just south of Naples, it is well known for its warm gulf waters, making it a popular destination for those seeking warm winter beach escapes.
With temperatures ranging from the mid-70s Fahrenheit (around 24 Celsius) during January and February, Marco Island offers an ideal warm winter beach paradise.
The beaches of Marco Island are made up of white sand and crystal-clear blue waters that offer the perfect combination for swimming, snorkeling or kayaking.
Siesta Key
Located near Sarasota on Florida's West Coast lies Siesta Key which enjoys warm weather year round making it ideal for those searching for warm winter beach escapes away from colder climates further north.
In Siesta Key, you will find miles upon miles of pristine white sand beaches against an aquamarine backdrop featuring calm waters perfect for swimming or kayaking. Other outdoor activities like fishing or snorkeling are available as well plus quaint restaurants serving fresh seafood catches perfectly paired with locally brewed craft beer sure to please.
Clearwater Beach
Clearwater Beach provides warm temperatures during January and February hovering in the mid 70s Fahrenheit (around 3 Celsius) accompanied by tranquil turquoise waters welcoming visitors seeking warm winter beach vacations near Tampa Bay area.
Situated on a barrier island facing inland towards mainland Florida, this location features two marinas where boaters may find plenty of docking spots as well as playgrounds perfect for younger guests delighting in swing sets and slides found among other recreational picnic and park areas nearby.
St. Petersburg
Just south of Clearwater lies the city of St. Petersburg where warm winter beach escapes can be found along its warm Gulf Coast beaches throughout most months including January and February when temperatures average in the mid 70s Fahrenheit (around 24 Celsius).
In St. Petersburg, you will find plenty of activities to suit any active person from strolling along its stunning shoreline or embarking on fishing excursions aboard local boats.
Visit one of many nearby parks that provide picnic grounds or choose a one of many restaurants that serve up fresh catches of the day with delicious beach cocktails. Nearby gift shops offer fun unique souvenirs for any traveler.
Anna Maria Island
Last but not the least Anna Maria Island is another great option located just south of Tampa Bay. Anna Maria Island boasts warm temperatures throughout wintertime making it ideal for those seeking warm winter beach escapes.
Here you can enjoy multiple beaches offering beautiful stretches of powdery white sand against water with coral blue hues reminiscent of the Caribbean.
Choose a seaside hotel or much closer to home comfort with a charming little cottage that line the marinas a bit further inland. Perfect secluded accommodations perfect for couples wanting a romantic getaway without crowds.
Florida Panhandle Beaches
Folks often ask me about Panama City Beach, Pensacola Beach, Santa Rosa Beach and other beautiful beaches on the Florida Panhandle. This area tends to be colder than other parts of the state in the winter.
High temperatures for Panama City Beach in January are roughly 65 degrees. But right now as I write this, it is 55 degrees.
Within the next week, will be even lower at mid-upper 20s at night and 30s to 40s during the day. Brrr.
It's absolutely beautiful all year long but for those that prefer warmer temps, the best time to visit this area is Spring Break or after moving into the summer months.
Upcoming Trip?
I like to use Booking for booking not only my hotels, but my tickets and rental cars as well. Makes life so much easier with only having to log into one location for my information.
Be sure to grab my travel tips to save you time and money. You'll also be entered into the weekly drawings.
Register here: Get 100 Travel Tips EVERY traveler should know PLUS entered into the weekly drawing.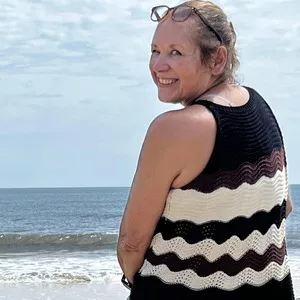 About Denise
Denise Sanger lives a life split between her love for fitness and her passion for travel particularly to the BEACH. Denise also has a love of marketing and lives in beautiful Suwannee County, Florida. You can find out more about Denise here: About Denise