Closest beaches in Florida to Louisiana, Mississippi and Alabama
This article may contain affiliate links. Whenever you buy something through one of these links, I may earn a small commission without any cost to you. I really appreciate it as it supports this site and my family. Thank you!
Looking for the closest beaches in Florida beaches to Louisiana? Planned trips to Mississippi and Alabama and want to hit the beach? This is for you.
On my bucket list is to take a road trip on I-10 from the Florida Atlantic Coast to the California Pacific coast that would include stops on the Gulf of Mexico. Sunrise in Florida. Sunset in California. What could be better?
I have made quite a few trips to this part of the country including New Orleans for business and pleasure. New Orleans is such a cool, historic place to visit.
The best thing we did was take a guided tour throughout the city. This allowed us to not only see the major tourist spots but also several off the beaten path.
Thank you for reading this post. Don't forget to subscribe! This way you never miss an update, travel deals, discounts and more!! Subscribe to the right------>
But the beach? Other than the Mississippi River, I did not see water including the beaches on the Gulf.
From deep-sea fishing to nature trails. From turquoise waters to white sand beaches, you will find it all here including some of the best beaches in the country.
You can easily include a day trip from New Orleans to Pensacola Beach in under three hours. Or to the popular beach destination of Panama City Beach in roughly 4.5 hours.
Let's start with the beaches in Louisiana and make our way across the Gulf of Mexico to Florida. There are several fantastic beaches in Louisiana to visit for a day of rest and relaxation.
Louisiana Beaches
Don't let the busyness of New Orleans, the popular destination in Louisiana stop you from getting your tootsies in the sand. This popular spot is not only a great place to party, it provides easy access to some of the prettiest beaches within an hour of the Big Easy. Louisiana's beaches include the top picks below.
Holly Beach.
Also called the Cajun Riviera, it is located in Cameron. This beach as well as many others on the Louisiana coast took a direct hit from a hurricane and is slowly coming back. Reports are it is a dirty beach but as one that lives in Florida and knows first hand the destruction a hurricane can cause, I say take a look yourself. Address for this beach is 2347 Egret St, Cameron, LA 70631.
North Beach, Lake Charles.
This white sand beach is off I-10 at Exit 29 or Exit 30A. Depends on if you are traveling east or west. Unfortunately many beaches on the Louisiana coastline do not allow swimming but this beach does. Open year round with two pavilions, parking lots, and picnic tables.
Rutherford Beach.
Traveling in an RV? Love to beach camping? Rutherford Beach is one that you can actually drive your RV onto the same and camp. Even better? Whether you are tent camping or in an RV, it's free. Plenty of room to spread out which makes it feel like you are on your own private beach.
Fontainebleau State Park (Fountainblue State Park).
This beautiful state park is a true natural beauty. Located on the shores of Lake Pontchartrain, the ruins of a by gone sugar mill are still visible.
Pontchartrain Beach is actually the closest beach to New Orleans. It is the site of one of many amusement parks that have since closed due to low attendance. You can swim, boat, fish as well as enjoy other water sports in this state park.
Grand Isle State Park.
One of the best places to launch for deep-sea fishing and the perfect spot to enjoy a day at the beach with its pristine lagoon water and soft sand beaches. Both Grand Isle Beach and Grand Isle State Park are located on this uninhabited barrier island.
Grand Isle State Park is a wonderful place to visit if you're a nature lover looking for some peace and quiet. The only inhabitants of this island are the wildlife, which makes it all that much more fascinating! Unfortunately, as of this writing, this state park remains closed due to heavy damage from Hurricane Ida.
Cypremort Point State Park.
This man-made beach is one of a few beaches you can reach by car. A family-friendly beach makes this beach the perfect place for a getaway to reconnect. Outdoor activities include fishing, crabbing, water-skiing, windsurfing, and sailing.
This stunning stretch of beach provides guests with ample space (half mile) as well as picnic areas to sit back and watch the kids play near waterfalls that empty into crashing waves below them. Definitely one to visit.
Little Florida Beach.
This quaint beach is another one that you can spread out and enjoy as well as drive onto the packed sand. There is a gas pipeline that runs through the middle of the beach though, so you cannot drive all the way through it.
Unfortunately as pretty as this beach is, there are often no swimming signs due to water bacteria levels. Be sure to check the water quality before visiting.
Jimmie Davis State Park.
This beautiful LA state park is located on a peninsula on Caney Lake that caters to outdoor enthusiasts.
From fishing to water-skiing, this park has clear waters to enjoy courtesy of the dam put in place in the mid 1980s. Bike trails, nature trails, kayaking and canoeing, nature lovers will enjoy this beach in the Bayou State.
Cypremort Point Beach.
This beach is another man-made beach in the state of Louisiana. Nearby to the park, is a boat launch a few miles from the Gulf for those that want to fish in the Gulf or Vermilion Bay. Nature lover? This is one beach you will want to stop at. Nutria, deer, black bear, red fox and more call this park home.
Mississippi Beaches
Unfortunately, there aren't many beaches to visit in Mississippi. The Mississippi Gulf Coast is about 60 miles of coastline. It is home to two of the larger cities in the state which are Biloxi and Gulfport.
Biloxi Beach.
Biloxi Beach is a beautiful white-sand beach with a 19th century lighthouse standing guard. In addition to other water sports, the barrier islands keep the waters of the beach clear making it fantastic for swimming. Definitely a pretty beach and one of the best Gulf Coast beaches in Mississippi.
Gulfport Beach.
This beautiful beach is a must-see for those who love the beach. From Biloxi to Long Beach, this stretch offers calm waters and plenty of activities to enjoy such as flying kites or catching waves.
Be sure to check the flags as there can be a wicked current right offshore. Relax as you stroll along the coastline while watching the sunrise or sunset. Truly a gem in this coastal state.
Alabama Beaches
Alabama where everyone is always yelling Roll Tide! This state offers some of the most beautiful beaches along the Gulf Coastline.
Alabama beaches also have some of the clearest water. Not exactly a short drive from New Orleans, it is a manageable 3 hours or so.
Gulf Shores.
Gulf Shores beach is a beautiful, tranquil beach. Warm waters and great beaches to explore makes this part of the coast a must-see. Very well maintained and plenty of sandy shores to explore.
Orange Beach.
When you ask people what their favorite beach is in Alabama, you generally get one of two answers. Gulf Shores or Orange Beach.
I personally think both are gorgeous, but Orange Beach is the one for me as it is less crowded. Like Florida, Orange Beach has miles of white sandy beaches to explore. Very close to Florida with Pensacola being the closest airport to fly into.
Dauphin Island.
Historic Fort Gaines is located on this island. History buffs will definitely want to visit the Fort. It is located at the eastern tip of the island and boasts breathtaking views of the Gulf. The entire island is roughly 14 miles and only 1.75 miles wide at the widest point making it easy to walk, bike, or hike.
A top destination for families as well as couples. Be sure to stop at the Dauphin Island Welcome Center for current events. Bird watcher? The Audubon Bird Sanctuary is located on this beautiful island.
West Florida Beaches
This brings us along the coastline from Louisiana to Florida and the closest beaches in Florida to Louisiana.
We are going to focus on the West Florida Panhandle Beaches and the white-sand beaches. Many folks do not realize how long of a state Florida actually is.
Clearwater Beach, Tampa/St. Pete, Marco Island Siesta Key, Fort Myers Beach and those farther south along the Gulf Coast are quite a drive.
East coast beaches like Daytona Beach, Delray Beach and other beaches on Florida's east coast, while beautiful, require a much longer drive to reach.
Pensacola Beach.
First on the list? Pensacola Beach. Palm trees swaying in the breeze await you at this beautiful beach. Pensacola Beach is on my best Florida Gulf Coast Beaches. It is well known for its beautiful white sand beach and shallow waters. I try to get over to this beautiful beach every year.
It is actually located on the barrier island of Santa Rosa. The beaches in this area are some of the most beautiful you will ever see.
The white sand and clear blue water make for the perfect beach day, while offering plenty else to enjoy like shopping or grabbing an ice cream cone. Plenty of activity with volleyball courts, boating, fishing, paddleboarding and more.
Santa Rosa Beach.
Santa Rosa Beach is located in Walton County. Top beach destination, this popular option is perfect for a short trip from Alabama or a longer trip from Louisiana.
The 26-mile stretch of beach is well known for its natural scenic beauty, turquoise waters and sugar sand beaches. Crystal clear waters makes it a favorite for families.
Navarre Beach.
Beautiful Navarre Beach is a must-see for all beach lovers. Located in a unique spot between two of nature's finest parks, Gulf Islands National Seashore and Navarre Beach Marine Park.
This beach is a12 mile stretch of pristine white sand making it the perfect place to spend hours soaking up the sunshine or playing in the crystal clear waters.
Kids love this beach. Easily accessible to all ages and abilities, with an array of activities and amenities that make it even more enjoyable. Plenty of free parking.
Alys Beach.
Alys Beach is a tropical paradise situated on the stunning Gulf Coast of Florida. Well known for its pristine white sand beaches and crystal-clear turquoise waters. A great spot perfect for rest, relaxation, and recreation.
Whether you're looking to swim, snorkel, kayak or paddleboard in the calm ocean waves or sunbathe on the shoreline, Alys has something for everyone.
The beach provides an oasis of tranquility where visitors can escape the hustle and bustle of everyday life and soak up some much-needed Vitamin Sea.
Upcoming Trip?
I like to use Booking for booking not only my hotels, but my tickets and rental cars as well. Makes life so much easier with only having to log into one location for my information.
Be sure to grab my travel tips to save you time and money. You'll also be entered into the weekly drawings.
Register here: Get 100 Travel Tips EVERY traveler should know PLUS entered into the weekly drawing.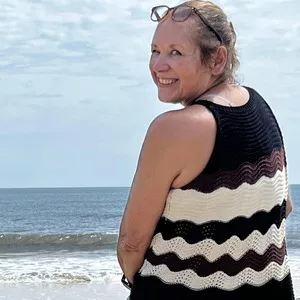 About Denise
Denise Sanger lives a life split between her love for fitness and her passion for travel particularly to the BEACH. Denise also has a love of marketing and lives in beautiful Suwannee County, Florida. You can find out more about Denise here: About Denise