26 Fun Free Things To Do In Daytona Beach
This article may contain affiliate links. Whenever you buy something through one of these links, I may earn a small commission without any cost to you. I really appreciate it as it supports this site and my family. Thank you!
26 Fun Free Things To Do In Daytona Beach
Daytona Beach, Florida has been a popular destination for decades and may just be the most famous beach in the USA. After all, everyone seems to have heard of Daytona Beach on the Atlantic Ocean.
From the Daytona International Speedway to the Museum of Arts to the Southeast Museum of Photography to the Marine Science Center, there are PLENTY of great things to do. This article will focus on fun free things to do in Daytona Beach.
Outside is a great place to be when you're in the Daytona Beach area. The location is one of the best in the United States. It is literally 13 minutes from having even more fun things to do in Ormond Beach.
Thank you for reading this post. Don't forget to subscribe! This way you never miss an update, travel deals, discounts and more!! Subscribe to the right------>
Let me know how you enjoy the following 26 fun free things to do in Daytona Beach:
Daytona Beach
Of course the FIRST think on our list of fun, free things to do in Daytona Beach is go to the beach! Clear water, beautiful sandy beaches and plenty of shallow areas for kids to play, you will love a day on this beach. Swimming, surfing, shell collecting, and other fun activities are always enjoyable here. Free.
Ormond Beach A hop, skip and a jump from Daytona Beach will land you on Ormond Beach. This beach town is famous for being the hometown of millionaire John D. Rockefeller. If you're looking for a calmer beach for vacation, this is the one. Soft sand and plenty of coquina shells but not suitable for vehicles.
Andy Romano Beachfront Park
Andy Romano Beachfront Park is a four-acre facility that offers beach access, along with a splash pad. A really pretty park with a picnic area and playground for the kids.
150 acres to play on at Central Park. At this park, the activities include basketball, boating, fishing, outdoor grilling, tennis, picnicking and more. The parks are open from sunrise to sunset. Free. Kid friendly.
Smyrna Dunes Park is a gorgeous 184 acre inlet park located along the southern shoreline of Ponce de Leon Inlet. The park boasts over 2 miles of wide, elevated, handicapped accessible boardwalk. Multiple scenic overlooks allow unbelievable views of the Atlantic Ocean, the Indian River and Ponce de Leon Inlet.
Special park features include a 300' handicapped accessible fishing pier and dog-friendly swimming beach areas located along the park river shore. Restrooms, picnic pavilions and beach access. The park is free but there is a vehicle admission of $10 per vehicle.
Dunlawton Sugar Mill Gardens. Enjoy this botanical garden with its amazing scenic views of ancient trees, shrubs, exotic plants, and flowers. Visitors to the gardens can also visit the mill which was built in 1832. No admission fee but they glady accept donations if you feel led. Free. Kid friendly.
Firehouse Park. You guessed it! Fire House Park is located next to a fire station. The park playground is designed to resemble a firehouse and fire truck. Picnic areas, park benches and small grassy fields. Free. Kid friendly.
Samuel L. Butts Archeological Park
Explore nature by enjoying the many nature trails. Samuel L. Butts Archeological Park is a beautiful park with shady trails. It is on the smaller side but don't let that stop you from exploring. A leading Daytona citizen that loved archaeology, Samuel Butts spent plenty of time collecting artifacts in what is now the park.
Mr. Butts located many spear points, bone tools and pottery fragments of the Timucuan Indians. He also found skeletal bones from a mastodon that roamed Central Florida during the Ice Ages.
Knowing he had found something important, Mr. Butts registered the site with the Florida Division of Historic Resources in 1994. The park is on the National Register of Historic Places and given its current name in 2004 by the City of Daytona Beach.
You will find plenty of parking spaces, restrooms, a fishing pier, nature trail, gazebo and wildlife.
It's free to visit this park. Be aware of your surroundings at all times as unfortunately, some suspicious activity has been reported to the police. Free.
Ponce Inlet and Lighthouse Point Park
Located on the outer limits of Daytona Beach, you will find Ponce Inlet and Lighthouse Point Park. Ponce Inlet is home to the largest lighthouse in Florida. Perfect for those that love the water and time outdoors. Lighthouse and park are both free and kid-friendly.
The Casements
Located on the shore of the Halifax River, two blocks from the Atlantic Ocean, the late John D. Rockefeller's winter home is known as The Jewel of Ormond Beach. The Casements, officially listed on the National Register of Historic Places and designated as a Florida Heritage Site. Free tours and free admission although thankful for donations. Free.
Port Orange Memorial Park spans 10 acres and is the perfect place for picnics and fishing on the boardwalk. A lighted walkway surrounds the lake, which includes a fountain. Benches are located throughout the park. Free.
Cassen Park Situated on a riverfront, this park offers visitors a fishing pier with picnic tables, cleaning stations, and a bait shop. From the pier, enjoy watching the local fishermen bring in their catch of the day. Free.
Ormond Memorial Art Museum. This museum was established in 1946 at the end of World War II to celebrate creative freedom and those who defend it. The museum displays original artworks while the gardens are an oasis that can stand on its own. At the time of this writing, the museum is closed so check if that is important to you. You can spend a full day in the gardens alone. Free.
Bailey Riverbridge Gardens is a 2.6 acre serene riverfront park at the foot of the Granada Bridge on the mainland side of the Halifax River. Gorgeous waterfront grounds with a quaint church, plus a fountain, benches & paved walkways. Free.
Port Orange Skate Park is the perfect place to let the kids burn off extra energy. 50 acres to explore with a lake with a half-mile walking trail around it. Located in the park are a skate park, public library, amphitheater and recreation centers. Free.
Buschman Park is a beautiful park with lots of wildlife. Keep your eyes open as you look for alligators and gopher turtles. Boasts a boardwalk into lake, cCovered pavilion picnic areas, 3/4 mile walkway around lake, nature trail, playground and restrooms. Free.
Seemore Memorial Dog Park. We can't forget our favorite four legged family members can we? Visit this one-acre dog park with separate areas for large and small dogs. Offers drinking water, benches and a rinsing station. Perfect park for dogs to enjoy and play with friends off leash in designated areas. Restrooms, picnic areas and barbecue sites are available. Free.
Cracker Creek is located on the original 20 acre homestead of Roland "Rollie" F. Johnson, caretaker for the James Gamble Estate. When you visit Gamble Place, you feel like you literally stepped back in time. You will see what James N. Gamble found so inviting during his first visit to the area in the late 1800's. Included in the National Register of Historic Places, Gamble Place features a historic home, cottage, and Citrus Packing House. The "Florida cracker-style" house, named "Egwanulti" which is Native American word meaning "by the water", was built in 1907, and used as a winter retreat. Free to visit. Boat/canoe/kayak rentals available for a fee.
Daytona Beach Bandshell. If music is your thing, you'll want to be sure to include Daytona Beach Bandshell in your agenda. Free concerts every Friday and Saturday night at 7:15 from May through September. Enjoy the night in the beautiful historic coquina amphitheater in Ocean Park listening to music. Free.
Angell & Phelps Chocolate Factory Tour. Angell & Phelps Chocolate Factory is located in the historic Riverfront Shops in downtown Daytona Beach. Enjoy a self-guided tour and sample both free during regular business hours. Free.
Mary McLeod Bethune Foundation Home & Gravesite. Bethune-Cookman University is one of the richest resources of African-American historical and cultural exhibits you will find in Florida. Bethune's home is located on the university's campus and serves as the headquarters of the Mary McLeod Bethune Foundation. Enjoy free guided tours but call to schedule an appointment. Free.
Southeast Museum of Photography is one of 12 specialty museums of its kind in the USA. It is Florida's official museum and offers free admission.
Sun Splash Park. This 4 acre oceanfront park features decorative walkways, a shaded playground, picnic areas, restrooms, outdoor showers and two beach access ramps You will also find free off-beach parking. Free.
Tomoka State Park is a beautiful 2,000-acre Florida State Park located along the Tomoka River, three miles north of Ormond Beach. This park features a nature trail, bike trails, hiking trails, geocaching, kayaking/boating, camping and plenty of wildlife.
Depending on the time of the year, you may see white-tailed deer, gopher tortoise, bobcat and a variety of snakes. In the cooler months you will be more likely to see migratory bird species, which are heading south to escape the cold weather. When it warms up, you'll be able to see gopher tortoises and snakes.
Be careful though as rattlesnakes are prevalent in the area and are perfectly camouflaged in the grass and leaf litter. Be sure to watch where you're stepping. The park is free but there is a vehicle admission fee of $5 per vehicle.
Bulow Creek State Park protects approximately 5,600 acres with more than 1,500 as submerged lands. Hikers have several trails to explore in the interior of the park, where you can catch glimpses of white-tailed deer, barred owls and raccoons.
The Bulow Woods Trail is nearly seven miles long and takes hikers to Bulow Plantation Ruins Historic State Park. Enjoy a picnic in a shady pavilion or at a picnic table on the lawn within view of the Fairchild Oak. The Fairchild Oak is one of the largest live oak trees in the South. The park is free but there is a vehicle admission fee of $5 per vehicle.
New Smyrna Museum of History was founded in 1768 and preserves the history of New Smyrna Beach. Explore the many exhibits and collections on display throughout the museum while learning about the heritage of New Smyrna Beach. There is an admission fee for adults but children are free.
Turtle Mound National Historic Site is a prehistoric archaeological site and earliest evidence of man at Canaveral National Seashore has been found at this site. From 800 to 1400 CE, generation after generation of the first natives of Florida left evidence behind to tell of their lives at Turtle Mound. There is a fee to enter this park BUT it's valid for 7 days making it quite affordable.
Sea Turtles. From May 1 through October 31 watch the beaches for the well-loved visiting sea turtle. Sea turtles emerge from the ocean at night to lay their eggs in nests dug into the dry sand, then return to the sea. Free.
And this is only the beginning of this list. There truly are so many things you can do for free or for very low cost in fun-filled Daytona Beach. Be sure to check back as I continue to update with more free/low cost activities.
Looking for more beaches to explore? Click here for a List Of All Beaches in Florida 190+ Reasons To Relax
For hotel, flight and other deals for Daytona Beach, click here: Vacation in Daytona Beach
Upcoming Trip?
I like to use Booking for booking not only my hotels, but my tickets and rental cars as well. Makes life so much easier with only having to log into one location for my information.
Be sure to grab my travel tips to save you time and money. You'll also be entered into the weekly drawings.
Register here: Get 100 Travel Tips EVERY traveler should know PLUS entered into the weekly drawing.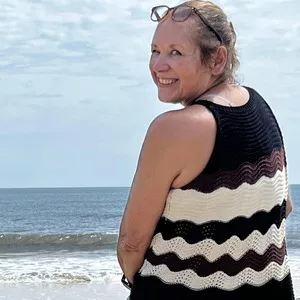 About Denise
Denise Sanger lives a life split between her love for fitness and her passion for travel particularly to the BEACH. Denise also has a love of marketing and lives in beautiful Suwannee County, Florida. You can find out more about Denise here: About Denise