Sailing into Serenity: Best Sunset Cruises in St. Augustine
This article may contain affiliate links. Whenever you buy something through one of these links, I may earn a small commission without any cost to you. I really appreciate it as it supports this site and my family. Thank you!
St. Augustine, on the beautiful Atlantic coastline in Florida, is a charming historical gem that beckons travelers to visit. This city also has the most beautiful sunsets too. The way to see those sunsets? Taking one of the best sunset cruises in St. Augustine I have reviewed and listed below.
The cobblestone streets, Spanish heritage, and historic landmarks invite you to explore. From the St. Augustine lighthouse to the famous Castillo de San Marcos fort, a sunset cruise gives you a unique view of the city.
Before we dig into the best St. Augustine sunset cruises, as your St. Augustine tour guide today, below are the must-see things in this historical Sunshine State city. At the bottom of this article, I have additional links to help you plan the perfect vacation in St. Augustine.
Don't have time to read the article now? Click here to check rates and availability: Best Sunset Cruises St. Augustine Florida
Thank you for reading this post. Don't forget to subscribe! This way you never miss an update, travel deals, discounts and more!! Subscribe to the right------>
Exploring St. Augustine: A Quick Overview
There are several great articles on my site with information on hotels, private tours, and wildlife adventure options that I have listed for you below. Here is a quick snapshot of the places and things to do I always recommend:
Castillo de San Marcos: A Bastion of History
This centuries-old fortress is an iconic symbol of the city. As you enter the grounds, you are able to explore the stone walls, cannons, and dungeons of the fort. There are usually people dressed up in the time period costume providing you a new perspective of life in the 1600s.
St. George Street
Love to shop? St. George Street is the shopping heart of St. Augustine's historic district. You will find charming shops, cafés, and restaurants, and more. The perfect place for leisurely strolls and souvenir shopping.
Lightner Museum: Art and Antiques
Be sure to stop and see the collection of art and antiques housed in the Lightner Museum, once the grand Hotel Alcázar.
Historic Walking Tours: A Step Back in Time
A great way to see the city is to join a guided walking tour. Stroll through the historic district with a knowledgeable guide that will provide you with an in-depth history of St. Augustine's past.
I am currently working on an article about all the walking tours in St. Augustine but you can check current tours and availability here: Historic Walking Tours
Click here to check rates and availability: Best Sunset Cruises St. Augustine Florida
St Augustine Lighthouse
The St Augustine Lighthouse & Maritime Museum actually dates back 500 years from the first wooden tower to the lighthouse you see today. They also offer events throughout the year including the Luminary Lighting at Christmas.
Beaches
And of course the beaches! St. Augustine has some of Florida's most beautiful Atlantic coast beaches. Relax on the golden sands, swim in the gentle waves, or hop on a jet ski, kayak, or other water sports activity.
The Magic of St. Augustine Sunsets
As the day winds down, the skies above St. Augustine come alive. The colors range from pink to dark orange. The city's location on Florida's northeastern coast allows you to witness sunsets over the water which is rare on the East Coast.
Here's what makes these sunsets so magical:
The Waterfront Setting
St. Augustine's historic downtown is situated along Matanzas Bay, which offers you unobstructed views of the water. As the sun dips below the horizon, it casts a warm, golden glow over the bay water. One of the best spots to enjoy watching the sunset.
The Vibrant Colors
St. Augustine's sunsets are vibrant! From fiery oranges and pinks to soft purples and blues, each evening brings a different masterpiece to the sky.
Historic Backdrop
The city's historical landmarks, including the Castillo de San Marcos and the Bridge of Lions, are silhouetted against the sunset sky, creating a truly unique experience.
Sunset Cruises in St. Augustine: A Must-Try Experience
Yes, you can enjoy these spectacular sunsets from various vantage points in the city or on the beach. But in my opinion, the best way to fully experience the setting sun and the sparkling views of historic St Augustine in a unique way is from the deck of a sunset cruise.
Here are my picks for the Best Sunset Cruises and best St Augustine boat tours including information on links to check for availability and current pricing.
Schooner Freedom Charters
Step aboard the Schooner Freedom for a St Augustine sailing adventure where you will not only enjoy the ride but learn along the way. A 72-foot schooner will sail in the late afternoon, where you will be able to see the sun setting over the ancient Castillo de San Marcos Fort.
The crew will share stories about the history of St. Augustine, making this cruise both scenic and informative. Their goal is to provide you with the best customer experience possible. Check pricing and availability here: Freedom Charters
The Black Raven Pirate Ship
For a more whimsical experience, hop aboard one of the Black Raven Purpose-Built Pirate Ships. A family-friendly scenic cruise that is not your typical sunset sail.
Watch the sun set into the Atlantic, the pirate crew entertains guests with swashbuckling tales, games, and even a water cannon battle. This is the best boat tours options for families with kids who want to add adventure to their sunset experience. Get more information here: Black Raven Pirate Ship
Click here to check rates and availability: Best Sunset Cruises St. Augustine Florida
Adventure Boat Tours
Enjoy touring downtown St. Augustine, as the sun sets as you see sites like the Bridge of Lions and the Castillo de San Marcos National Monument. You will also venture into the St. Augustine Inlet as well as view the Augustine Lighthouse & Maritime Museum. Check price and availability here: Adventure Boat Sunset Tour
Ready To Party?
Are you ready to party? Then the best place to do that and get a unique perspective of St. Augustine is a BYOB party cruise. This is a cycle boat so be prepared to participate as you enjoy the party lights and sip a cocktail or two while you see the glorious wonder of St Augustine by water. Check price and availability here: Sunset Cruise Party Boat
Nights Of Lights Tours
Planning to be in St Augustine during the holidays? Be sure to book the Nights of Lights Tour. This is a party boat so be prepared to party!
BYOB bring your own beverage and enjoy comfortable seating as you make your way along the water. The perfect end to the day. Operated by Old Town Cycle Cruise. Note there are only 24 seats on this party boat. Check here for availability and pricing: Nights Of Lights Tours
Wine Tasting Cruise
Want to enjoy a glass of wine but not really into the party scene above where you participate on a cycle boat? Then a wine tasting cruise is for you. Sail along the St. Augustine coastline on a comfortable pontoon boat as you sip six delicious wines.
Free parking at the departure spot on Yacht Club Drive. This by far is one of the best options to relax on the way. 90-minute tour along the edge of St Augustine. Get pricing and availability here: Wine Tasting Cruise
St. Augustine Eco Tours
If you're passionate about wildlife and eco-conscious experiences, St Augustine Eco Tours offers a unique spectacular sunset cruise. Enjoy the boat ride as you explore the estuaries and marshes of the Matanzas River.
Keep an eye on the water so you have a great chance of spotting dolphins, birds, possibly a white pelican or other bird life if migrating, and other local wildlife as the sun paints the sky with its colors.
It's a serene and educational journey that's a perfect way for nature enthusiasts to enjoy the sunset and marine life at the same time. Check availability and pricing here: St. Augustine Eco Tours
St Augustine Romantic Sunset Cruises
Celebrating a special occasion? A romantic sunset sailing cruise is a great way to enjoy an evening on the water during a romantic getaway.
The best sunset cruise of St Augustine for couples can include not only the sunset, but you may also choose to watch a full moon rise over the bay.
Full moon cruise options are available as well as sunset tours which is something to consider making the occasion even more special. Check availability and pricing here: Romantic Sunset Cruise
Best Sunset Dinner Cruise Tour
Dinner and sunset cruise tour? There used to be one but as I am searching today for the tour I enjoyed, I am not seeing the one I enjoyed many years ago. I will keep looking and here as soon as I find it.
Private Charters
For a more intimate and personalized experience, consider booking a private charter. Private cruises are a wonderful way to explore St. Augustine and historic Matanzas Bay and celebrate special events or a romantic night in a more intimate setting.
St. Augustine offers a wide range of boat tours including private sunset cruises including luxury yachts for couples, families, or small groups. You can tailor the experience to your preferences, whether it's a romantic evening for two or a special celebration with friends.
St. Augustine Sailing Enterprises offers a two hour trip that departs from Camachee Cove Yacht Harbor & Marina on Harbor Dr. Also, Full Moon Tours are another fantastic way to celebrate a special occasion. Check availability and pricing here: Private Sunset Sailing Charter
Tips for the Perfect Sunset Cruise Experience
To make the most of your sunset cruise in St. Augustine, keep these tips in mind:
1. Make Reservations in Advance
Sunset cruises are popular in St. Augustine, especially during peak tourist seasons. It's advisable to make reservations in advance to secure your spot and avoid disappointment.
2. Arrive Early
Arriving at the dock a little early gives you time to soak in the surroundings, take photos, and settle in comfortably before the cruise departs.
3. Dress Comfortably
St. Augustine's evenings can get breezy, even during the warmer months. Dress in layers and bring a light jacket or sweater to stay comfortable.
4. Capture the Moment
Don't forget your camera or smartphone to capture the stunning sunset and the beautiful scenery. You'll want to relive this magical experience.
5. Savor the Moment
While it's tempting to snap photos continuously, remember to put your device down occasionally and savor the moment with your own eyes. Sometimes, the most beautiful memories are the ones you carry in your heart.
An Unforgettable St. Augustine Sunset
St. Augustine, with its rich history and captivating sunsets, offers a unique blend of old-world charm and natural beauty.
Exploring this enchanting city is a treat for history buffs and nature lovers alike. And when the sun dips below the horizon, embarking on a sunset cruise becomes an absolute must-do.
Whether you choose the historical insights of the Schooner Freedom, the playful adventures of the Black Raven Pirate Ship, the eco-conscious journey with St. Augustine Eco Tours, or a private charter tailored to your desires, the sunsets of St. Augustine promise to leave an indelible mark on your heart.
Sailing into serenity, under a sky ablaze with colors, you'll understand why St. Augustine's sunsets are celebrated as some of the most beautiful in the world. So, set sail, relax, and let the magic of the moment wash over you as you bid farewell to the day in the nation's oldest city.
These links will help you plan the perfect St. Augustine Vacation:
Upcoming Trip?
I like to use Booking for booking not only my hotels, but my tickets and rental cars as well. Makes life so much easier with only having to log into one location for my information.
Be sure to grab my travel tips to save you time and money. You'll also be entered into the weekly drawings.
Register here: Get 100 Travel Tips EVERY traveler should know PLUS entered into the weekly drawing.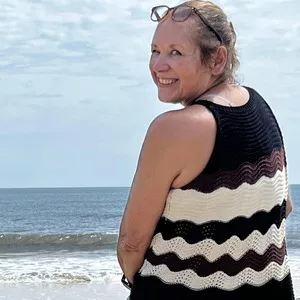 About Denise
Denise Sanger lives a life split between her love for fitness and her passion for travel particularly to the BEACH. Denise also has a love of marketing and lives in beautiful Suwannee County, Florida. You can find out more about Denise here: About Denise