Fun Dog Friendly Restaurants Jacksonville Beach
This article may contain affiliate links. Whenever you buy something through one of these links, I may earn a small commission without any cost to you. I really appreciate it as it supports this site and my family. Thank you!
Planning a trip to Jacksonville and bringing your four-legged friend? Below is a list of dog friendly restaurants in Jacksonville Beach for you.
Jacksonville is a beautiful place to take a vacation and enjoy with your furry friend. There are quite a few dog-friendly places to eat many with great views of the Atlantic Ocean. You can even enjoy a craft beer at one of the many breweries in Jax.
This will be mainly a list of pet-friendly restaurants, both indoors and out, as well as other places to take your pooch.
Poe's Tavern Address: 363 Atlantic Blvd, Atlantic Beach, FL 32233. This is a great place known for its great burgers and outdoor seating area. Ideal for dogs.
Thank you for reading this post. Don't forget to subscribe! This way you never miss an update, travel deals, discounts and more!! Subscribe to the right------>
The Flying Iguana Address: 207 Atlantic Blvd, Neptune Beach, FL 32266. A vibrant spot with Latin-inspired dishes and a pet-friendly patio area. This restaurant has over 100 tequila brands as well as a large selection of craft beers.
Mellow Mushroom Address: 1018 3rd St N, Jacksonville Beach, FL 32250. A laid-back pizzeria and dog-friendly restaurant with an outdoor seating area make this a perfect place to bring your favorite dog.
Graffiti Junktion Address: 265 5th Ave N, Jacksonville Beach, FL 32250 A burger joint with a pet-friendly outdoor space.
Engine 15 Brewing Co. Address: 1500 Beach Blvd, Jacksonville Beach, FL 32250 A craft brewery with a dog-friendly outdoor beer garden and patio.
Brix Taphouse Address: 300 2nd St N, Jacksonville Beach, FL 32250. A casual pub with craft beers and a pet-friendly outdoor area. One of the best options is a short walk from the beach.
Lynch's Irish Pub Address: 514 1st St N, Jacksonville Beach, FL 32250. Delicious food and outdoor seating where your dog is welcome in the Jacksonville Beach area. 
The Shim Sham Room Address: 333 1st St N, Jacksonville Beach, FL 32250. A nice, relaxed bar with an outdoor patio, perfect for enjoying a drink with your furry friend. Great happy hour.
Dockside Seafood Restaurant Address: 2510 2nd Avenue North Jacksonville. If you want fresh seafood and a place you can bring your best dog, this is it.
Mojo Kitchen BBQ Pit and Blues Bar Address: 1500 Beach Boulevard, Jacksonville. Here you will find delicious cocktails, craft beer, live music and a great place to not only bring your fur friend but the whole family. Kids menu.
Salt Life Food Shack Address: 1018 3rd Street North, Jacksonville. Whether you want a quick bite or dinner, Salt Life is a great place for you and your fur baby.
Hoptinger Address: 333 1st Street North and 1037 Park Street, Jacksonville. This restaurant calls itself a modern bier garden. What I know is that it's great food and the best part is I can bring Shadow my dog with me.
Bearded Pig has two locations. The first is 1700 3rd Street South, Jax Beach, and the other is located in the San Marco neighborhood at 1808 Kings Ave. Their food is so good! Enjoy a great meal plus a fun time with friends and your fur family.
Wicked Barley Brewing Company Address: 4100 Baymeadows Rd, Jacksonville. I love this place! They have a pet friendly waterfront beer garden and a boat dock for those on the water. Fantastic food and of course great beer.
Brick Restaurant Address: 3585 St. Johns Avenue, historic Avondale. Enjoy brunch, lunch or dinner at this spot!
Other Dog-Friendly Parks And Locations With Open Spaces
Brewhound Dog Park Address: 1848 Kings Circle South in Neptune Beach. Great area for the dogs to play in their off-leash dog park while you enjoy refreshments on the porch.
Riverside Arts Market 715 Riverside Avenue, Jacksonville. Not a restaurant but fun on the weekends. You will find a weekly market where you can pick up fresh produce, shop local vendors in the Jacksonville area, and grab from food trucks and local bakeries. Definitely one of Jacksonville's must-visit spots.
Kathryn Abbey Hanna Park Address: 500 Wonderwood Dr, Jacksonville. Dogs are allowed on leash not only on the walking paths but the beach as well. You can also camp with your pets in this park.
Atlantic Beach Dog Park Address: 268 Aquatic Dr, Atlantic Beach. The beach is free and dogs are allowed to enjoy it. There is a membership fee but it is nominal.
Jacksonville Arboretum. Address: 1445 Millcoe Road, Jacksonville. This is an oasis in the middle of the city. Dogs are welcome on a leash. Enjoy the beautiful gardens all year long. Pack a snack and take a break at one of many picnic tables located throughout the botanical gardens.
NOTE: dog-friendly policies may vary, and it's always a good idea to call ahead and confirm their current pet-friendly status and any specific rules or restrictions they may have in place.
To follow, will be an article on pet friendly hotels as well as nearby pet friendly destinations in Ponte Vedra Beach as well as St Augustine so be sure to bookmark it.
This area of northeast Florida has gorgeous views and plenty of restaurants, bars, live entertainment, and more. 
The following will help you plan your Jacksonville Beach Vacation:
Upcoming Trip?
I like to use Booking for booking not only my hotels, but my tickets and rental cars as well. Makes life so much easier with only having to log into one location for my information.
Be sure to grab my travel tips to save you time and money. You'll also be entered into the weekly drawings.
Register here: Get 100 Travel Tips EVERY traveler should know PLUS entered into the weekly drawing.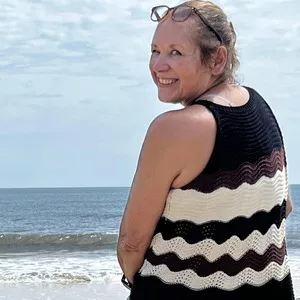 About Denise
Denise Sanger lives a life split between her love for fitness and her passion for travel particularly to the BEACH. Denise also has a love of marketing and lives in beautiful Suwannee County, Florida. You can find out more about Denise here: About Denise