Dog friendly Beaches In Jacksonville for Your Fur Family member
This article may contain affiliate links. Whenever you buy something through one of these links, I may earn a small commission without any cost to you. I really appreciate it as it supports this site and my family. Thank you!
As dog owners, we know how important it is to find a beach where our furry family members can run around and play in the sand and water. Luckily, there are several dog friendly beaches in Jacksonville FL that welcome our four-legged companions.
Whether you are a Jacksonville resident or on vacation from another city in the United States, there is a dog friendly beach for you.
Fetch Some Fun: Dog Friendly Beaches in Jacksonville
Whether you're a local or just visiting, you'll find that Jacksonville offers some of the best dog beaches with a range of activities that both you and your dog will enjoy.
From long walks on the beach to hiking a nature trail to playing fetch with tennis balls in the shallow water, there's no shortage of fun to be had.
Thank you for reading this post. Don't forget to subscribe! This way you never miss an update, travel deals, discounts and more!! Subscribe to the right------>
Plus, with so many dog-friendly restaurants and hotels in the area, you can easily make a weekend out of it. Let's take a closer look at some of the best dog-friendly beaches in Jacksonville.
We'll provide you with all the information you need to plan your next beach day with your furry friend.
So grab your sunscreen, pack some snacks, and get ready to hit the sand of some of the most beautiful beaches to take not only your pets but your family too.
At the bottom of this article will be links to other dog-friendly beaches plus things to do in Jacksonville.
Why Jacksonville is the Best Place for Dog Owners
Living in Jacksonville as a dog owner is a dream come true. With its warm weather, sandy beaches, and dog-friendly atmosphere, the city of Jacksonville is the perfect place for us and our furry friends.
One of the best things about Jacksonville is the number of dog-friendly beaches. We can take our dogs to Atlantic Beach, Neptune Beach, and Jacksonville Beach, just to name a few.
These beaches have designated areas where dogs can run and play off-leash, and there are even dog showers to rinse off the sand and saltwater.
But it's not just the beaches that make Jacksonville great for dog owners. There are also plenty of dog parks, trails, and outdoor restaurants that welcome dogs.
We can take our dogs, both large and small dogs, to many events and festivals including to the Riverside Arts Market on Saturdays, where they can socialize with other dogs and enjoy some fresh air and sunshine.
Another reason why Jacksonville is the best place for dog owners is because of its dog-friendly culture. People here love their dogs and are always happy to see other dogs out and about.
We never feel like we're bothering anyone when we bring our dogs to public places, and we always get a warm welcome. Overall, Jacksonville is the perfect place for us and our furry friends.
With its pet-friendly beaches, parks, and culture, we can all feel like we're part of a community that values our pets as much as we do whether we are Jax residents or visiting.
Top Dog Friendly Beaches in Jacksonville And Nearby Beaches
As dog owners, we know how important it is to find a beach where our furry friends can run free and enjoy the sand and waves. Luckily, Jacksonville has plenty of dog-friendly beaches to choose from.
Please keep in mind that some of the locations have fees that must be paid. There are also certain times of the year, where dogs must be off the beach by certain times. This is for their safety.
Not only are Jacksonville beaches on the Atlantic Ocean a great place for dogs to play, there are several freshwater areas to play including the freshwater lake at Kathryn Abbey Hanna Park listed below.
I have also included nearby St. Augustine as well as Amelia Island so when you and your best friend feel like exploring, you know where to go.
Jacksonville Beach
Located just a few miles from downtown Jacksonville, Jacksonville Beach is a popular spot for locals and tourists alike.
The beach is open to dogs year-round, but be sure to keep them on a leash during peak season as well as check the hours for when dogs can be on the beach.
Also in Jacksonville Beach, you will find Paws Park. Paws Park is a membership playground for dog owners and their dogs!
Enjoy an off-leash dog park with a large-dog area, a small-dog area, watering bowls, benches, and more for you and your canine companion.
There are many Jacksonville Beach restaurants you can also bring well-behaved dogs to.
Atlantic Beach
Atlantic Beach and Atlantic Beach Dog Park is a great spot for dogs who love to swim. With plenty of space to run and play, this beach is perfect for both small and large dogs.
There are even dog showers available to rinse off after a long day of playing in the sand. Be sure to go online to sign the application, waiver and rules. There is also a fee to be paid.
Neptune Beach
Neptune Beach is a quieter alternative to Jacksonville Beach. The beach is open to dogs year-round, and there are plenty of nearby restaurants and shops to explore with your furry friend.
Ponte Vedra Beach
Ponte Vedra Beach is known for its beautiful scenery and clear water.
Dogs are allowed on the beach, but they must be on a leash at all times. There are also several dog-friendly parks in the area if you're looking for a change of scenery.
Mickler's Landing Beach
Mickler's Landing Beachfront Park is a great spot for dogs who love to run and play.
The white-sand beach is open to dogs year-round, and there are plenty of nearby trails and parks to explore. Just be sure to bring plenty of water for your furry friend.
Also pay attention to the time of year and the rules for having dogs on the beach. It gets HOT in the summer. Dogs should not be on the beach after designates times in the morning for your dog's safety.
Kathryn Abbey Hanna Park
This 450-acre complex and park is one of the best areas to take dogs. Hanna Park welcomes the whole family. Enjoy a water park, freshwater lake, pet-friendly campground, nature trails, hiking and biking trails.
It is also one of Jacksonville's best surfing beaches. Even better? Most areas of the park are dog friendly, but dogs must be on a leash.
Restrooms, picnic areas and picnic tables are available throughout the park. Be sure to check fees before you visit and be aware of the designated area you may play with your dog.
Fernandina Beach, Amelia Island
Meander your way through the islands including Little Talbot and Big Talbot and you eventually arrive at Amelia Island. Dogs are welcome on all beaches on the island excluding the beaches within the state parks.
Dogs are welcome in the state parks including Fort Clinch and Amelia Island State Parks but may not be on the beaches.
There are many grassy areas including large dog areas where you can take your dogs.
Be aware of the wooded areas and check your dogs and you for ticks before leaving.
St. Augustine Beaches
St. Augustine offers some of the best beaches for pet owners. Not only can you bring obedient dogs to most beaches, many of the hotels, vacation rentals and restaurants that also allow you to bring your fur family members.
Dogs must be on a leash. In addition to the sea turtles mentioned above, watch for shore birds and make sure you have a good grip on your dog's leash at all times. The sandy beach is where many birds also nest.
Dogs may be inside Anastasia State Park on leash but are not allowed on the beach. There is still plenty of room to play with your dogs.
One more that I want to mention is Vilano Beach. Near St. Augustine, dogs are welcome on this beach but must be on a leash. Also be sure to pick up any pet waste.
Flagler Beach
Flagler Beach offers a more laid-back atmosphere than St. Augustine or Jacksonville. South of St. Augustine, dog friendly access to the beach is north of N 10th Street and south of S 10th Street.
What to Expect at Dog Friendly Beaches in the Jacksonville Area
Leash Laws
When visiting dog-friendly beaches in Jacksonville, it's important to know the leash laws.
Most beaches require dogs to be on a leash at all times, and some may have designated off-leash areas. We recommend checking the specific beach's rules before visiting to avoid any issues.
Clean Up After Your Dog
It's essential to clean up after your dog when visiting dog-friendly beaches in Jacksonville. Not only is it courteous to other beach goers, but it's also required by law.
Be sure to bring plenty of waste bags and dispose of them properly in the designated trash cans.
Safety First
When enjoying dog-friendly beaches in Jacksonville, it's crucial to prioritize safety. Always keep a close eye on your dog, especially in the water.
Be aware of any potential hazards, such as strong currents or sharp objects, and keep your dog away from them.
It's also a good idea to bring plenty of fresh water for your dog to drink and rinse off any saltwater after swimming.
Accessible Amenities
Many dog-friendly beaches in Jacksonville offer accessible amenities for both dogs and their owners.
Some beaches may have dog showers to rinse off sand and saltwater, while others may have dog-friendly water fountains.
Additionally, most beaches may have designated doggie waste stations for easy clean-up.
Sea Turtles
Be aware of sea turtle nesting season. Most beaches will designate nesting areas.
Tips for a Great Day at the Beach with Your Dog
Pack the Essentials
When we head to the beach with our furry friends, we make sure to pack all the essentials.
This includes a leash, poop bags, water and food bowls, plenty of water, and sunscreen for both us and our pups.
We also bring along some toys to keep our dogs entertained and a towel to dry them off after a swim. You may also want a waterproof bag to store wet items until you get home.
Protect Your Pooch from the Sun
Remember, like us, dogs can get sunburned, so make sure to protect them from the sun's harmful rays.
I like to bring along a dog-friendly sunscreen and apply it to areas that are prone to burning, such as their nose, ears, and belly. I do his nose, ears and belly then I do mine!
Stay Hydrated
It's important to keep our dogs hydrated, especially on hot days at the beach. We bring along plenty of fresh water and make sure to offer it to our dogs frequently.
Avoid letting them drink saltwater, as it can make them sick. Be sure to have back-up water in case your dog spill its bowl of water. It happens quite often.
Have Fun!
Most important? Have fun. Make sure to have fun with your dogs while enjoying the pristine beaches.
Play fetch, go for a swim, and take long walks along the shore. Always keep a close eye on your pups to make sure they stay safe.
More Dog Friendly Beaches Nearby
As you continue south along the East Coast and A1A, you will find additional dog friendly beaches.
New Smyrna Beach, Smyrna Dunes Park and Daytona Beach all offer miles of sand for you and your four legged family to explore. They will be detailed in a future dog friendly beach update.
Final tips
Most dog-friendly beaches in Jacksonville are open daily but check the hours before you go. They can be a fun and enjoyable way to spend the day for both you and your furry friend but in the summer, hours are shorter for the health of your dog.
Many of the beaches have a parking lot nearby with outdoor showers making it easy to rinse the sand from your dog's fur and your feet.
Be sure to follow the leash laws, make sure your dog has a city pet tag, clean up after your dog, prioritize safety, and take advantage of accessible amenities.
This way you can ensure a great day at the beach with your pup and stay out of trouble with the animal control officer.
Upcoming Trip?
I like to use Booking for booking not only my hotels, but my tickets and rental cars as well. Makes life so much easier with only having to log into one location for my information.
Be sure to grab my travel tips to save you time and money. You'll also be entered into the weekly drawings.
Register here: Get 100 Travel Tips EVERY traveler should know PLUS entered into the weekly drawing.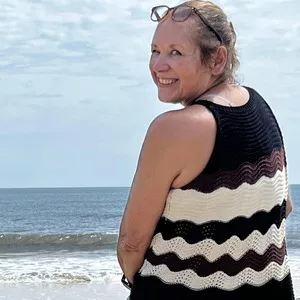 About Denise
Denise Sanger lives a life split between her love for fitness and her passion for travel particularly to the BEACH. Denise also has a love of marketing and lives in beautiful Suwannee County, Florida. You can find out more about Denise here: About Denise