Perdido Key Florida: Your Ultimate Guide to Paradise
This article may contain affiliate links. Whenever you buy something through one of these links, I may earn a small commission without any cost to you. I really appreciate it as it supports this site and my family. Thank you!
Perdido Key, Florida is a hidden gem located on a thin strip of land in the Sunshine State's Florida Panhandle. There is something about this part of Florida that is so special.
My favorite beaches are on the Panhandle and Perdido Key is one of them. This barrier island, with its pristine sandy beaches and white-sand dunes with emerald green waters leave visitors amazed the first time they lay eyes on it.
The beauty is something you need to see for yourself. Known for its breathtaking natural landscape, this barrier island boasts a serene atmosphere, making it the perfect escape for those in search of tranquility and relaxation.
The key is home to the renowned Perdido Key State Park, which offers an array of recreational activities such as swimming, sunbathing, and beachcombing.
Thank you for reading this post. Don't forget to subscribe! This way you never miss an update, travel deals, discounts and more!! Subscribe to the right------>
The island's delicate ecosystem is also a haven and habitat for various species of birds, sea turtles, and other wildlife and marine life.
If you prefer a laid-back vacation spot with less hustle and lots of southern charm, Perdido Key to be the ideal destination.
At the bottom of this article, I have placed links to other fun things in the area.
Where Is Perdido Key?
Perdido Key is near the Alabama and Florida State Line or Floribama as it's called. Alabama has been trying to annex this beautiful island, but it remains part of Florida.
It is also part of the Gulf Islands National Seashore. Orange Beach, Alabama is to the west as well as Pensacola Beach are nearby.
How To Get To Perdido Key
To get to this beautiful island and views of the calm Gulf Waters, from Pensacola, you would drive along scenic highway US 98.
From the Alabama state line, you would drive east on Highway 182 and cross over into Florida continuing onto Highway 292. Perfect day trip from other locations.
History of Perdido Key.
Perdido Key, is a beautiful barrier island located in the Gulf of Mexico and has a fascinating history. Today it is well known for its pristine beaches, but the island's past tells a fascinating story of explorations, wars, and pirate legends.
The area was first discovered by Europeans in the 16th century, with Spanish explorers such as Alonzo Alvarez de Piñeda and Tristan de Luna visiting the island.
Over the years, Perdido Key changed hands several times due to territorial disputes between Spain, France, and England.
The name "Perdido" itself, which means "lost" in Spanish, is believed to have originated from shipwrecked sailors who found themselves stranded on its shores.
During the 18th and 19th centuries, this island had its fair share of encounters with infamous pirates such as William Augustus Bowles, who sought refuge in the area.
It was also at one time a location for military battles, most notably during the War of 1812 and the Civil War. In the early 20th century, Perdido Key began to evolve into the tranquil vacation destination it is today.
Because of its location at the entrance to Pensacola Bay, Fort McRee stood on the island and was one of the three military forts built to defend the bay. There are no visible remains of Fort McRee today but the area is marked off.
Top Attractions
Perdido Key, Florida, is a paradise for those seeking a laid-back vacation filled with stunning views and natural wonders.
Visitors to this sun-soaked destination can enjoy several top attractions that cater to all interests and ages.
For beach lovers, Perdido Key State Park is one of the most beautiful state parks in Florida and a must-visit spot.
White sandy beaches, crystal clear waters, and serene dunes, making it an ideal location for swimming, sunbathing, and birdwatching.
Love water sports and outdoor activities? Nearby Big Lagoon State Park is perfect for kayaking, picnicking, and hiking.
Prefer to fish? You can cast from Johnsons Beach on the key is the perfect spot to cast your line.
Be sure to visit the Perdido Key Discovery Trail located on Perdido Key. This is a short loop trail perfect for birdwatching.
Then stop at Tarkiln Bayou Preserve State Park. Enjoy a short walk on the Tarkiln Bayou Trail to an overlook where you can see the Bayou.
Outdoor Activities
With its beautiful coastline and natural surroundings, there is no shortage of things to do for outdoor enthusiasts.
One of the main attractions in the area is Perdido Key State Park.
After spending time on the pristine sandy beaches and dunes, sunbathing, swimming, or beachcombing, be sure to hit one of the nature trails.
You can also kayak or paddleboard through the calm waters. There are plenty of outriggers and rental shops in the area to offer equipment and guided tours.
Perdido Key has numerous options for those that want to fish:
Offshore fishing charters for deep-sea adventures
Inshore fishing in the bays and estuaries
Pier fishing at the nearby Pensacola Beach Gulf Pier
Golf more your thing? Enjoy a round at the nearby Lost Key Golf Club, located on the island is an 18-hole Arnold Palmer-designed course with beautiful views.
Dining Experiences
From local seafood joints to fine dining, there are a variety of options to choose from on your beach getaway.
Oyster bars and shrimp shacks provide a taste of the Gulf. Even better? In many places, you can enjoy dinner with a Gulf View.
Italian bistro for homemade pasta and wood-fired pizzas or explore the bold flavors of a local Mexican eatery.
Prefer a more casual dining experience? Check out the beachfront bars and grills for a beach cocktail and a burger.
Dessert? Got you covered! There are ice cream shops and bakeries scattered throughout the island.
Where To Stay
There are plenty of options to choose from on the island.
Beachfront Gulf-Front Condos: These properties offer stunning views and direct access to the pristine beaches. They come in various sizes, catering to couples or families alike.
Vacation Homes: Spacious and fully furnished, these rental homes are perfect for groups and larger families. They often include amenities such as private pools, gourmet kitchens, and outdoor spaces.
Hotels and Resorts: For those seeking top-notch services and amenities, a hotel or resort stay might be the best choice. Many are situated near the beach with on-site restaurants, pools, and other facilities.
RVs and Campgrounds
Festivals and Events
There are plenty of festivals and events throughout the year on the island and in the surrounding beach towns.
The Perdido Key Wine and Art Festival takes place in the spring. Enjoy a sample of local wines, live music, and appreciate the work of local artists from the region.
Oktoberfest? Sure is one! In the fall, Perdido Key Oktoberfest, where you can try authentic German food, beer, and music.
This family-friendly event and one of the best in the Northwestern part of the state.
Check the Perdido Key website for current events.
Travel Tips
Planning a trip to Perdido Key, Florida can be an exciting experience. Few travel tips:
Pack Appropriately: Perdido Key experiences warm weather year-round, so pack light, breathable clothing. Grab my beach packing list here: No Fuss What To Pack For A Great Beach Vacation
Don't forget your swimsuit, sunscreen, sunglasses, and a hat for protection from the sun. If visiting during the winter months, bring a light jacket for cooler evenings.
Transportation: While there are local taxi and ride-sharing services available, renting a car can provide more freedom to explore the area at your own pace.
If you plan to bike or walk along the many trails, bringing or renting a bike would be a great addition to your trip.
Beach Safety: Always pay attention to beach flag warnings, which indicate current surf conditions.
Red flags warn of dangerous surf conditions, while yellow flags indicate moderate surf conditions.
Green flags signify that it's safe to swim, but remember to always use caution.
Wildlife Awareness: Keep an eye out for marine life and nesting sea turtles while on the beach. Remember that these animals are protected and should not be disturbed.
Upcoming Trip?
I like to use Booking for booking not only my hotels, but my tickets and rental cars as well. Makes life so much easier with only having to log into one location for my information.
Be sure to grab my travel tips to save you time and money. You'll also be entered into the weekly drawings.
Register here: Get 100 Travel Tips EVERY traveler should know PLUS entered into the weekly drawing.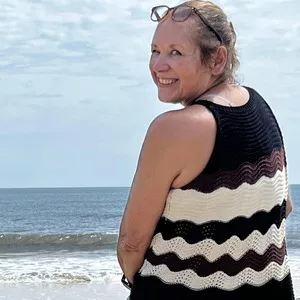 About Denise
Denise Sanger lives a life split between her love for fitness and her passion for travel particularly to the BEACH. Denise also has a love of marketing and lives in beautiful Suwannee County, Florida. You can find out more about Denise here: About Denise