Explore The Best Clearwater Beaches In Florida
This article may contain affiliate links. Whenver you buy something through one of these links, I may earn a small commission without any cost to you. Thank you!
Looking for the best clearwater beaches in Florida? Whether you want to spend the day lazing on the sand or experience some of Florida's best activities, here are some of the best clear water (clearwater) beaches in the Sunshine State for your next vacation.
Clearwater's beaches provide stunning scenery and breathtaking views. Grab your swimsuit and go!
Best Clear Water Beaches In Florida Gulf Coast
Clearwater Beach
Clearwater Beach is one of the most popular beaches in Florida. This is not only the perfect place to enjoy the crystal clear water, it also provides unparalleled beauty along its white sand shores.
Visitors can enjoy a variety of activities including swimming, surfing, snorkeling, beach volleyball and sunbathing. With plenty of shops, restaurants and attractions within walking distance to the beach, Clearwater Beach is an ideal destination for your next beach getaway.
Treasure Island
Treasure Island Beach, located at the south end of Clearwater Beach, features soft white sand and gentle waves. The calm waters make it a great spot for families with small children.
At sunset, one can experience the breathtaking views from the beach or watch from an outdoor patio at one of the many nearby restaurants.
Depending on the season, you may also be able to catch a glimpse of manatees or dolphins in the water.
With its easy beach access and plenty of parking available close by, it is an ideal spot for a peaceful day by the ocean.
St. Pete Beach
Located in the same area on the Gulf of Mexico as the above two, you will find pretty St. Pete Beach. This is one of the best places for fun in the sun.
Plenty to do also at this popular destination including jet skis, volleyball courts, picnic areas, and more. Pack your bags, because St. Pete Beach and St. Petersburg are both waiting for your visit.
Caladesi Island State Park.
Caladesi Island State Park is just a short ferry ride away from Clearwater Beach and offers visitors a unique opportunity to explore a barrier island.
With its three miles of natural sandy beaches, it is one of Florida's best examples of seashore ecology. Visitors can camp on the island or take part in activities such as sunbathing, swimming, snorkeling and kayaking.
Take some time to explore the park's mangroves, hammocks, and tidal flats perfect for bird watching.
Honeymoon Island State Park.
Honeymoon Island State Park is a popular spot for newlyweds and others who come to the beach in search of that perfect romantic getaway.
Located on the west side of Clearwater Beach, the park features a stunning white sand beach and plenty of shaded areas for relaxing.
There are several nature trails as well, perfect for exploring the island's wildlife and vegetation.
Visitors can also launch their boats from one of two boat ramps found at the park or take part in rentals such as barbecue grills and kayaks.
Tampa Bay
Nearby Tampa Bay also offers some amazing clear water. The best areas of Tampa Bay are Egmont Key and Passage Key. Both of these islands are located at the mouth of Tampa Bay and are very popular boating locations.
Fort De Soto State Park
Fort De Sota State Park is the ultimate beach paradise for anyone looking to experience crystal-clear waters. This beautiful beach is located in Pinellas County.
The shoreline stretches for miles, making it a great spot for swimming, sunbathing and unbeatable views. Enjoy sitting on the beach or kayaking along the shore line of the largest park with this park system.
Fort De Soto Park consists of 1,136 acres made up of five interconnected islands all waiting for you to explore.
Indian Rocks Beach
Also located in Pinellas County is a breathtaking public beach, Indian Rock Beach. Short drive from either Tampa or St. Pete. And the sunsets are out of this world!
Sand Key Park Beach
Sand Key Park also in the area, has two white sand beaches with blue waters. There are seasonal lifeguards on site.
Sea turtles nest here between the months of April through October. Traveling with your fur friend? You will find a dog park for your fur family to let off some energy near the beaches.
Anna Maria Island
This barrier island is a bit south of the Clearwater Area located in Manatee County. Longboat Key, which also has sugar-white sand beaches is at the southern end of this island.
Water for dolphins and sea turtles. Prefer to be more active? You're at the right beach. Enjoy parasailing, kayaking, surfing and boating.
Siesta Key
Listed by many as the number one beach not only in the USA but the world. For good reason.
When you want the perfect beach day, Siesta Beach delivers. The water clarity is amazing. It has become quite crowded though.
I would be sure to not visit during the busiest times which are spring break and during the spring months.
Siesta Key Beach tends to be less expensive and crowded in the later summer months. Keep in mind this is also the hurricane season.
Sanibel Island and Captiva Island
I do not want to leave these two beautiful off this list. However, this is the area that was hit in Southwestern Florida by Hurricane Ian.
A few of the best things about these islands are the seashells and marine life. Before planning your Sanibel Island beach getaway, check for updates.
Panama City Beach
Moving up the Panhandle brings us to the gorgeous white sand beaches of Panama City Beach. If you're looking for a more lively atmosphere, PCB is your destination.
North of the above listed beaches, the area features 20 miles of white sandy beaches fringed with coconut palm trees and shallow waters. The Florida Panhandle has some of the clearest water in the United States.
You might even spot sea turtles swimming nearby. I have been able to spot those as well as manta rays and other marine animals from the balcony of the places I've stayed in.
For the beach enthusiast, this is an ideal spot to spend some time exploring the nearby state parks or simply relaxing in the cool coastal breezes.
In addition to swimming and sunning, visitors that love water sports can take part in boat rentals and fishing charters as well as parasailing and Jet Ski rides.
Santa Rosa Beach
Also on the Florida Panhandle is one of the most beautiful beaches in the country. Santa Rosa Beach.
This beach is located on the Emerald Coast with crystal-clear water and white-sand beaches. Plenty to do here as well. Enjoy events, shopping and nature lovers will be head over heals for Topsail Hill Preserve.
Before we leave the best clearwater beaches in Florida on the Gulf side, I want to include Navarre Beach.
Navarre Beach
Before we leave the Florida Panhandle and Santa Rosa Beach, we need to chat about Navarre Beach. It is located on Santa Rosa Island. This island is east of Pensacola Beach.
The natural beauty of this area will have you returning year after year. Turquoise waters and pristine beaches, makes this location one of the best Florida beaches.
Best Clearwater Beaches In florida Atlantic Ocean
You have probably figured out I prefer the Gulf Side of the state, but there are some great options on the East Atlantic Ocean side.
Top picks are:
Miami Beach
When you want beautiful beaches AND nightlife, Miami Beach delivers. Check out South Beach, North Beach as well as Key Biscayne all nestled on the Southeastern part of the Atlantic Coast.
Fort Lauderdale, Delray Beach, Hollywood Beach
You will find these beautiful beaches in Broward County. My old stomping ground. I am partial to Hollywood Beach.
Again, not as clear as the Gulf beaches mentioned above, but these three beaches are beautiful as well. Many have picnic tables, grilles, pavilions, as well as lifeguards during season.
You can also find live music at many of the bars and restaurants that line the boardwalk and sandy beaches. Also, easy access onto the beach from a nearby parking lot make this area great for families.
Florida Keys
Rounding off the list is the beautiful Florida Keys. Heaven on earth.
As soon as you leave the mainland, you feel like you are taking a step back in time. Your body immediately begins to relax.
You also get the best of both worlds as the Keys have the Gulf Coast on one side and the Atlantic on the other. Key Largo at the top of the Key chain is a great place to hit Gulf Coast beaches while in Key West, you will want the Atlantic Side.
Key West is entertainment defined! After spending the day at Smathers Beach enjoying the calm water, hit Duval and enjoy street performers, great food and drink as well as shops.
Before leaving Key West, I cannot emphasize enough hopping on a boat and heading over to spend the day at Dry Tortugas National Park. In addition to the history on these islands, the snorkeling is amazing.
That rounds up this list of Clearwater (Clear Water) Beaches in Florida for this year. I'll be updating as the season starts.
Upcoming Trip?
I like to use TripAdvisor for booking not only my hotels, but my tickets and rental cars as well. Makes life so much easier with only having to log into one location for my information.
Be sure to grab my travel tips to save you time and money. You'll also be entered into the weekly drawings.
Register here: Get 100 Travel Tips EVERY traveler should know PLUS entered into the weekly drawing.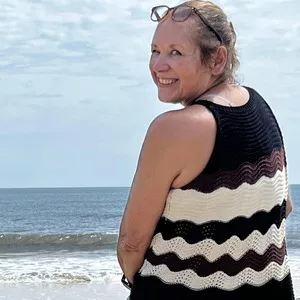 About Denise
Denise Sanger lives a life split between her love for fitness and her passion for travel particularly to the BEACH. Denise also has a love of marketing and lives in beautiful Suwannee County, Florida. You can find out more about Denise here: About Denise