Panama City Beach Vacations
This article may contain affiliate links. Whenever you buy something through one of these links, I may earn a small commission without any cost to you. I really appreciate it as it supports this site and my family. Thank you!
Panama City Beach is simply incredible! As soon as I think of it, I can't help but feel a wave of relaxation and contentment wash over me. My Panama City Beach Vacations every year are always my favorite way to relax.
With its soft white sand beaches and turquoise waters, it's no wonder that this beach is one of the best beaches in Florida. Whether you are looking for weekend getaways or family vacations, PCB is a one of the world's most beautiful beaches and destination.
Many people come to PCB to visit year after year. I am one of those people.
From fantastic resorts, affordable hotel rooms or vacation homes, this is a great place to relax and unwind. Nearby popular attractions to keep the entire family happy or condo with a private balcony for a romantic getaway, you will find it all here waiting for your visit.
Thank you for reading this post. Don't forget to subscribe! This way you never miss an update, travel deals, discounts and more!! Subscribe to the right------>
When we visited Panama City Beach last time, we stayed in one of the amazing beachfront condos and I was absolutely floored by the panoramic views from our balcony. Not only could we see the crystal-clear ocean, but also hundreds of Jeeps crawling across the beach during our visit.
The sunset is one of the most beautiful you will see in the United States and definitely what the Emerald Coast and Gulf Coast is well known for. It was truly mesmerizing!
Of course, visiting PCB isn't just about lounging on the beach all day. There are plenty of exciting activities and nearby attractions for everyone to enjoy.
Love to shop? You will definitely want to make sure to visit Pier Park. This open-air shopping center offers a variety of restaurants and boutiques. My personal favorite stop here that I visit EVERY time is Kilwin's. The sweet smell of fudge wafting through the air as soon as you walk near the open door in will have your mouth watering in seconds.
Another great option is renting a pontoon boat to explore Shell Island. This island in the Gulf of Mexico off the PCB coast is an uninhabited paradise off the beaten path where time seems to stand still.
As you wade into shallow waters, you'll find yourself quickly surrounded by nature's beauty as far as the eye can see. Be sure not to bring anything with you that you wouldn't want to take back home with you.
This island should remain pristine for future visitors too. What you bring in you must bring back out.
Water sports? Absolutely. Snorkel over at Shell Island. Paddleboard, kayak, jet skiing and more literally steps from Panhandle getaways.
If you're traveling with kids, definitely make the time to check out Gulf World Marine Park. Here, kids can interact with marine animals like dolphins and sea lions while watching shows and exploring beautiful gardens outdoors. You'll find that all animals here are well taken care of. Something incredibly important for us nature and wildlife lovers.
Panama City Beach Vacation Rentals
Where to book your vacation rental? Prefer a hotel? Maybe a condo? Whatever your preference, you will find it here.
When it comes to where to stay while on vacation in Panama City Beach, there is no shortage of options.
From luxurious resorts with panoramic ocean views and amenities galore, to cozy beachfront houses that offer privacy and a perfect spot for sunset-watching.
Panama City Beach Condos
We used to book a hotel room with a mini kitchen but the past few times we have planned our vacation, we have opted for a condo in a great location. Right on the beach.
Our condos have all the modern amenities, free wifi, plenty of room and of course stunning Gulf views. I have found that check-in and check-out time may have a little wiggle room when you are booking with the condo owner.
On trips, where we have arrived a bit early and not able to get into the condo, we were able to take advantage of beachfront pools and still get some sun in. Private owners want you happy, so you return time after time to their condo.
On VRBO, there is a huge selection of vacation rentals to choose from. Tip: Write down what is important to you before you start searching for your vacation. There are quite a few beach rentals available at most times of the year.
Panama City Resort Options
If you're looking for a more high-end experience, one of the unique Panama City Beach resorts may be what you are looking for. Many resort options range have panoramic views from spacious balconies, a variety of room types with 2, 3 or 4 bedroom unit options, relaxing amenities like two pools and hot tubs, plus private beach access.
A few to consider are:
Panama City Beach Hotels
I am going to be completely honest with you. I have opted for renting condos over hotels the past 5 years. The reason? The condos are actually the same or less than the hotels.
There are several nice hotels to choose from many near Pier Park and other attractions. I am not, however, going to recommend any specific hotel.
The reason I won't recommend is that what used to be my number 1 hotel every single year, was purchased by a chain. It is no longer up to the standards the previous owners had.
What I recommend before you book, is you search Kayak then check against Tripadvisor for current reviews. Reviews are more current and brutally honest and exactly what I do when searching for a hotel. .
No matter what type of Panama City Beach vacation rental you choose, whether it's a luxurious villa resort, beachfront condo, cozy cottage or hotel room, you'll find that there are plenty of options available to fit every budget and group size.
Upcoming Trip?
I like to use Booking for booking not only my hotels, but my tickets and rental cars as well. Makes life so much easier with only having to log into one location for my information.
Be sure to grab my travel tips to save you time and money. You'll also be entered into the weekly drawings.
Register here: Get 100 Travel Tips EVERY traveler should know PLUS entered into the weekly drawing.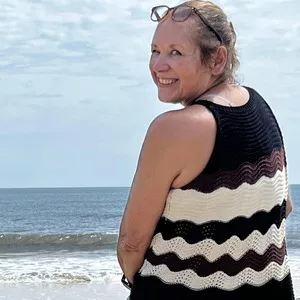 About Denise
Denise Sanger lives a life split between her love for fitness and her passion for travel particularly to the BEACH. Denise also has a love of marketing and lives in beautiful Suwannee County, Florida. You can find out more about Denise here: About Denise