The Ultimate Guide to Romantic Trips in Florida
This article may contain affiliate links. Whenever you buy something through one of these links, I may earn a small commission without any cost to you. I really appreciate it as it supports this site and my family. Thank you!
Looking for romantic trips in Florida? Look no further! Our ultimate guide has everything you need to plan the perfect trip for you and your partner.
There are plenty of options and even more destinations for a romantic trip in the Sunshine State. Whether you want a vacation rental with a hot tub and outdoor pool or prefer to find the most romantic hotel in Florida, we've got you covered with this guide.
Florida is a popular destination for couples looking for a romantic getaway for many reasons. With its beautiful beaches, warm weather, and abundance of activities, it's no wonder why so many choose to that their romantic trips to Florida.
Whether you're looking for a relaxing weekend or an adventurous escape, our guide has everything you need to plan the perfect romantic getaway.
Thank you for reading this post. Don't forget to subscribe! This way you never miss an update, travel deals, discounts and more!! Subscribe to the right------>
Ready to plan? Great! We will start by exploring the many options for the perfect destination. Once you have picked the one that is best for you, you will find at the bottom of this article, links to other attractions and things to do in that area.
Choose the Perfect Destination for your Romantic Trip.
Florida offers a wide variety of destinations for couples looking for a romantic getaway. From the bustling city of Miami to the quaint charm of St. Augustine to the island charm of the Florida Keys, there's something for every couple.
Consider what type of atmosphere you're looking for. Do you want to be near the beach or in a more secluded area? Do you prefer a lively nightlife or a more peaceful setting?
Once you have an idea of what you're looking for, research different destinations and read reviews from other couples to find the perfect spot for your romantic getaway.
Below are our top recommendations for destinations By Area
North Florida Romantic Destinations
Amelia Island. Barrier island, Amelia Island, literally is the whole package on an island off the coast of Jacksonville.
The reason is that there are so many great choices for guest rooms, golf courses, history in Fort Clinch State Park, and more.
Be sure to stop in the beach town of Fernandina Beach with restaurants and shops to explore. Here you will find something for everyone.
St. Augustine. There is no denying that St. Augustine is one of the most romantic vacation destinations in the United States.
From its charming cobblestone streets and historic buildings to its gorgeous beaches and scenic views, St. Augustine has everything you need for a perfect romantic getaway. Shops, restaurants, bars and more all within walking distance.
South Florida Romantic Destinations
Palm Beach. Palm Beach is a beautiful and romantic place to vacation. The white sand beaches and clear blue waters are perfect for couples looking to escape the hustle and bustle of everyday life.
There are plenty of activities to keep you busy during your stay, or you can simply relax on the beach and soak up the incredible views. Whether you are looking for a quiet getaway or an action-packed vacation, Palm Beach is the perfect destination.
Fort Lauderdale. This Florida city has a lot to offer couples looking for a romantic getaway. Fort Lauderdale has some of the most beautiful beaches in the world.
Couples can spend their days lounging on the sand, swimming in the waves, or simply taking a walk along the shore. Fort Lauderdale also has a number of great restaurants, perfect for a romantic dinner for two.
Take time to explore shopping and the art galleries on Las Olas Boulevard. For a romantic weekend getaway, you can't go wrong with Fort Lauderdale. Easy to fly into and toes in the sand in 30 minutes or less.
Miami Beach and South Beach. Miami Beach and popular spot South Beach are the perfect places to get away with your loved one especially if you love nightlife. It is a beautiful city with stunning beaches and amazing weather.
There are plenty of romantic things to do in Miami Beach. Take a stroll on the beach, enjoy a sunset together, or relax by the pool. Beautiful ocean views from either a boutique hotel or romantic resorts can be found here.
Key Biscayne. This is a wonderful vacation destination for couples who enjoy spending time outdoors together. This beautiful island off the coast of Florida is home to beaches, parks, and a variety of outdoor activities.
Couples can spend their days swimming, sunbathing, kayaking, fishing, or simply exploring. To truly get away, kayak over to one of the islands in Biscayne Bay that are located in one of Florida's National Parks, Biscayne National Park. You must carry in and carry out everything.
Florida Keys Most Romantic Getaways
Florida Keys including Key Largo, Key West.
We are going to start this section with Little Torch Key and Little Palm Island Resort. It offers its own private tropical island with one of the best luxury resorts in the Florida Keys.
This is an adult only destination that requires you to arrive by boat or seaplane. Definitely one of the best romantic getaways ever.
Full-service spa with couples massages, modern amenities, all on a private island with a private beach.
Next we have Key Largo. There is nothing you can't like about this little island with the big heart. Something about Key Largo that feels like you are literally taking a step back in time.
Maybe it's the fact that it's the first island you come to when entering the Florida Keys. Or maybe it's the laid-back vibe and the feeling that time moves a little slower here.
Whatever it is, Key Largo is the perfect place for a romantic getaway. Situated between the Atlantic Ocean and the Florida Everglades, Key Largo is full of natural beauty.
There are plenty of opportunities for outdoor activities, like fishing, kayaking, and paddleboarding.
If you love to snorkel, one of the prettiest coral reefs is off the coast of Key Largo. Access is through John Pennekamp Coral Reef State Park. Also watch for sea turtles while snorkeling.
One more to mention in the Keys is Key West and the southernmost point of the United States.
When you want to lay in the sun during the day, live music and party at night, Key West is your destination.
To add onto your romantic getaway, jump on a ferry to the Dry Tortugas National Park to snorkel and explore.
Southwest Florida Romantic Destinations
I do want to mention, this area is still recovering from Hurricane Ian at the time I am writing this. Please do your due diligence.
Fort Meyers. There's something truly romantic about Fort Myers. Perhaps it's the soft, sandy beaches.
Maybe it's the stunning sunsets over the Gulf of Mexico. Or, it could be the charming, old-fashioned ambiance of the city and small beach town. Whatever it is, it is a fantastic place to getaway.
Marco Island. Marco Island is the largest of Florida's Ten Thousand Islands, and is a popular destination for lovers of nature and romance.
The island is home to golden beaches, mangrove forests, and many species of wildlife. Visitors can enjoy kayaking, fishing, and birdwatching, or simply relax in the sun.
Sanibel Island & Captiva Island. Sanibel Island and Captiva Island are two of the most romantic places in the world.
They offer everything you could ever want in a vacation, from stunning beaches and crystal-clear waters to delicious seafood and fantastic restaurants.
Plus, there are plenty of activities to keep you busy, whether you want to go shelling or exploring the island's many nature trails.
West Central Florida Romantic Getaways
St. Pete Beach. This charming beach town is located just west of St. Petersburg and offers visitors a laid-back, old Florida vibe.
The white sand beaches and crystal clear waters are simply gorgeous and make for the perfect romantic getaway.
St. Pete Beach is also home to a number of great restaurants, shops, and galleries, so you can easily spend a few days exploring everything this town has to offer. 
Clearwater Beach. One of the prettiest beaches on the Gulf Coast. The palm trees, white sand and blue water make it the perfect place to relax and enjoy some time with your special someone.
There are plenty of activities and water sports to keep you busy, or you can simply enjoy the stunning views.  One of the best places for a vacation to create magical memories. Easy access from Tampa/St. Pete Airport.
Central Florida Romantic Vacations
I'll be honest. I was going to skip Central Florida and Orlando – the land of theme parks. But I gave it a second thought because Walt Disney World and Universal Studios hosts many weddings, bridal showers and more, so it is part of the list.
Orlando, Florida. There are a ton of romantic activities to do in Orlando. You can take a scenic stroll through one of the many parks, go on a hot air balloon ride, or even take a romantic boat ride. 
You will also find excellent restaurants, so you're sure to find the perfect spot for a romantic dinner. And if you're looking for a place to stay, there are plenty of hotels and resorts that offer stunning accommodations and five-star service.
Florida Panhandle Romantic Destinations
This brings us all the way around the Sunshine State to the Florida Panhandle.
My favorite spot. The land of white-sand beaches and turquoise waters. This area also has the most affordable romantic getaways.
Panama City Beach. Definitely at the top of my list. Why? There are so many fun things to do in PCB. Snorkeling and shelling on Shell Island.
Pier Park for shopping and restaurants plus there are several other great restaurants in the area especially for fresh seafood. And did I mention pristine white sand beaches and fun water activities?
Rosemary Beach. Also on the Florida Panhandle is Rosemary Beach. One of the best beach towns in the state and a great place for a romantic vacation.
The white sand and blue waters make it a perfect place to relax and enjoy each other's company. More low-key than PCB but still has plenty of fun activities and water sports.
Book the Best Accommodations.
Once you decided which romantic destination you want to visit and explore, it's time to book your accommodations. Consider the amenities you want, such as a pool or spa, and the location.
Do you want to be right on the beach or in the heart of a city? Don't forget to read reviews from other couples to ensure you're booking the perfect spot for your romantic escape.
If you want on-site restaurants, fitness center, a private cabana and to simply relax and be catered too, you should look at resorts or a luxury hotel.
If you simply want a place to relax and are not so worried about couple's massages and wait staff, you would probably prefer a vacation rental either on one of the soft white sand beaches in Florida or one of the fun cities located throughout the state.
Also consider BNB's. There are outstanding BNB's located in the historical areas or near the natural springs of Florida that others may not consider. Links for all of these options are below.
Plan Romantic Activities and Experiences.
While choosing the right accommodations is important, planning romantic activities and experiences is what will truly make your getaway special.
Consider taking a sunset sail, going on a hot air balloon ride, or booking a couple's massage.
You can also plan a romantic dinner at a top-rated restaurant or take a stroll through a botanical garden.
Maybe you want to take a road trip and see the surrounding area. Whatever you choose, make sure it's something that you are truly looking forward to doing.
Indulge in Delicious Dining Options on your romantic getaway.
INDULGE! When it is only you two on a romantic getaway that is the perfect opportunity to indulge in delicious dining options and food you would not normally try.
Florida is home to a variety of restaurants, from casual beachside cafés to upscale fine dining establishments.
Consider booking a table at a restaurant with a waterfront or ocean view. Try out some of the fresh local seafood specialties.
Don't forget to save room for dessert. Many restaurants offer decadent options like key lime pie that the Florida Keys is famous for.
Relax and Reconnect with Your Partner.
And remember why you are on this romantic getaway. It is the perfect opportunity and best time to relax and reconnect with your partner.
Whether you choose a quiet beachside retreat or an action-packed adventure at a theme park, Florida has something for every couple. Enjoy yourself.
Upcoming Trip?
I like to use Booking for booking not only my hotels, but my tickets and rental cars as well. Makes life so much easier with only having to log into one location for my information.
Be sure to grab my travel tips to save you time and money. You'll also be entered into the weekly drawings.
Register here: Get 100 Travel Tips EVERY traveler should know PLUS entered into the weekly drawing.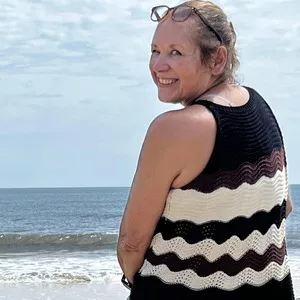 About Denise
Denise Sanger lives a life split between her love for fitness and her passion for travel particularly to the BEACH. Denise also has a love of marketing and lives in beautiful Suwannee County, Florida. You can find out more about Denise here: About Denise