Cabbage Soup Recipe Low Carb, Paleo
This article may contain affiliate links. Whenever you buy something through one of these links, I may earn a small commission without any cost to you. I really appreciate it as it supports this site and my family. Thank you!
If you read my earlier post What You Eat Matters  you will know that I just finished reading the book, Eat To Beat Disease. (Please click here to gt more info on this amazing book via my Amazon affiliate link: https://amzn.to/2WTKM1d
What an outstanding book that makes it easy to connect the dots between what we choose to eat versus fighting OR helping disease flourish in our bodies. One of the foods on the food list is cabbage. I love cabbage but really only eat it in coleslaw or on a holiday such as St. Patrick's Day or New Year's Day in pork and sauerkraut.
Reading this book sent me on a search to find a good recipe for cabbage which led me to create this delicious yet EASY Cabbage Soup Recipe. If you have been with me any length of time, you know I so do NOT cook. Hubby does all the cooking. In the case of this recipe, even I was able to make a delicious pot of soup. I spiced it up with a little crushed red pepper. Experiment until you find your favorite cabbage soup recipe. Enjoy!
Cabbage Soup
Thank you for reading this post. Don't forget to subscribe! This way you never miss an update, travel deals, discounts and more!! Subscribe to the right------>
Head of cabbage
Chopped carrots, onion, celery, peppers (note to save time and because I am lazy to boot, I got the frozen chopped onions, celery & peppers mix and only had to chop the carrots.
Olive Oil
Can of Black Beans OR Pinto Beans
Can of Chopped Tomatoes OR Tomato Paste (I like the chunky tomatoes)
Can of Corn
48 ounces of broth (I mixed chicken & veggie broth)
Water as needed
Season to taste. I used Sea Salt, Ground Pepper, Crushed Red Pepper, Thyme, Sweet Basil, Italian Seasoning
Saute the carrots, onions, celery & peppers until soft in the olive oil. Add the cabbage and cook until soft also. Add broth, beans, tomatoes, corn and seasoning. If needed, add water. Let simmer roughly 20 minutes and enjoy.
That's it! Super easy and delicious. Let me know how you switch up. Enjoy!
Denise
Upcoming Trip?
I like to use Booking for booking not only my hotels, but my tickets and rental cars as well. Makes life so much easier with only having to log into one location for my information.
Be sure to grab my travel tips to save you time and money. You'll also be entered into the weekly drawings.
Register here: Get 100 Travel Tips EVERY traveler should know PLUS entered into the weekly drawing.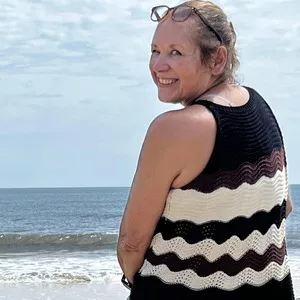 About Denise
Denise Sanger lives a life split between her love for fitness and her passion for travel particularly to the BEACH. Denise also has a love of marketing and lives in beautiful Suwannee County, Florida. You can find out more about Denise here: About Denise