Things You Need To Know Before Visiting Florida in March
This article may contain affiliate links. Whenever you buy something through one of these links, I may earn a small commission without any cost to you. I really appreciate it as it supports this site and my family. Thank you!
Ready for a getaway? Over winter? I hear you. It's time to plan to visit Florida in March 2023.
Not only is the weather amazing, you never run out of things to do.
But there are few things to keep in mind when planning your trip:
Average temperatures range between 70-79 F during the day; 56-70 F low mainly in the evening. It will almost seem like you are packing for two different vacations. Make it easy. Pack layers and a waterproof jacket. This way you can take off layers during the day as you need to or slip on a jacket when the evening cools.
Mosquitoes! These little buggers are ALWAYS an issue in Florida but especially during spring and summer months. Pack insect repellent and use it.
The days in March are longer, giving you more time to explore the state's many attractions. If you plan to stay out late, make sure to bring a flashlight as some areas may be darker at night.
Florida is notorious for its high humidity. Be sure to drink plenty of water and wear light, breathable clothing.
March brings some beautiful blooming flowers in Florida. Bring your camera or smartphone so you can capture the stunning colors!
Make sure to check out local events – there are often festivals and other celebrations happening throughout the month.
Bring sunscreen and a hat – the sun can be particularly strong in Florida during March.
Spring break is around mid-March, so be prepared for larger crowds if you're visiting popular tourist spots then.
Are you looking for the best cities to visit in Florida in March? I have you covered.
Whether you're looking for a place to relax or hoping to experience some of Florida's famous nightlife, you will find the perfect vacation destination here.
Thank you for reading this post. Don't forget to subscribe! This way you never miss an update, travel deals, discounts and more!! Subscribe to the right------>
Miami
With its white sand beaches, vibrant culture and beautiful architecture, you will really find something for everyone.
The city is known for its lively nightlife, fantastic restaurants, great shopping and culture. It can be crowded though. March is generally less crowded than other times of the year.
Snowbirds are heading back north, temps are warming up and Florida's humidity has not kicked in yet. Perfect time to head to Miami.
Orlando
It's called the happiest place on earth. Well, at this point in my life it is not my number one destination. For others, I know this is their happy place, so I have included it on this list.
Orlando is one of the top vacation destinations in the world. Visitors can choose to hit the amusement parks at Disney World and Universal Studios.
Maybe shopping is more your speed? There is plenty of that available as well as some of the best restaurants in the country.
None of the above interest you? It's okay. I got you covered.
Cocoa Beach and Daytona Beach are fantastic options. Each are about an hour away from Orlando.
Surf in Cocoa Beach or hit Bike Week in Daytona. Plenty of options.
Tampa/St. Petersburg
Tampa on Tampa Bay is not only a fun city, it is also known for its diverse culture and unique attractions.
Take a stroll along the Riverwalk or visit one of the many museums in the area. From the nightlife to the culinary scene, there's something for everyone in Tampa.
St. Petersburg is another option for this part of the state. Concerts, museums and even a car race. All waiting for you to visit.
Planning a cruise? Depart from Tampa where you can not only enjoy fun days sailing wherever your heart desires but also enjoy a few nights in the Tampa/St. Petersburg area.
Check out the great deals here: Tampa Cruises
Key West And The Florida Keys
March is a fantastic time to visit Key West and really all the Florida Keys. Leave the snow boots and home and be sure to pack those flip-flops because you are going to need them.
Enjoy the annual home and garden tour and see what lies behind the fences of those historic homes you admire.
Swim, snorkel, dive and more. The water temp is in the mid to upper 70s and perfect for any water activity.
Go island hopping! Start in either Key West or Key Largo and head the opposite direction stopping on any island that looks interesting.
After a fun day on or in the water, relax at night at one of the fun bars or restaurants on Duval Street.
Florida Activities In March
Here are a few other options for you to think about for March:
Explore Everglades National Park. Enjoy a boat or airboat guided tour or hike through this stunning park to spot alligators, turtles, and other more.
Check out local markets for the city you are staying in. You can find farmer's markets and flea markets all over the Sunshine State.
Visit a museum. I recommend The Dalí (Salvador Dalí Museum) in St. Pete, The Hemingway Home and Museum in Key West or the Kennedy Space Center Visitor Complex at Cape Canaveral near Cocoa Beach.
Enjoy some of Florida's beautiful springs. These springs are literally located all over the state of Florida but in my opinion, the best are in North Central including Itchetucknee, Madison Blue and Ginnie Springs.
Get the complete list here: Ultimate List Of Florida Springs: Where To Go And Fun Things To Do.
And there you go. My complete list of favorite things to do in Florida in March. Can't make March? Get the April beach list here: Best Florida Beaches In April For Spring Break This Year.
Let me know what you pick! Happy travels.
Upcoming Trip?
I like to use Booking for booking not only my hotels, but my tickets and rental cars as well. Makes life so much easier with only having to log into one location for my information.
Be sure to grab my travel tips to save you time and money. You'll also be entered into the weekly drawings.
Register here: Get 100 Travel Tips EVERY traveler should know PLUS entered into the weekly drawing.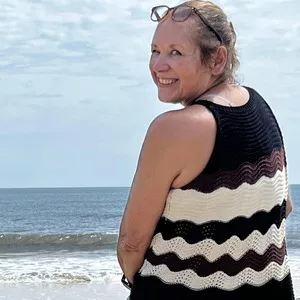 About Denise
Denise Sanger lives a life split between her love for fitness and her passion for travel particularly to the BEACH. Denise also has a love of marketing and lives in beautiful Suwannee County, Florida. You can find out more about Denise here: About Denise