Where To Find Those Beautiful White Sand Beaches In The USA
This article may contain affiliate links. Whenever you buy something through one of these links, I may earn a small commission without any cost to you. I really appreciate it as it supports this site and my family. Thank you!
Prettiest White Sand Beaches in the uSA
If you're looking for a breathtaking beach vacation this summer, look no further than the USA. Home to some of the most beautiful white sand beaches in the USA as well as the world.
You know I believe Florida has the best beaches, but for this article, I have expanded to include the whole United States. And they are truly white sand beaches.
But there are other beautiful beaches even if they are not as white as Florida's beaches especially on the Gulf Coast.
From Florida to California to the islands in the Florida Keys and Puerto Rico. From calm waters to surfing waves, there are endless options for you to soak up the sun on a gorgeous beach.
Thank you for reading this post. Don't forget to subscribe! This way you never miss an update, travel deals, discounts and more!! Subscribe to the right------>
Below let's start on the Atlantic Ocean side of the country and finish on the west, Pacific Coast and then the Hawaiian Islands as we explore the best white beach vacations in the USA.
Florida Panhandle And West Coast Beaches
Florida Gulf of Mexico Coast: Pensacola Beach, Destin, Panama City Beach, Fort Walton Beach, Clearwater Beach
Florida's Gulf Coast is home to some of the most beautiful white sand beaches in the USA and the world.
Pensacola Beach, Destin, Panama City Beach, Fort Walton Beach and Clearwater Beach are my favorites and known for their stunning crystal clear waters and pristine white sands.
Whether you're looking to explore nature or just relax on a beach chair with your favorite book, these beaches on the Florida Panhandle and west coast of Florida have something for everyone.
From parasailing to paddleboarding, jet skiing to snorkeling, there's no shortage of water sports and activities available along this stretch of coastline.
Perfect for families too. Shallow waters on many of these beach offer a great spot for kids to play.
Easy access to major cities like Orlando, Tallahassee,Tampa Bay and even the soft white sand beaches of Orange Beach in Alabama.There truly is so much beauty and fun awaiting you at Florida's Gulf Coast beaches.
The perfect climate, the best white sand beaches and magnificent turquoise waters, the pristine beaches in Florida have quickly become annual destinations for many travelers.
Whether it's soaking up the sun or snorkeling among the sea life in shallow coral reefs, these beaches offer something for everyone.
Enjoy untouched sand dunes and picture-perfect views at Fort Walton Beach; and don't miss out on Panama City Beach on the Panhandle.
Then for a great party spot with tons of entertainment be sure to hit South Beach And Miami Beach.
When you're looking for an unforgettable beach getaway experience, you need look no further than Florida. Plenty of public beach options with a parking lot close to the beach to make planning easy.
Note: I am not listing either barrier island Sanibel or Captiva at this time although they both deserve to be on this list.
Both barrier islands were hit hard by a hurricane this past year and are rebuilding. In the future, these two islands offer some of the most beautiful beaches in the world.
South Florida White Sand Beaches
Whether you're looking to explore nature or just relax on a beach chair with your favorite book, these beaches have something for everyone.
From parasailing to paddleboarding, jet skiing to snorkeling, there's no shortage of activities in this part of the Sunshine State.
South Florida is home to some of the most beautiful white sand beaches in the world. These include Siesta Key on the Southwest side, the Florida Keys in the south, and Miami Beach and South Beach on the Southeast side.
These beaches offer crystal clear waters and pristine white sands perfect for relaxing on a beach chair with your favorite book.
Prefer a more active getaway? Explore nature with activities such as hiking and kayaking. Water sports? Parasailing, paddleboarding, jet skiing and snorkeling are waiting for your visit.
Tip: Be sure to include a trip to Dry Tortugas National Park. You can get a boat from Key West that will take you over to see the natural beauty on this island.
Puerto Rico Beaches
Moving along to our next stop on the top white sand beaches in the USA, brings us to Puerto Rico.
Puerto Rico is an absolutely beautiful place known for its picturesque white sand beaches as well as its mountains. At low tide, these beautiful gems are even more spectacular.
The low water allows one to explore the shallow ocean that stretches out to the horizon, and get up close with the palm trees which line many of them along the coast.
It's no wonder that these gorgeous beaches make Puerto Rico a popular destination for beach lovers from around the world.
If you're looking for outdoor activities with a breathtaking view, make sure to visit the mountains of Puerto Rico.
There are trails perfect for beginning hikers, to mountains suitable only for experienced climbers. Plenty of space to explore either on the beach or in the mountains.
Georgia: Jekyll Island
Jekyll Island, is an enchanting destination in Georgia is like nowhere else on earth. Located off the coast of Georgia, Jekyll Island provides an idyllic escape for travelers looking to get away from it all.
To explore Jekyll Island is to embark on a journey through history. Start with the Jekyll Island Museum with stories and local culture of those who built Jekyll Island into the beautiful escape destination that it is today.
Visitors can enjoy a variety of beaches, trails, and activities from golfing and horseback riding to walking along Driftwood Beach and admiring its haunting beauty.
Jekyll Island also offers endless opportunities for national park lovers, including boat tours of nearby Cumberland Island National Seashore as well as kayaking trips around Jekyll's historic shoreline and marshes.
A short drive from Jacksonville or Savannah International Airports. Be sure to check out the Treasure Hunt.
South Carolina: Myrtle Beach, Hilton Head Island
South Carolina is a great destination for travelers with something for everyone. From the sea turtles nesting on Hilton Head Island, to the crystal clear waves of Myrtle Beach, there's something waiting around every corner.
Stroll along the palm tree lined streets of Myrtle Beach and soak in a slice of paradise. Myrtle Beach offers miles of pristine beach and plenty of options for those that lover water sports.
Before you leave, hit the Grand Strand and enjoy shopping, restaurants, bars, and even live music.
Hilton Head Island is not only a beach lover's paradise, but also a golf lover's paradise. Play 18 holds on a golf course with a view of the ocean and beach dunes. Hit the snack bar afterward to hold you over until dinner.
Hilton Head is a very popular spot during the summer months. Whether you're planning an adventure filled day or simply looking to relax on the beach, South Carolina has plenty of options to keep you happy.
Next our white sand beaches in the USA tour heads to North Carolina.
North Carolina: Outer Banks, Nags Head
The wild horses, vast beaches and wild seas of North Carolina's Outer Banks offer an idyllic getaway.
If you ever want to immerse yourself in sun, surf and sand, the white sand beaches of North Carolina is the perfect place for you.
Wildlife enthusiasts love the wild horse herds that frequent the area, while beach-goers can lounge in the sand or take advantage of plenty of water sports offerings.
With legendary fishing spots, remarkable windsurfing opportunities, and many arts and shopping venues to explore too. Be sure to put this great place on your bucket list.
Nags Head in North Carolina is a stunning beach paradise, renowned for its white sand beaches and diverse outdoor activities.
Whether you're sunbathing, swimming, surfing, or fishing for your next catch, Nags Head has something for you.
Pack your beach towels and chairs and explore the many attractions Nags Head has to offer. From shops and restaurants to sand dunes, lighthouses, national parks, and more, there is plenty to do in this part of the country.
Make sure to visit the Nags Head Pier while you're there; it's the perfect spot to observe local ocean wildlife or take that perfect sunset selfie.
Texas South Padre Island, Galveston
South Padre Island and Galveston in Texas is an unforgettable destination for beach lovers but in my opinion are not true white sand beaches.
They are pretty, so they are on the list. I prefer South Padre or Galveston.
In Texas, you can experience one of the most beautiful landscapes in the country.
Endless days of sunshine and sand that stretches as far as the eye can see, both Galveston and South Padre Island has something for everyone.
Whether you're looking to relax by the shore, explore hiking trails, or go fishing; there are countless activities to enjoy here.
And talk about great beaches with warm water and plenty of fun things to do! Get ready to have a blast on your vacation.
West Coast: Oregon, California: San Diego, Laguna Beach, Newport Beach, Manhattan Beach, Cannon Beach
California is a dream destination for anyone looking for a coastal vacation, with stunning beaches like San Diego, Laguna Beach, Newport Beach, and Manhattan Beach.
Traveling the iconic Pacific Coast Highway will give you even more to enjoy; from the quaint boardwalk of Huntington Beach to the surfers of Malibu.
The top beaches of California are the perfect spot for a fun-filled sunny getaway. San Diego offers breathtaking views from the city skyline and boasts pristine white sand coastline.
Laguna Beach features many tide pools along its cliffs that are perfect for exploring; Newport Beach provides stunning harbor views, enviable shopping and excellent dining experiences.
Last but not least, Manhattan Beach delivers iconic turquoise waters that are unbeatable for a serene yet entertaining day in the sun.
Whether you're looking for adventure or relaxation, make sure to check out these beautiful white sand beaches of California!
Moving up the Pacific Coastline brings you to Oregon. Again, I don't feel these are white sand beaches, but they are best on that coast including Cannon.
Hawaii: The Big Island, Maui, Kauai
And this brings us over to the Hawaiian Islands.
The Hawaiian islands of Big Island, Maui, and Kauai are simply breathtaking. Each island has something unique to offer, such as the snow capped mountains of the Big Island and sparkling black sand beaches of Maui.
Our favorite spot so far has been Lanikai Beach on Oahu where we watched a beautiful tropical sunset!
Even if it's pouring rain you can still enjoy terrific activities like snorkeling in sparkling warm waters or hiking through lush jungles that will surely take your breath away!
With the stunning landscapes, serene atmosphere, and array of exciting activities, these Hawaiian islands are sure to make your vacation an unforgettable one.
In this article, I have focused on the United States coastline and the Atlantic and Pacific Oceans as well as the Gulf of Mexico but there are so many more I want to tell you about.
My first beach visit was on Lake Erie and Lake Michigan as well as other fresh water lakes in the Midwest offer some of the prettiest beaches you will want to explore.
Be sure to bookmark this page as it will be updated again soon.
Upcoming Trip?
I like to use Booking for booking not only my hotels, but my tickets and rental cars as well. Makes life so much easier with only having to log into one location for my information.
Be sure to grab my travel tips to save you time and money. You'll also be entered into the weekly drawings.
Register here: Get 100 Travel Tips EVERY traveler should know PLUS entered into the weekly drawing.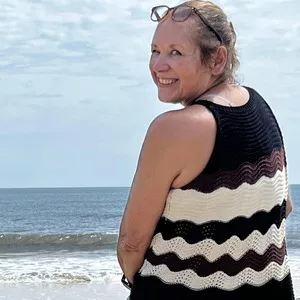 About Denise
Denise Sanger lives a life split between her love for fitness and her passion for travel particularly to the BEACH. Denise also has a love of marketing and lives in beautiful Suwannee County, Florida. You can find out more about Denise here: About Denise