Is Panama City Beach safe to visit?
This article may contain affiliate links. Whenever you buy something through one of these links, I may earn a small commission without any cost to you. I really appreciate it as it supports this site and my family. Thank you!
UPDATED 10/2022 The answer? YES it's safe. Go! But please be kind when visiting restaurants, bars and even hotels. Many of still struggling to hire employees.
Panama City Beach. My heaven on earth. I love PCB so much that I visit it at least twice every year except for 2020 due to Covid-19 and most of the world being shut down.
This year, I celebrated my 60th birthday at a condo we rented through VRBO. You can rent condos, houses, cabins and more through VRBO. Even take your pets with you. Check them out here: VRBO.
Our accommodations were perfect. Right on the beach where I always want to be. We stayed at the Legacy Hotel for many, many years but this hotel has been taken over by Radisson Hotel Panama City Beach Oceanfront. It looks like they've done a lot of work on the hotel since the last time I visited and that's a good thing. Last time we stayed it was looking a bit rough around the edges. It truly looks amazing since it changed hands and I'm happy to recommend giving them a call for your next PCB vacation. I plan to go back also for my next trip. Get more info on this hotel here: Radisson Hotel Panama City Beach Oceanfront.
Thank you for reading this post. Don't forget to subscribe! This way you never miss an update, travel deals, discounts and more!! Subscribe to the right------>
It was supposed to be rainy during our vacation but we lucked out and had sun every day. I am so sunburned as I write this – and I know better! We were on the beach in our chairs on our first day. Cloudy all day. And I got a serious sunburn. Here's your sign. ALWAYS put sun block on rain or shine.
The beach – amazing! We were able to see dolphins, rays, and even a big sea turtle from our balcony on the 16th floor. So pretty! We didn't get the normal turquoise blue water we usually see as the Gulf was still churned up from the tropical storm that went through a few days earlier. But the water was a pleasant 80 something degrees and perfect for cooling off after sitting on the beach for hours as I tend to do.
The restaurants? A completely different story unfortunately with the exception of the All American Diner. We ALWAYS eat breakfast at this diner every morning we are at the beach. By far the best value and friendly, fast service. Choose from the menu or take several trips to the extensive breakfast bar. You won't be disappointed I can promise you that.
The beach bars and restaurants we visited? Not so great. We thought Barefoot on the Beach was part of the By The Sea resorts but now not so sure since many of the hotels have been sold and these places are still operating. We've always had fantastic service at the other restaurant Barefoot On The Beach Hide A Way. We've loved Hide A Way so much we were excited to try this other location.
Don't hold your breath waiting for service and you're lucky if you get a smile out of most of them including the hostess. Our waitress the first night was fantastic though as was the bartender which is why we went back on our last day. Looked like only one server on staff and although friendly was more interested in taking selfies with another employee. Bit of a struggle but we did enjoy a few cocktails and an early dinner after finally getting our server to take our order.
The one fantastic thing about this place was the pool that was free for families to take advantage of to keep the kids cool while enjoying beachfront dining. Food was fairly good so 4 stars. Service night 1 was 4 stars. Service day 3 only 2 stars. Hit or miss and again don't look for a smile or even a hello from the hostess who was there both days.
We had hoped to visit Buffalo Wild Wings located in Pier Park for game day Saturday. Found a parking spot and went in to find wall to wall people with an hour wait time – IF you were lucky. Most folks looked like they would be at their tables for the long haul. Waiting an hour was not in the cards for us on vacation so we went searching for another place to eat a late lunch and watch the game.
We found The Brass Tap Craft Beer Bar. Seat yourself which we did only to have no one come and talk to us. Again the bartender – friendly and helpful – servers? Non existent. Finally a server limps over – literally. Takes forever to get our beers and appetizer. Then try to get a refill – near impossible. This was Sunday so maybe she had a really rough Saturday night. But to be honest? She should have stayed home. We did notice a 2nd server that came in about an hour later and he was definitely on his game. Too bad he wasn't our server. Next time, if there is a next time, we will plant our butts on a stool at the bar and give the bartender a big fat tip because it was very hard to leave 15% for our server. But both my husband and myself were bartenders in our younger days so we left her 15%. Usually we leave at least 25%. More if the service is great. And the reason we left 15%? The beer and food were AMAZING and we're really hoping she has to tip out the cooks and bartender. Food/beer 5 stars. Service 1 star.
I really hate to give negative service reviews and I know things are rough right now in the service/hospitality industries trying to get people to fill the open positions. However, my daughter is in the service industry and I have watched over and over how the little Italian restaurant in Tallahassee she works for goes above and beyond for every customer that visits. And that's without a full staff – many times they are at 50% staff capacity.
As far as safety, I've never not felt safe any time I've spent in Panama City Beach. Travel right now is a bit different with the Covid environment we're living in but again I felt safe at all times.
For the elevators, people were considerate for the most part. If a large party entered the elevators, most waited for the next one. Yes there are always a few rude exceptions but they were rare.
On the beach, I was really happy to see a sign that said tents must be placed behind chairs. That's the first time I've noticed this sign. I'm all for taking your tents to the beach for shade but to set those tents up in front of the chairs, especially the ones you're paying for, is rude. All you need to do really is walk a bit down the beach and there is plenty of room to raise your tents near the surf.
Will I return? ABSOLUTELY. Still my favorite beach in the world. How about you? What's your favorite beach? Let me know below and I'll add it to my list to visit.
Upcoming Trip?
I like to use Booking for booking not only my hotels, but my tickets and rental cars as well. Makes life so much easier with only having to log into one location for my information.
Be sure to grab my travel tips to save you time and money. You'll also be entered into the weekly drawings.
Register here: Get 100 Travel Tips EVERY traveler should know PLUS entered into the weekly drawing.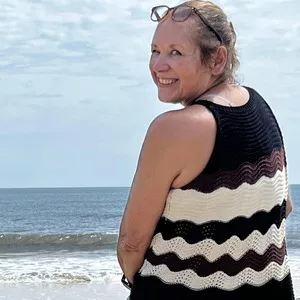 About Denise
Denise Sanger lives a life split between her love for fitness and her passion for travel particularly to the BEACH. Denise also has a love of marketing and lives in beautiful Suwannee County, Florida. You can find out more about Denise here: About Denise