The Ultimate Guide To The Best Sunset Sailing Tours In Panama City Beach Florida
This article may contain affiliate links. Whenever you buy something through one of these links, I may earn a small commission without any cost to you. I really appreciate it as it supports this site and my family. Thank you!
Ready to experience the breathtaking beauty of the Gulf Of Mexico? Set sail into the golden hour on the best sunset sailing cruise tours in Panama City Beach Florida.
With its beautiful white-sandy beaches, crystal-clear emerald waters, and stunning sunsets, Panama City Beach offers the perfect backdrop for an unforgettable evening on the water. 
Whether you are a seasoned sailor or a first-time cruiser, there are a variety of sunset sailing cruises available for you.
From intimate catamarans to luxurious sailboat yachts, these cruises offer a unique opportunity to witness nature's most captivating show while enjoying the comfort and serenity of the Gulf of Mexico.
Thank you for reading this post. Don't forget to subscribe! This way you never miss an update, travel deals, discounts and more!! Subscribe to the right------>
Listen to the waves and watch as the sun paints the sky with vibrant hues of orange, pink, and gold.
Whether you are looking for a romantic getaway, a family adventure, or a fun-filled outing with friends, a sunset sailing cruise in Panama City Beach is an experience you won't want to miss. 
Why Visit Panama City Beach Florida
Beautiful Panama City Beach in Florida is one of the world's most beautiful beaches. It is well known for its white sandy beaches, great things to do as well fun water activities for the entire family. What you may not have known is that this is the perfect destination for magnificent sunsets.
Among the many things to do in this coastal paradise offers, none are as breathtaking as witnessing the sun dip into the beautiful emerald waters of the Gulf of Mexico.
The natural beauty of the colors as the sun sets, the soothing sound of the waves and the gentle breeze make PCB the perfect place to experience a sunset sailing tour. 
The Beauty Of The Golden Hour
The golden hour, also known as the magic hour, is a period of time shortly after sunrise or before sunset when the sun is low on the horizon, casting a warm, golden glow over everything it touches. It is a time when the world is bathed in soft, diffused light, creating a magical and enchanting atmosphere.
This time is particularly stunning when on the water, as the water reflects the colors of the sky, creating a breathtaking display of nature's beauty.
It is also a photographer's dream, as the soft light enhances the colors and textures of the surroundings, resulting in stunning photographs. 
Wildlife is more active, making it the perfect opportunity to spot dolphins, sea turtles, and other marine life. Whether you are a nature lover, a photography enthusiast, or simply someone who appreciates the beauty of the world around you, experiencing the golden hour on a sunset sailing cruise is an experience that will leave you in awe.
The Charm of Panama City Beach Sunsets
Sunsets over the Gulf of Mexico are a sight to behold and those you will see in Panama City Beach will be forever etched in your memories.
As the sun dips into the Gulf, it paints the sky with a vibrant palette of oranges, pinks, and purples. The first time I witnessed a PCB sunset, I was speechless. 
It is a scene straight out of a postcard. The perfect way to really enjoy every moment of this sunset is by a breathtaking sunset sail.
How To Pick The Best Sunset Sailing Tours in Panama City Beach
With so many sunset sailing cruises to choose from in Panama City Beach, it can be hard to decide which one is best for you. To help you make a decision, consider the following:
1. Size of the boat: Do you prefer a more intimate and cozy experience, or would you rather be on a larger boat with more people and amenities?
Smaller sailboats and catamarans can provide a more personal and romantic atmosphere, while larger yachts and sailboats give you a luxurious experience.
2. Length of cruise:  How long would you like to be out on the water? Sunset sailing cruises typically range from a few hours to a full evening.
Maybe you would enjoy a dinner cruise. Do you want to be able to have a nice cold beer or do you prefer a non-alcoholic beverage? These are all things to consider.
3. What's included: Do you want to eat onboard? Prefer to relax to the sound of tropical music?  Want to see the local wildlife in its natural habitat? If you want to see wild dolphins, you may need to consider a dolphin cruise.
These tour guides will know the best locations for dolphin sightings. Take into account what is important to you and choose a cruise that offers everything you want to experience.
If you want to be able to have something to eat, make sure snack purchases are an option. Want to enjoy a cocktail or two? You will want to be sure they have a fully stocked cash or credit card bar.
4. Reviews and recommendations: Absolutely! I always recommend you research online reviews and testimonials from previous passengers.
This is very important for everything these days from where to enjoy dinner to booking a hotel to a romantic sunset sail.
5. Do you want to visit Shell Island which is located between the Gulf of Mexico and St. Andrews Bay as you are only able to get to this island by boat? Some tours can provide an all-day experience for you to enjoy. 
6. Make sure the departure time works for your schedule. Also, check on the refund policy.
You never know what may happen including poor weather, so you want to be sure to either get a full refund or be able to rebook your day/time.
7. Don't forget to bring your camera or smartphone to capture the mesmerizing sunset moments. The changing colors of the sky, the reflection on the water, and the silhouette of the sailing vessel create an ideal backdrop for stunning photographs and selfies.
Remember to focus on the horizon and experiment with different angles to truly capture the essence of this natural spectacle.
8. To get the sunset tour you want, book early. These do tend to fill up quickly.
Advantages of Sunset Sails
Yes, watching a sunset from the beach is undoubtedly beautiful, but when you are on the water, this is elevated to new heights.
Why? Sunset sailing tours offer unobstructed panoramic views of the horizon. You can really immerse yourself fully and experience Mother Nature's artistry. 
The gentle rocking of the boat, the sound of water lapping against the hull, and the feeling of being surrounded by the vast expanse of the sea give you a sense of tranquility and serenity that you will find hard to experience elsewhere.
Best Sunset Sailing Tours in Panama City Beach, Florida
Below are the top sunset tours, sunset dolphin tours, sailing, and catamaran cruise tours to choose from in PCB:
Panama City Beach Sunset Catamaran Sail on The Privateer
My number 1 pick. Enjoy a romantic cruise or relax before dinner on this 78 passenger catamaran.
Includes a complimentary glass of wine as you listen to tropical music while watching for dolphins. You can also purchase an additional beverage if you would like.
Later afternoons are when dolphins are most active, so this is a great time to take a sunset boat tour. Enjoy the beautiful scenery as it goes by.
One of the best Panama City Beach Sunset Cruises. A good time will be had by all on this sailboat as you watch the setting sun. Get information and booking details here: Privateer Sunset Sailing Cruise
Dolphin Sunset Cruise
Want your cake and eat it too? Or should I say want to see the sunset and dolphins? Island Time provides you with a chance to not only see these majestic creatures but also one of the best sunset cruises.
Sunset Catamaran Sail by Island Time Sailing offers a unique twist with their "Sunset Catamaran Sail." The catamaran's stability provides a smooth and relaxing ride, perfect for families and those new to sailing.
This tour takes you along the coastline, passing by iconic landmarks, and even offers the chance to take a refreshing dip in the water or spot marine life. 

Enjoy the breathtaking sunsets while keeping a sharp lookout for bottlenose dolphins along the way. This cruise will take you through Grand Lagoon, passing homes and St. Andrews State Park. Get information on this 2-hour sailing cruise here: Island Time Sunset Cruise
Another fantastic option is Panama City Beach Sunset Sail on The Footloose Catamaran. It is a little bit shorter at 1.5 hours Get information here: Footloose Catamaran
Pirate Cruise
A pirate cruise is so much fun and a great opportunity to expose little ones to the adventures of sailing. My pick for this cruise is Sea Dragon Pirate Cruise. It is two hours long which is plenty of time for kids This tour delivers fun.
Cold refreshments, snacks, and the kids are kept busy from when they first step on board to when they step off. Definitely, a great way to have fun on a family vacation. You can see pricing and booking options here:
Private Luxury Sunset Cruise
If you want a sunset cruise for a special occasion, I recommend this one. It is not a sailboat, but this cruise has a maximum of six people.
Relax as you sail past Shell Island into the Gulf of Mexico. You can see pricing and booking options here: Private Luxury Sunset Cruise
Ohana sunset Sailing Cruise
This is a journey that promises a perfect blend of comfort and adventure. Set sail on a meticulously maintained vessel and cruise along the coastline as the sun begins its descent.
Semi-private sailing sunset cruise along Panama City Beach coastline. You will also skim past Shell Island. You can see pricing and booking options here: Ohana Sunset Sailing Cruise Definitely at the top of the Best Sunset Sailing Tours In Panama City Beach Florida List!
Below is information to help you plan the perfect Panama City Beach Getaway:
Upcoming Trip?
I like to use Booking for booking not only my hotels, but my tickets and rental cars as well. Makes life so much easier with only having to log into one location for my information.
Be sure to grab my travel tips to save you time and money. You'll also be entered into the weekly drawings.
Register here: Get 100 Travel Tips EVERY traveler should know PLUS entered into the weekly drawing.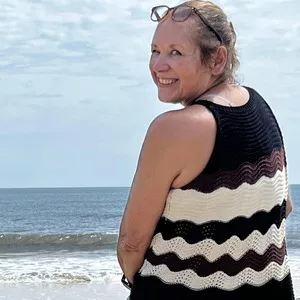 About Denise
Denise Sanger lives a life split between her love for fitness and her passion for travel particularly to the BEACH. Denise also has a love of marketing and lives in beautiful Suwannee County, Florida. You can find out more about Denise here: About Denise