The Ultimate Guide To Finding The Best Ice Cream In Key West
This article may contain affiliate links. Whenever you buy something through one of these links, I may earn a small commission without any cost to you. I really appreciate it as it supports this site and my family. Thank you!
Key West at the bottom of the Florida Keys is a beautiful island city known for its tropical climate, beaches, palm trees, live music, street performers and so much more. Even better? You will find some of the best ice cream in Key West too!
There are so many flavors besides vanilla ice cream to choose from too! And many of these shops only use natural ingredients.
If you have a sweet tooth and are craving homemade ice cream, there are so many options for you right on Duval Street as well as throughout the island.
Here are some of the best places for ice cream in Key West to give your taste buds a treat:
Thank you for reading this post. Don't forget to subscribe! This way you never miss an update, travel deals, discounts and more!! Subscribe to the right------>
Wicked Lick Ice Cream
Wicked Lick Ice Cream is a unique ice cream shop that uses liquid nitrogen to make its sub zero nitrogen ice cream. This process results in a smoother, creamier ice cream with a more intense flavor.
Wicked Lick offers a variety of daily flavors, including classic favorites like peanut butter, mint chocolate chip, and Mexican vanilla, as well as seasonal flavors like slice of Key lime pie, pumpkin pie, and coconut rum.
Before you leave, be sure to check out their shop for funny t-shirts. A popular spot for sweet treats is located right on Duval and is a personal favorite of mine.
Gladiators Ice Cream
Gladiators Ice Cream is a family-owned business ice cream shop that has been serving Key West for over 30 years. It also has some of the best homemade ice cream I have ever tasted.
At this fun spot, your choices include ice cream, gelato, and even sorbet. The gelato recipe is direct from Italy and one of the best things I ever tasted.
Gladiators offers a wide variety of different flavors, including classic favorites, tropical flavors seasonal flavors, and unique creations. Some of the most popular flavors include Key lime pie, coconut rum, and mango.
Best dessert ever! Located on Front Street near Mallory Square. Also, a local favorite.
Rooster Treats Ice Cream and Mini Donuts
​Ice cream and hot mini donuts? Count me in!  
Rooster Treats Ice Cream and Mini Donuts is a fun and funky ice cream shop that serves both ice cream and mini donuts. This could be the perfect place to start AND end your day.
Rooster Treats also offers a variety of toppings for its homemade soft-serve ice cream, including mini donuts with pina colada icing and coconut flakes, whipped cream, and chocolate sauce.
Choose from a variety of ice cream flavors, including classic favorites like chocolate and vanilla. I recommend you try the key lime pie ice cream drizzled with chocolate sauce topped with crushed graham cracker crust on top as well as more unique flavors like toasted coconut and guava. 
Absolutely a great spot on Simonton Street and is open late night until 11 p.m.
Kermit's Key West Lime Shoppe
Kermit's Key Lime Shoppe is a specialty shop that sells all things Key lime, including the best Key lime pie, Key lime ice cream, and Key lime milkshakes. My pick though? The chocolate-dipped key lime pie. Oh my gosh was it good!
You can buy anything key lime here including a whole pie, chips, sauces, and more. A great place with a friendly staff located on the corner of Elizabeth and Greene.
Mattheessen's Candy Kitchen
​Ice cream, fudge, and giant cookies! That's what you will find at Mattheessen's.
Mattheessen's Candy Kitchen is a Key West institution that has been serving the island since 1873. Mattheessen's is known for its delicious fudge and ice cream as well as fantastic customer service.
The store offers a variety of ice cream flavors, including classic traditional ice cream favorites like chocolate and vanilla, as well as more unique flavors like Key lime pie flavor and coconut rum.
Go crazy! Mattheessen's also offers a variety of toppings for its ice cream, including whipped cream, chocolate sauce, and sprinkles.
And be sure to pick up a few of their giant cookies. These weigh 1/2 pound each and are out of this world. They have several locations in Key West including two on Duval.
A few others to mention:
I have not personally tried the following but have been told great things:
La Michoacan Ice Cream. Located in Peacock Plaza. Specialty handmade ice cream with a Mexican/Latin inspiration.
Kilwin's is located on Duval. To clarify this one, I have been in the Panama City Beach location and not only the ice cream but the chocolate and fudge are amazing.
Flamingo Crossing Ice Cream is located on Duval Street and offers custard as well as ice cream in a waffle cone.
Dairy Queen. Sometimes you are just craving something familiar. If you are searching for banana splits or ice cream sundaes. DQ is located off Duval on United Street.
These are just a few of the many great ice cream shops in Key West. Whether you're looking for a classic favorite or a unique creation, you're sure to find the perfect ice cream treat in Key West.
The information below will help you plan the best Key West Vacation:
Upcoming Trip?
I like to use Booking for booking not only my hotels, but my tickets and rental cars as well. Makes life so much easier with only having to log into one location for my information.
Be sure to grab my travel tips to save you time and money. You'll also be entered into the weekly drawings.
Register here: Get 100 Travel Tips EVERY traveler should know PLUS entered into the weekly drawing.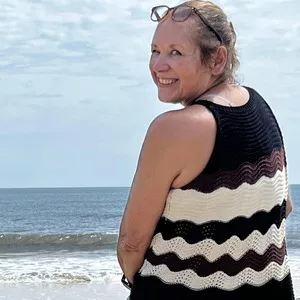 About Denise
Denise Sanger lives a life split between her love for fitness and her passion for travel particularly to the BEACH. Denise also has a love of marketing and lives in beautiful Suwannee County, Florida. You can find out more about Denise here: About Denise