Christmas Mai Tai Cocktail
This article may contain affiliate links. Whenever you buy something through one of these links, I may earn a small commission without any cost to you. I really appreciate it as it supports this site and my family. Thank you!
This will probably be my last Christmas Beach Cocktail recipe I share this year. But, this Christmas Mai Tai Cocktail needed to be shared with all my beach loving friends.
Mai Tai cocktails are my pick at the beach when I want something not quite as sweet as other cocktails. Where the Bushwacker is like a dessert, a Mai Tai is citrusy and tart.
Crisp and refreshing, this beach cocktail is even more delicious when changed up a bit for the holidays. A traditional Mai Tai uses Orgeat syrup which is an almond syrup used to sweeten.
When I make a Mai Tai at home, I do not use the Orgeat syrup. I use orange juice which is simply easier as it is something that is generally in the house.
Thank you for reading this post. Don't forget to subscribe! This way you never miss an update, travel deals, discounts and more!! Subscribe to the right------>
One more simple change and you'll have yourself a Christmas Mai Tail cocktail. This delicious holiday drink will transport you and your friends to the beach no matter what the weather is like outside.
Ingredients in a Christmas Mai Tai Cocktail
Ready to make a Christmas Mai Tai? It is easier than you might think. These are the ingredients:
Rum but for the holidays, I choose a dark rum. I have also made it with spiced rum for a nice twist. 1 shot glass or 1.5 ounces
Amaretto. 1 shot or 1.5 ounces
Pineapple Juice 3 ounces
Orange Juice 3 ounces
Mix all ingredients together in a shaker cup filled with ice. Shake it like a Polaroid picture as the song goes and pour over ice into a tumbler.
For garnish, I like to stay festive, and maraschino cherries always feel festive to me. I put it on a cute holiday stirrer stick with an orange slice and a nice green leaf like mint sprig or rosemary leaf.
That's it. Easy as 1, 2, 3 and SO delicious Wondering what goes in a traditional Mai Tai? Below is an easy recipe you can recreate at home.
Ingredients in a traditional Mai Tai Cocktail
Orange Liquor such as Grand Marnier
Orgeat syrup which you can find at any liquor store. It will look like the syrup bottles that coffee shops use to create the flavored coffee drinks.
1/2 shot aged rum (Barcardi does make an aged rum: Bacardí Gran Reserva Diez Rum)
1 shot rum of your choice
3/4 ounce lime juice
Again, put all the ingredients into a shaker cup, shake and pour over ice into a tumbler. Garnish with a cherry and orange slice.
Saluti! Enjoy!
p.s. Get all the delicious Beach Cocktail recipes here: Beach Cocktails
Upcoming Trip?
I like to use Booking for booking not only my hotels, but my tickets and rental cars as well. Makes life so much easier with only having to log into one location for my information.
Be sure to grab my travel tips to save you time and money. You'll also be entered into the weekly drawings.
Register here: Get 100 Travel Tips EVERY traveler should know PLUS entered into the weekly drawing.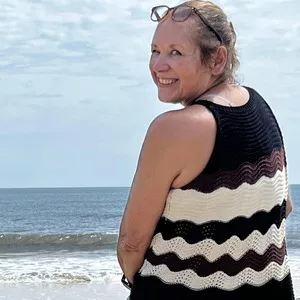 About Denise
Denise Sanger lives a life split between her love for fitness and her passion for travel particularly to the BEACH. Denise also has a love of marketing and lives in beautiful Suwannee County, Florida. You can find out more about Denise here: About Denise