How to Make A Limoncello Spritz Beach Cocktail
This article may contain affiliate links. Whenever you buy something through one of these links, I may earn a small commission without any cost to you. I really appreciate it as it supports this site and my family. Thank you!
The woman's toes, embraced by the warm sand, dug deeper into its soft embrace, connecting her with the earth beneath. As she watched the waves roll into shore one after the other enjoying a refreshing Limoncello Spritz Beach Cocktail, all was right in the world.
Doesn't that sound AMAZING? A delicious beach cocktail made with Limoncello which is an Italian liquor. You can visualize yourself right there with her. I know I can.
Limoncello is one of my favorite summer liquors. To me, lemons just say happy summer days.
Think about it, lemonade. Lemonade stands. Lemon meringue pie. And so many more delicious lemon recipes and drinks.
Thank you for reading this post. Don't forget to subscribe! This way you never miss an update, travel deals, discounts and more!! Subscribe to the right------>
And that brings to today's refreshing beach cocktail. A Limoncello Spritz Beach cocktail.
Let's get busy. First I have listed the ingredients you will need and then the instructions on how to make one.
I have put links to other favorite beach cocktails like those you find at beach bars at the bottom of this recipe.
Limoncello Spritz Beach Cocktail Ingredients
Limoncello
Sparkling Wine like Prosecco or Champagne
Soda Water
The recipe? 3, 2, 1.
What do I mean by 3, 2, 1? It's very simple.
Grab a glass with ice, add 3 parts sparkling win, 2 parts Limoncello and 1 part soda water. Stir.
So if you are using a shot glass, it would be 3 shots sparkling wine, 2 shots Limoncello and 1 shot soda water.
If you want to make a larger batch for a pitcher, use 3 cups sparkling wine, 2 cups Limoncello and 1 cup soda water.
Of course, make it to YOUR tastes. This is the basic recipe to help you get started then tweak for how you like it best.
Easy right? And this is one refreshing summer cocktail you will want to make over and over. Salute!
Upcoming Trip?
I like to use Booking for booking not only my hotels, but my tickets and rental cars as well. Makes life so much easier with only having to log into one location for my information.
Be sure to grab my travel tips to save you time and money. You'll also be entered into the weekly drawings.
Register here: Get 100 Travel Tips EVERY traveler should know PLUS entered into the weekly drawing.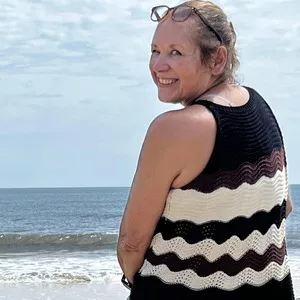 About Denise
Denise Sanger lives a life split between her love for fitness and her passion for travel particularly to the BEACH. Denise also has a love of marketing and lives in beautiful Suwannee County, Florida. You can find out more about Denise here: About Denise