Delicious Key Lime Pie Recipe That's Easy To Make
This article may contain affiliate links. Whenever you buy something through one of these links, I may earn a small commission without any cost to you. I really appreciate it as it supports this site and my family. Thank you!
One of the best desserts in Florida is Key Lime Pie. Luckily for me, my friend has a Key Lime Pie Recipe that's easy to make.
Now I'm not much of a baker; more of a beach cocktail type of gal. Yes there are others but after my first taste of Key Lime Pie in Key Largo, I was hooked.
I personally did not make this pie. Most of you know I really don't cook. But I can tell you though, the person that did, makes it all the time.
She gave me the Key Lime Pie recipe she follows. I have listed it below, so you can make it at home.
Thank you for reading this post. Don't forget to subscribe! This way you never miss an update, travel deals, discounts and more!! Subscribe to the right------>
One thing to mention is Key Limes are only found in the Florida Keys. But don't let that stop you.
You can use limes that you purchase from any grocery store. It actually helps speed up the process of juicing as key limes are quite small.
Ready? Good! I'm glad to turn today's article over to my friend's delicious recipe.
Mary made it KISS for me LOL. Keep It Simple Silly because she knows I literally do not bake if I don't have to. Below I am breaking it down exactly as she wrote it.
Get ready to make the most scrumptious Key Lime Pie that your family and friends will beg you to make over and over.
Ingredients For Key Lime Pie
Pie Crust
Fairly easy to make and it reminds me of a cheesecake crust. These are the ingredients:
1.5 cups crushed graham cracker crumbs. You can buy the graham crackers crushed to save time.
1/2 melted stick butter (4 tablespoons)
1/3 cup brown sugar
Filling
2 cans sweetened condensed milk (14 ounces)
1 cup plain Greek yogurt (she used whole milk)
1 tablespoon grated lime zest from the limes you will juice.
¾ cup fresh lime juice (Grocery store limes are fine. Be sure to squeeze fresh.)
Topping
1 cup heavy whipping cream
2 tablespoons confectioners sugar
Garnish
Lime Zest and Sliced Limes
First pull all the ingredients and set them out. Baking is so much easier when everything is in front of you.
Combine everything listed for the crust into a bowl. Mix together with a fork.
Press graham cracker mixture into a pie tin and place in oven at 350 degrees for about 10 minutes until nicely browned. Let cool.
Next combine everything from the filling section into a bowl and whisk until thickened. Pour into the pie crust and place back in the oven again at 350 for roughly 15 minutes or so until mixture is set and watery.
First cool for about 1/2 hour on counter then place into the refrigerator for about 3 more hours of chilling.
Finally, the delicious topping! Whip the heavy whipping cream until it forms peaks as you lift. Like little snow drifts.
Add the confectioners sugar and keep beating until larger snow drift peaks are made. Spoon or use a spatula to add on top of the filling.
Decorate with lime slices and zest you set aside above in any design. Wanted to sweeten it up? Use candied lime slices too sliced thin.
Next? Back into the fridge until you are ready to serve to your waiting guests. You will ABSOLUTELY be asked for the recipe, so bookmark this page and send your friends here.
Below is other information about the Florida Keys. Enjoy!
Upcoming Trip?
I like to use Booking for booking not only my hotels, but my tickets and rental cars as well. Makes life so much easier with only having to log into one location for my information.
Be sure to grab my travel tips to save you time and money. You'll also be entered into the weekly drawings.
Register here: Get 100 Travel Tips EVERY traveler should know PLUS entered into the weekly drawing.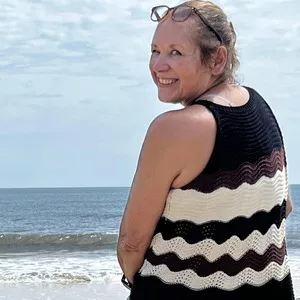 About Denise
Denise Sanger lives a life split between her love for fitness and her passion for travel particularly to the BEACH. Denise also has a love of marketing and lives in beautiful Suwannee County, Florida. You can find out more about Denise here: About Denise