Lauderdale-By-The-Sea Beach: Your Ultimate Guide to Relaxation
This article may contain affiliate links. Whenever you buy something through one of these links, I may earn a small commission without any cost to you. I really appreciate it as it supports this site and my family. Thank you!
When we think of a relaxing beach getaway, Lauderdale-By-The-Sea Beach tops our list. My very first trip to Florida back in the 80s (yes, I've been a beach bum this long – actually much longer) was to Lauderdale-By-The-Sea Beach. It was love at first sight.
This charming, small Florida town offers a blend of pristine sandy shores, crystal-clear turquoise waters, and a welcoming atmosphere. It's a hidden gem nestled between bustling Fort Lauderdale and Pompano Beach, and we're excited to share what makes this place so special.
Use this table of contents to jump to any section. At the bottom of this article, I have included links for other things to do near Lauderdale-By-The-Sea and Fort Lauderdale Beach.
As we stroll along the picturesque beach, we can't help but fall in love with the laid-back vibe and warm hospitality. The vibrant beach town is a haven for water enthusiasts and families alike, offering a host of activities such as snorkeling, diving, and fishing.
Thank you for reading this post. Don't forget to subscribe! This way you never miss an update, travel deals, discounts and more!! Subscribe to the right------>
We're also amazed by the abundance of marine life right off the shore, making it an ideal destination for underwater exploration. In addition to the stunning beach, we enjoy the eclectic mix of shops, boutiques, and delightful dining options.
There's something for everyone in Lauderdale-By-The-Sea Beach, and we can't wait to help you discover its charm and allure.
Where is Lauderdale By The Sea?
Lauderdale-By-The-Sea Beach is a charming little town situated just north of Fort Lauderdale in South Florida. I love this spot because it's a short drive from Fort Lauderdale Airport and less than an hour's drive from Miami and Palm Beach. This makes it an easily accessible destination for anyone looking for a beach getaway.
Let us give you a little insight into its location:
The town is cozily nestled between the Intracoastal Waterway and the Atlantic Ocean, with Commercial Boulevard giving visitors a direct route to the heart of Lauderdale-By-The-Sea.
For those that like coordinates, coordinates-wise, this beach town sits at 26.1897° N, 80.0970° W.
To give you a better idea, here's a quick rundown of nearby locations:
To the north, it's neighbored by Pompano Beach
To the south, lies the Greater Fort Lauderdale area
On the opposite side of the Intracoastal Waterway to the west, you'll find Oakland Park
If you're flying in, the Fort Lauderdale-Hollywood International Airport (FLL) is the closest major airport, just a short 30-minute drive away. The airport is serviced by most major airlines, making it convenient for both domestic and international travelers.
It's the perfect spot for those of us who crave a little beach-town vibe but still want to stay connected to city life.
Lauderdale-by-the-Sea vs Fort Lauderdale
What exactly is the difference between Lauderdale-By-The-Sea and Fort Lauderdale Beach? When considering a beach vacation, both Lauderdale-by-the-Sea and Fort Lauderdale offer great options. While they have their similarities, they also have some key differences.
First, Lauderdale-by-the-Sea has a more charming, small-town feel when compared to its bustling neighbor, Fort Lauderdale. It's perfect for those looking for a tranquil escape; think quaint, colorful beach shops and low-rise buildings.
Fort Lauderdale offers a more metropolitan experience with a lively city atmosphere, complete with high-rise hotels and luxury condominiums. Strolling along the upscale shopping and restaurants on Las Olas Drive is a favorite thing to do.
In terms of the beach, both offer beautiful stretches of golden sand and clear waters. Lauderdale-by-the-Sea however, has a thriving underwater world just a short swim from shore.
Thanks to the living coral reef offshore, it's an excellent location for snorkeling and scuba diving. Fort Lauderdale's beaches are also stunning, but you may need to travel a bit further out for the best underwater experiences.
When it comes to dining, we find Lauderdale-by-the-Sea offers an array of charming and cozy eateries, such as beachside cafés and local seafood shacks. On the flip side, Fort Lauderdale presents a more diverse selection of restaurants, ranging from high-end, gourmet dining to trendy gastropubs.
This difference in dining options is reflective of their overall vibes – Lauderdale-by-the-Sea's laid-back atmosphere versus Fort Lauderdale's cosmopolitan energy. It's more about what better fits what you are looking for as far as a beach vacation.
When looking at the types of accommodations available, Lauderdale-by-the-Sea features a mix of family-owned motels, boutique hotels, and vacation rentals. This creates a home-away-from-home environment for visitors.
Fort Lauderdale, offers more luxury hotels and swanky condos, catering to a more high-end market and business travelers.
Is Lauderdale-By-The-Sea an Island?
No, Lauderdale-By-The-Sea is not an island. I can see though why people ask this question.
It's actually a small coastal town situated on a barrier island on the east coast of Florida. The town lies between the Intracoastal Waterway and the Atlantic Ocean.
When visiting, we feel surrounded by water, since the town is bordered by the ocean on one side and the waterway on the other. This gives us a unique sense of living on an island, even though we're technically still on the mainland.
We enjoy the small-town vibes that Lauderdale-By-The-Sea offers, with its low-rise buildings giving us unobstructed views of the ocean. Moreover, the town maintains a quaint charm by preserving its historic buildings, such as the mid-century modern architecture.
One of the things I love about Lauderdale-By-The-Sea is that it's a pedestrian-friendly town.
Easy to walk from the beach to various shops, restaurants, and other amenities without needing a car. If you want more options though, you will need a car to get over to Fort Lauderdale as well as other nearby cities.
Beaches in Lauderdale-By-The-Sea
Beach Quality
I love Lauderdale-By-The-Sea's beach because it is clean with beautiful sand and waters perfect for beach lovers of all ages. The shoreline stretches for approximately 2.5 miles, with plenty of space for relaxation and fun beach and water activities.
Beach Vacation Destination?
Yes! Lauderdale-By-The-Sea Beach is an ideal destination for a variety of beach vacation types.
From family vacations to romantic getaways, you can find something here to suit your needs. Here's a breakdown of vacation possibilities:
Vacation Type
Suitability
Features
Family Vacations
Ideal
– Kid-friendly amenities
– Nearby parks and attractions
Romantic Getaways
Perfect
– Tranquil beach atmosphere
– Sunsets on the shoreline
Adventure Seekers
Exciting
– Water sports opportunities
– Snorkeling and scuba diving
Fun Things to Do in Lauderdale-By-The-Sea
When it comes to spending some quality time at Lauderdale-By-The-Sea Beach, we have a list of recommendations to make your experience all the more amazing!
Beach Activities: Hit the sand and soak up the sun. But don't forget to bring your favorite beach gear! Whether it's building sandcastles, sunbathing, or tossing a Frisbee, there are plenty of ways to create your perfect day.
Water Sports: We can't forget about the exciting water activities available here. From snorkeling and scuba diving to paddleboarding or surfing, there's no shortage of options for those looking to cool off in the turquoise waters.
Stroll the Pier: We highly recommend taking a leisurely walk along the scenic Anglins Fishing Pier. It's a great chance to enjoy the view, catch some fish, or just relax and admire the ocean.
Charming Restaurants & Shops: We love exploring Lauderdale-By-The-Sea's local cuisine and boutique shops, lining the sidewalks with their unique offerings. You'll enjoy coastal treats and the perfect ambiance to match.
Live Music and Events: Throughout the year, we look forward to various festivals, concerts, and gatherings held at the beach. Be sure to keep an eye on the town's event calendar!
Whether you're planning a weekend getaway or a full-on vacation, Lauderdale-By-The-Sea has a little bit of everything to satisfy every beach lover. So pack your bags, and we'll see you there!
Below are a few more links to help you plan your Lauderdale-By-The-Sea Beach vacation:
Upcoming Trip?
I like to use Booking for booking not only my hotels, but my tickets and rental cars as well. Makes life so much easier with only having to log into one location for my information.
Be sure to grab my travel tips to save you time and money. You'll also be entered into the weekly drawings.
Register here: Get 100 Travel Tips EVERY traveler should know PLUS entered into the weekly drawing.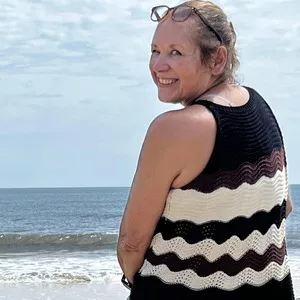 About Denise
Denise Sanger lives a life split between her love for fitness and her passion for travel particularly to the BEACH. Denise also has a love of marketing and lives in beautiful Suwannee County, Florida. You can find out more about Denise here: About Denise