Discover the Best Fort Lauderdale Beaches for Your Next Getaway
This article may contain affiliate links. Whenever you buy something through one of these links, I may earn a small commission without any cost to you. I really appreciate it as it supports this site and my family. Thank you!
From serene shores to exciting boardwalks, Fort Lauderdale beaches offer the perfect getaway for all types of travelers. Discover the best Fort Lauderdale beaches and plan your next vacation.
For travelers seeking the perfect sun-soaked getaway, there is nothing better than South Florida and Fort Lauderdale beaches to provide a variety of options for fun things to do.
Whether you're looking to unwind in peace or engage in thrilling activities, you'll find your ideal spot along Fort Lauderdale's stunning coastline on the Atlantic Ocean and Intracoastal Waterway.
Choose between relaxing in your beach chair, sitting at one of the many park picnic tables enjoying a snack or snorkeling in the clear water searching for sea turtles. The beaches in this area have calm waters most of the time making them great options for swimming.
Thank you for reading this post. Don't forget to subscribe! This way you never miss an update, travel deals, discounts and more!! Subscribe to the right------>
Fun fact? Fort Lauderdale is called the Venice of America as well as the Yachting Capital of the World.
It has more than 300 miles of waterways and canals. If you love boats, the best time to visit this area the end of October and take in the boat show.
Where is Fort Lauderdale?
The beautiful city of Fort Lauderdale and the beaches are located in Broward County. You will find Palm Beach to the north and Miami Beach to the south.
Fort Lauderdale International Airport, not as big as Miami International Airport, is easy to fly in and out of. And according to CheapOair, Ft. Lauderdale Airport is less expensive than Miami Airport as far as airfare.
Prefer to drive? It is easy to get to one of the best places in South Florida. South on the Florida Turnpike or I-95, and you will soon see palm trees and ocean views.
Where are the Best Fort Lauderdale Beaches
This area has quite a few magnificent beaches waiting for you to explore them. Whether you choose to stay in a hotel near a public beach or prefer an upscale resort with spectacular views, you have plenty of options to pick from.
Fort Lauderdale Beach
Fort Lauderdale Beach is popular not only for tourists but those that leave in South Florida also. Pristine white sand and crystal clear turquoise waters makes this one of the best beaches in Florida.
Looking to kick back and relax? Take a dip in the ocean, lounge on the sand with a good book, or enjoy some delicious seafood at one of the many oceanfront restaurants.
For those that prefer a more active vacation, you will find volleyball courts, basketball courts, water sports equipment rentals, fishing charters, kite surfing and more nearby perfect for a day of fun.
Not comfortable doing these activities alone, opt for a guided tour and explore the miles of golden sandy shores from a tour boat. Local landmarks include Fort Lauderdale Beach Park is located at 1100 Seabreeze Blvd, Fort Lauderdale, FL 33316.
Hollywood Beach
One of my personal favorites, Hollywood Beach is another top choice for beach lovers in the Fort Lauderdale area.
It boasts a beautiful two-and-a-half-mile-long boardwalk often called the fancy boardwalk. This boardwalk is ideal for walking, jogging, or cycling while taking in stunning views of the Atlantic Ocean.
On this boardwalk, you will find great restaurants, bars, unique boutiques, and more. The beach also offers plenty of water sports such as jet skiing, parasailing, and paddleboarding.
If you're traveling with kids, visit Charnow Park or the nearby Anne Kolb Nature Center to learn more about local wildlife and marine life.
South of the greater Fort Lauderdale area, Hollywood Beach is easy to get to. It is the perfect place for the whole family as it is a family-friendly destination.
Hollywood North Beach Park is where I also took my girls. A great spot on one of the most beautiful beaches in the area.
After spending the day on the warm sand, you can enjoy a packed lunch or hit one of the nearby options for pizza, ice cream and more. Public restrooms and showers also nearby.
Lauderdale-by-the-Sea.
Lauderdale-by-the-Sea is a picturesque beach town located just north of Fort Lauderdale. This was actually the beach I visited on my first every Florida vacation.
It is absolutely beautiful. Soft white sand and crystal-clear turquoise water provides for a calm vacation. It's the perfect spot for those looking to escape the hustle and bustle of city life.
The beachfront boasts numerous coral reefs that are just a short swim away, making it a popular destination for snorkeling and scuba diving enthusiasts.
Plus, with plenty of local restaurants and bars nearby, you can easily grab a bite to eat or sip on a refreshing cocktail while basking in the sun.
Whether you're looking to relax or take part in water activities, Lauderdale-by-the-Sea is the perfect setting and has something for everyone. Keep in mind this is not downtown Fort Lauderdale. Plan ahead.
Pompano Beach.
Ready for an action packed vacay? Look no further than Pompano Beach.
This wide stretch of beach boasts the whitest sand. It is perfect for beach volleyball, sunset strolls, and sunbathing. There's even a fishing pier where you can cast a line and try your luck at catching some fresh fish.
And if you're feeling adventurous, rent jet skis, or take a banana boat ride through the waves.
Snorkeling? You love Pompano Beach snorkeling. This area has some of the most beautiful snorkeling opportunities in the Southern part of the state.
Don't forget to stop by the local restaurants and bars for delicious eats and refreshing drinks before heading back to your hotel.
With so much to offer, Pompano Beach is a must-visit spot on your trip to Fort Lauderdale.
Las Olas Beach
Las Olas Beach is a popular stretch of sand that offers gorgeous views, fine white sand, and clear blue water. This pretty beach is perfect for surfing and paddleboarding, as well as people-watching on the bustling boardwalk.
If you prefer to soak up the sun in peace and quiet, there are plenty of secluded areas where you can set up your towel and relax.
After a day at the beach, be sure to explore the nearby shops and restaurants along Las Olas Boulevard, where you can indulge in some of the city's best cuisine, live music and nightlife.
Plenty of luxury hotels to choose from nearby. No matter what your interests are, Las Olas Beach has something for everyone.
Hallandale Beach
A few more nearby beaches to mention includes Hallandale Beach. This one is farther south in Broward County than the others.
I'm going to be honest, it's not at the top of my list. I prefer to be in the Hollywood Beach through Fort Lauderdale Beach areas as I like those beaches better.
There is nothing wrong with Hallandale Beach. This beach has a more urban feel with plenty of restaurants, nightclubs and bars.
Plain and simple? I like the sand better up the road. That's the difference for me.
Dania Beach
Also in Broward County, is Dania Beach. This beach is an award-winning "Blue Wave Beaches" and boasts a pier and marina nearby.
It is near both Fort Lauderdale and Hollywood Beach and definitely worth your time to visit. Gorgeous and located at N Beach Rd, Hollywood, FL 33019.
Hillsboro Beach
North of Fort Lauderdale you will find beautiful Hillsboro Beach, and it's 1907-era Hillsboro lighthouse, the most powerful light on the east coast. This sandy beach is one of the most tranquil in the area.
It is roughly three miles long and sits on a peninsula. Truly a beautiful beach.
Deerfield Beach
And finishing off my list is Deerfield Beach. Another beauty and Blue Flag Winner.
It has excellent water quality and is kept very clean. It also has a long fishing pier and boardwalk making it a great option for families.
Where to stay near the Best Fort Lauderdale Beaches?
The sky is the limit in this area for vacation accommodations. Whether you prefer high-rise buildings where you can see for miles, resorts that cater to your every need, budget hotel for the family or prefer to have a vacation home to yourself, it's here.
For resorts and hotels, start your search here: Fort Lauderdale Hotels and Resorts
For rental homes, cottages and condos, start your search here: Fort Lauderdale Vacation Homes
Upcoming Trip?
I like to use Booking for booking not only my hotels, but my tickets and rental cars as well. Makes life so much easier with only having to log into one location for my information.
Be sure to grab my travel tips to save you time and money. You'll also be entered into the weekly drawings.
Register here: Get 100 Travel Tips EVERY traveler should know PLUS entered into the weekly drawing.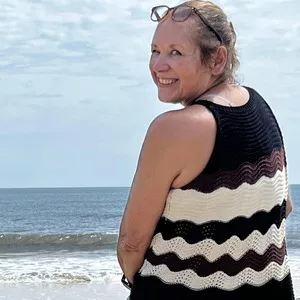 About Denise
Denise Sanger lives a life split between her love for fitness and her passion for travel particularly to the BEACH. Denise also has a love of marketing and lives in beautiful Suwannee County, Florida. You can find out more about Denise here: About Denise